Rising house prices made Canadian millennials wealthier, more indebted
Canada's maternity leave may explain higher employment rate
Study warns tables could turn in the future
It might not always look like it, but it seems Canadian millennials won the birth lottery.
A new study from TD Bank looking at Canadians and Americans born between 1980 and 2000 finds things are considerably better, economically, north of the border.
Canadian millennials have twice the net worth of their U.S. counterparts, enjoy a much lower unemployment rate, and are much likelier to own their own home, says the study from TD economists Beata Caranci and Diana Petramala.
Housing Makes Millennials Wealthier, And More Indebted
More than 50 per cent of Canadian millennials own their own home, a near record rate and a higher rate than their parents enjoyed a generation ago, the TD study found.
That compares to a 36 per cent rate for millennials in the U.S. Home ownership among the U.S. under-35 crowd fell below the long-term average of 40 to 43 per cent after last decade's housing bust.
That, in turn, means Canadian millennials have a net worth that's about double that of their U.S. counterparts — an average of C$155,400 for Canadians, compared to US$75,500 for Americans.
That's also double what Canadian millennials' parents were worth a generation ago, the TD study found.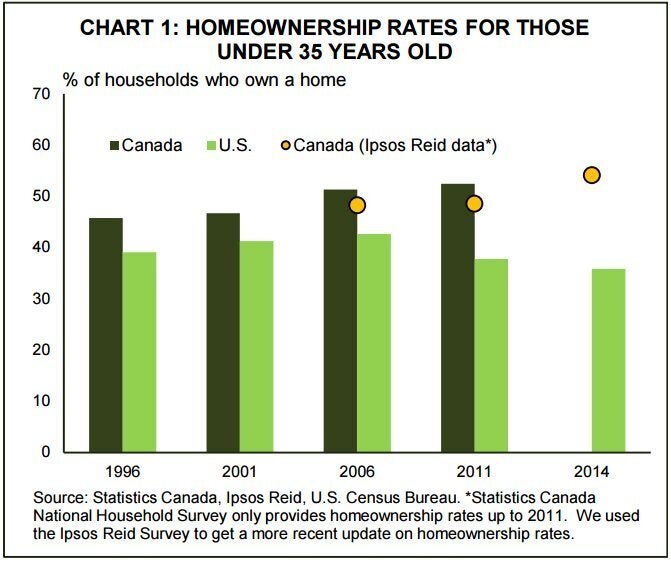 But the story of Canadian millennials' net worth is largely a story of high house prices. That means there is a flipside to that high net worth — large mortgage debt. Canadian millennials are "more vulnerable in the event of a home price correction," the study says.
The average Canadian millennial had a mortgage balance of $210,000 in 2013, compared to an average balance in the U.S. of US$142,000.
On the other hand, Canadian millennials have much less student debt — an average of C$16,400 in 2013, compared to US$27,000 in the U.S.
Rising house prices have also made Canadian millennials' parents wealthier, allowing them to help out their children more.
"Parents of millennials in Canada have benefited from a near-doubling in the average home price over the last decade," the study said. "No doubt, some of this wealth and resulting financial wiggle room has been passed down to children."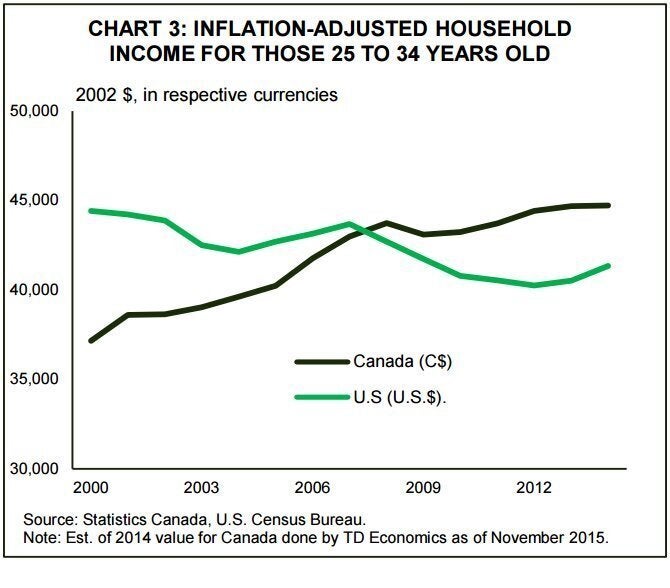 Wages for under-35 workers in Canada have been rising steadily since the turn of the century, but in the U.S. they have been falling.
Women (And Maternity Leave) Made The Difference
Despite the fact that Canadian millennials were hit harder during the Great Recession than their U.S counterparts, they recovered faster than those south of the border, and today a larger proportion of millennials is employed in Canada than in the U.S.
The study says that is due "in large part" to the fact many more millennial women are in the workforce in Canada than is the case in the U.S. The employment rate for women in Canada has been rising for decades and is near an all-time high, while in the U.S. it peaked in 2001 and has been falling.
"It's likely not a coincidence that this timing overlaps with the expansion of parental leave in Canada from 10 weeks to 35 weeks," Caranci and Petramala write in the report.
"While female participation rates continued to climb in the decades that followed, that of their American counterparts stalled out."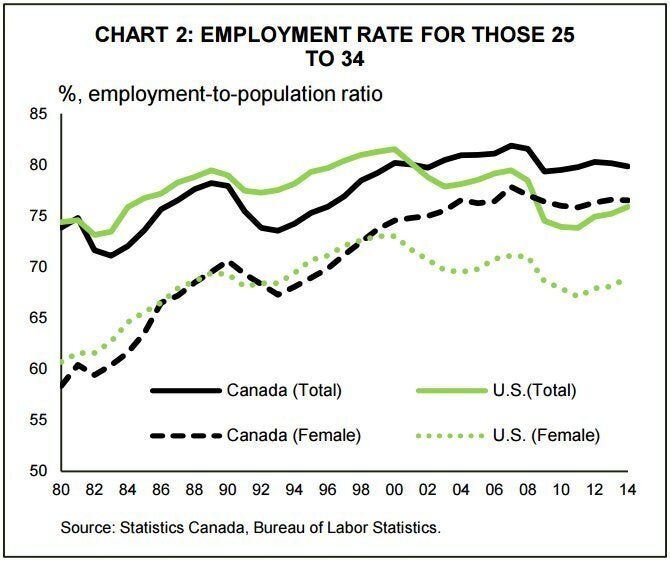 This chart of under-35 employment rates in the U.S. and Canada shows the real laggard is female employment in the U.S., which peaked in 2001 and has declined since.
But The Tables Could Still Turn
The TD study tacks on one big caveat: A lot of the conditions that have made Canadian millennials wealthier are "cyclical" — i.e., what goes up, often comes down.
Canadian millennials have enjoyed a housing market that is at a different point in its cycle than the U.S. housing market.
"Canada's housing market expansion is now at a mature phase, with little scope for further gains in homeownership rates," the TD study says. "In contrast, U.S. millennials appear to enjoy more upside potential from strengthening housing and job markets."
For that reason, "some degree of economic convergence is likely to take place between Canadian and U.S. millennials," the study concluded.
So enjoy it while it lasts.
Popular in the Community