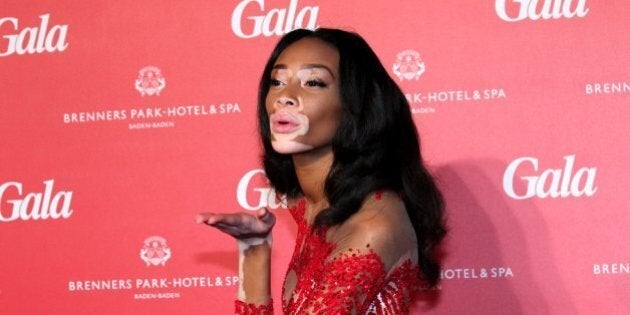 If there is one model truly shaking up the fashion world, it's Winnie Harlow.
The 21-year-old from Mississauga, Ont. is a distinctive presence on newsstands and runways these days, thanks not only to her natural beauty and glam style, but to the skin condition vitiligo, where portions of the skin have lost their pigment.
Having been bullied as a kid for her unique looks, Winnie became a contestant on the program America's Next Top Model, and now finds herself as one of the most in-demand models in the world.
She sat down to talk about her whirlwind of a career -- and to ask her Canadian fans one question in particular.
CT: Your career is obviously taking off. As a kid growing up in Canada, did you ever foresee any of this happening?
CW: No, not at all. Growing up, it seemed like school was my whole world, with little things like dances and graduations. I never thought something like a modeling career would be within reach. Then this year I worked in Paris for the first time, and I remember when I was on the plane heading there, I was just in shock. Here I am, just a regular Canadian girl, and now I get to work in places like L.A., London and Paris.
CT: What's been the best moment of the journey so far?
CW: I actually don't have a single favourite, because each moment has been a stepping stone to where I am now. When big things happen I'm literally just in the moment, working as hard as I can. Only afterwards do I look back at the pictures and realize, "Whoa, I was there!"
But of course I'm grateful to have worked with some very talented people. Right now the designers I would love to work with are Dsquared. They're Canadian, too, and have a very eclectic fashion mindset. That would be an amazing collab.
CT: How about the most difficult moment?
CW: The end of the year, actually. It's the hardest because everything just comes to a halt. My line of work is not a typical nine-to-five job, and I always love to work, so I really don't like the holidays. After a couple of weeks being home around Christmas, I start to get antsy.
CT: What was it like growing up with vitiligo?
CW: Some kids were understanding about it, and some weren't. And it's not like it's a "Happily Ever After" story -- to this day, I still get comments and people saying rude things. But life is all about what you focus on. If you put your focus on negative things like that, you're just going to brew more negativity. So I try to stay positive.
CT: When you're on the road, what do you miss most about Canada?
CW: My little sister. She's 12, and very important to me. She's like an 18-year-old mind in a 12-year-old's body. She definitely looks up to me, but I learn from her as well. She's an old soul, and I love taking her places with me. If it's late at night, I have to beg my mother to allow my sister to come out with me. Once in a blue moon, she'll say yes.
I also miss Tim Horton's when I'm away. I'm a hardcore Timmie's fan.
CT: What advice would you have for kids who look a little different?
CW: I would say that everyone looks different from everybody else. No one looks the same. So my advice to everyone is to just focus on yourself. If you don't look like me, and I don't look like you, then my opinion of you shouldn't make you feel any less about yourself.
CT: Any final thoughts for your Canadian fans out there?
CW: Wow, you're putting me on the spot. Yes, actually: I need advice on places across the country to get poutine. When I bring people to Canada, I need to know the best places to take them. So my Canadian fans can send me poutine suggestions on Twitter or Instagram (@winnieharlow).
Follow HuffPost Canada Blogs on Facebook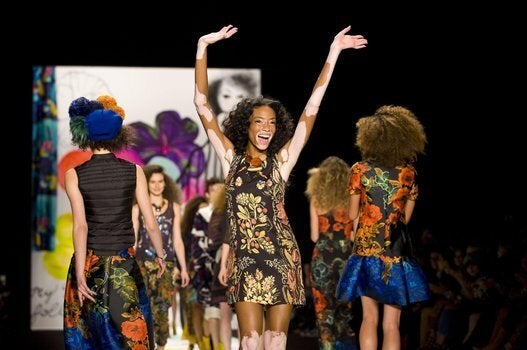 Chantelle Winnie