"[My daughter] was about 5 at the time and I wanted to make sure that we could have conversations about diversity and culture," she tells The Huffington Post Canada. "I was basically led to customize because as much as people will say, 'Oh there's black dolls here in Canada, you just have to go to the stores' — well, there's not. There's maybe one out of a slew of other dolls that are not black or reflective of someone of ethnicity."
"A girl should be able to have a doll and create the character that she wants and that's what her story is."
Queen, who also works as a singer and community activist, strongly believes these dolls represent a niche worth catering to. She also thinks diversity is much more complex than offering one generic doll of every race.
"Being in Canada, even people who are biracial or racially mixed, you can't tell by someone's skin tone where they're from," she shares. "You have the black doll, [and you assume] they're either from somewhere in Africa or they're African-American. But what about the African-Canadian, what about the people who are black in Germany or black in the U.K., Netherlands and Brazil?
"We're all across the world. A girl should be able to have a doll and create the character that she wants and that's what her story is."
Having this type of representation, even just within the realm of black dolls, is essential for children of all races to recognize what inclusion should look like, Queen adds.
Queen has gotten an overwhelming number of positive responses from people all over the world to the Herstory collection, and even caught the attention of actress Meagan Good, who shared the mother's crowdfunding link to her nearly three million followers on Instagram.
But while there's definitely already a buzz around her work, the passionate businesswoman says this is only the beginning.
"I'm hoping that it expands [globally] and that I can really just be in touch with girls from all over," she says. "I want [kids] to realize that beauty comes from what you make it, don't let the beauty of yourself be defined by media and by society."
And for young black girls especially, who are often ridiculed for their skin, she wants her line to encourage them to embrace their God-given melanin.
"You may be the darkest of browns, you may be so fair that your skin might have you pass for being white. The fact is that this just shows you what the human race is," Queen declares. "This is what shows you who people are ... That is the beauty, and it's OK for us to celebrate it through dolls."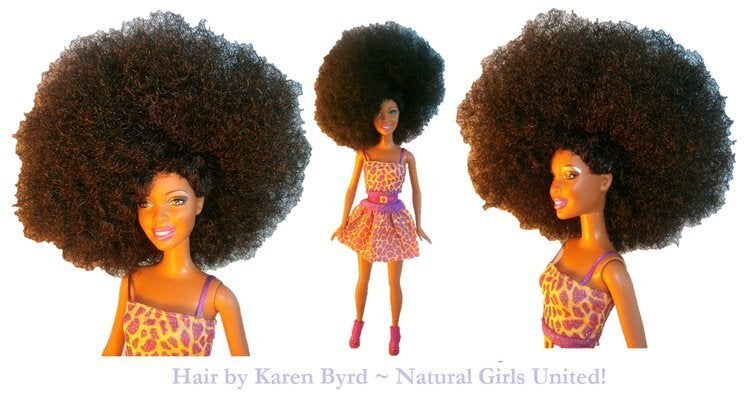 Natural Hair Dolls By Karen Byrd