In the long-running debate over whether or not Canada has a housing bubble, there was one thing almost all experts agreed on: Low interest rates are one of the major things — if not the major thing — holding up Canada's high house prices.
Well, that pillar now appears to be evaporating. Interest rates are on the rise in Canada, market observers say, and some say the rate hikes have just begun.
With Canadians' debt levels at record highs, households are particularly vulnerable to increases in their mortgage payments, experts say. Even relatively small increases in rates could put an end to years of strong growth in some of Canada's largest housing markets.
That's a relatively small increase; it would amount to an extra $40 per month on a $400,000 mortgage, by the CBC's calculations, but some experts see more hikes on the horizon.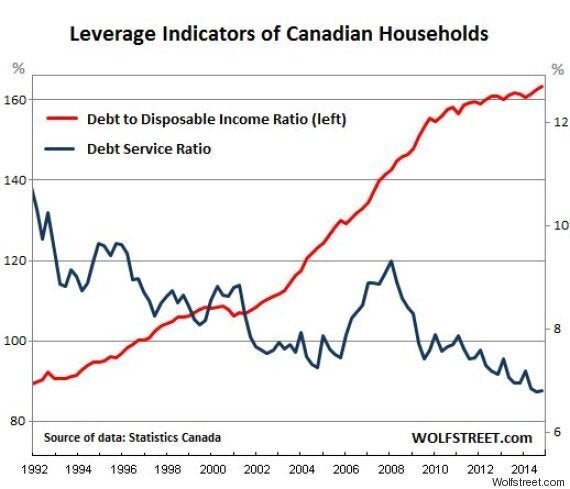 Low interest rates to the rescue: This chart from finance blog Wolfstreet.com shows Canadian mortgage payments (blue line) fell even as debt levels (red line) rose, thanks to falling interest rates.
TD Bank economist Diana Petramala is one of the experts who expects mortgage rates to keep rising. The U.S. Federal Reserve is widely expected to start raising interest rates next month, and that could push up mortgage rates in Canada by another 0.6 or 0.7 percentage points, Petramala told the Globe and Mail.
(Fixed-rate mortgage rates in Canada are linked to the U.S. bond market; variable rate mortgages are more closely linked to the Bank of Canada's key lending rate.)
A rate hike like that would result in home sales tanking by 10 to 15 per cent, Petramala said.
"The era of continually falling interest rates may be behind us," she wrote in a recent client note.
"While interest rates are likely to go up very gradually, elevated home prices and debt levels have left Canadian households far more vulnerable to small changes in interest rates than they have been in the past."
For that reason, Petramala anticipates "a sharp moderation in housing activity next year."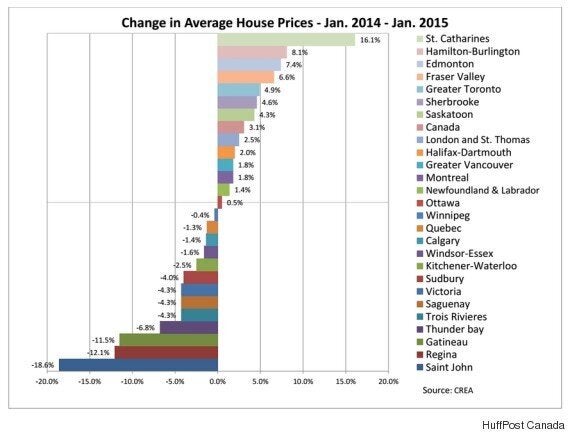 A tale of two markets: While many housing markets around Toronto and Vancouver have seen strong price growth, other parts of the country have seen stagnant or declining house prices, despite rock-bottom rates.
What A Tanking Housing Market Could Mean
A 20-per-cent decline in house prices would put 169,000 under-40 families "underwater" on their mortgage, the study found. That's one in 10 families in this group.
The Bank of Canada last year estimated that house prices in Canada are overvalued by as much as 30 per cent. A 30-per-cent price correction would put 294,000 under-40 families underwater on their mortgage, the CCPA estimates, or one in seven families in this group.
Buy A House Before Rates Rise? Maybe Not
While some experts, like Petramala, see a slowdown in housing ahead, some others say interest rate hikes will lead to a mini housing boom in the coming months, as buyers rush to lock in interest rates before they rise any more.
Rob McLister of Canadian Mortgage Trends says there may be no need to hurry. Canada's underperforming economy means the Bank of Canada may lower its key lending rate yet again over the next few years, helping to push mortgage rates back down, McLister told the Globe and Mail.
And if that happens, Canada's long-running housing boom could run on even longer.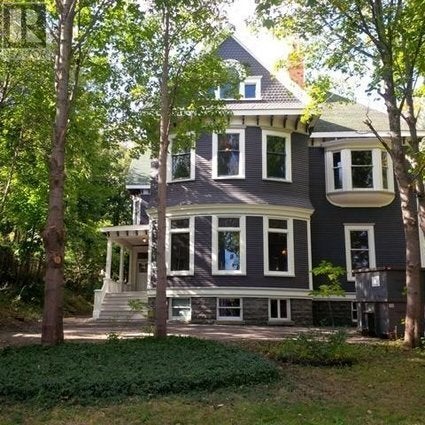 Most Expensive Homes For Sale In Canada, October 2015