Journalists and curious citizens are busily combing through a searchable database of names linked to the Panama Papers leak of offshore accounts.
The International Consortium of Investigative Journalists (ICIJ) opened the database to the public on Monday afternoon, following the initial release of some 11.5 million documents last month, all linked to Panamanian law firm Mossack Fonseca.
The Canadian members of the journalistic consortium estimate there are some 625 Canadians named in the documents. Here is the latest news on the Panama Papers leaks. Check back here for updates.
UPDATE 5/10/2016 10:48 am ET — Familiar energy company names in the database
Names related to a number of Canadian energy companies appear in the Panama Papers database, the National Observer reports, but two of them are denying any links to the listed offshore entities.
Two listings with the name "Encana" appear in the documents.
"We ... have determined that the Encana Energy S.A. entity has no affiliation with our company," a spokesperson told HuffPost Canada in an email.
A company named "Enbridge Finance" also appears in the documents, but the Observer reports it has "no connection" to the Calgary-based energy distributor.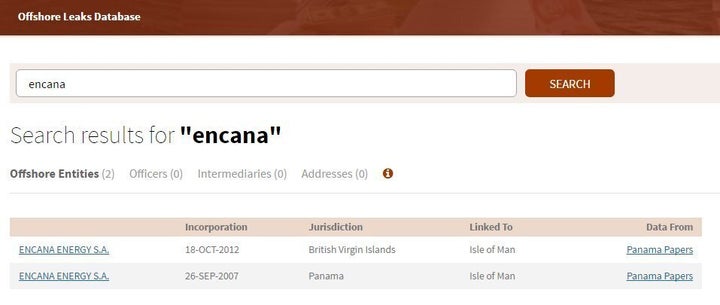 UPDATE 5/10/2016 9:42 am ET — Government promises strong response
Federal investigators are scouring the Panama Papers, and if criminal charges can be laid, they will be, Revenue Minister Diane Lebouthillier says.
"We are looking into what's going on in these cases with a fine-toothed comb," the CBC quoted her as saying. "If we can lay criminal charges, we will lay criminal charges.… As I've said since the beginning, nobody will be able to hide."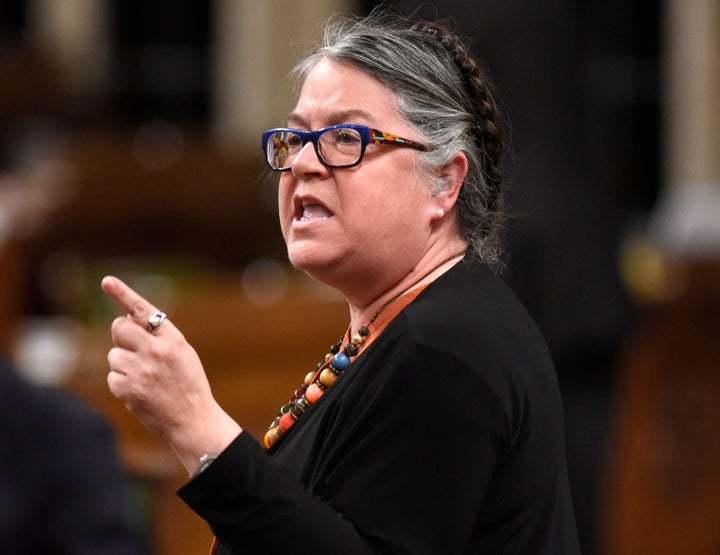 UPDATE 5/9/2016 4:07 pm ET —The Panama Papers' most productive Canadian?
The CBC reports it has identified the Canadian individual who used Panamanian law firm Mossack Fonseca more than any other to set up offshore corporations — Fred Sharp, a former Vancouver lawyer whose company reportedly set up 1,167 "offshore entities" for his clients.
The documents reportedly show that Sharp's overseas company, Bond and Co., made efforts to hide the true identity of its clients — including ordering Mossack Fonseca to destroy invoices, and to minimize documentation flowing home to Canada.
Sharp was barred from practicing law in B.C. in 1995 after he admitted to professional misconduct for "knowingly taking instructions" from a director disqualified "because of a criminal record for fraud," the CBC reports.
But the Panama Papers show Sharp's relationship with that client, who had dozens of fraud convictions, didn't end there. Mossack Fonseca documents show the RCMP came sniffing around a company Sharp had set up for the client, alleging that the company was used "to perpetrate a $2.1 million fraud" against a brokerage firm in the Isle of Man.
UPDATE 5/9/2016 3:48 pm ET — 'Dozens of Americans tied to fraud and financial misconduct'
Investigative journalists mining the leaked data trove known as the Panama Papers say that the law firm had ties to dozens of Americans accused of financial misconduct.
Setting up an offshore company is not illegal. But they can be used to hide money from authorities.
The ICIJ said one "longtime customer'' of the firm was a U.S. financier later sentence to 17 years in prison for fraud. It said the firm set up an offshore company used by six Americans accused of running a Ponzi scheme that cost middle-class Indonesians millions. Mossack Fonseca has said it obeyed rules on vetting customers.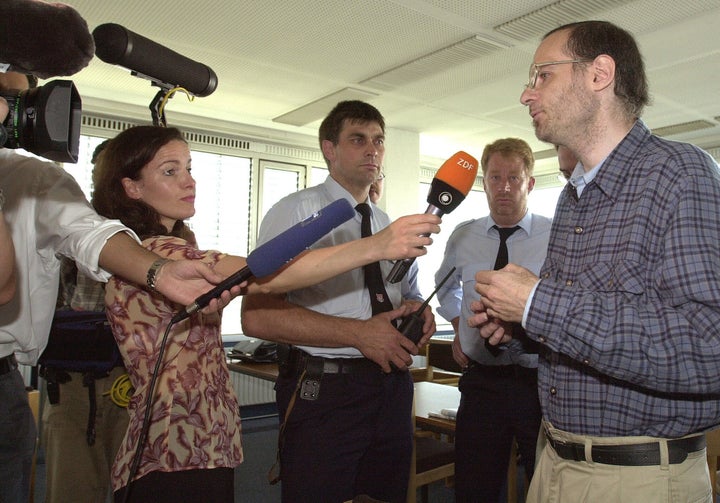 UPDATE 5/9/2016 3:21 pm ET — Edmonton fraudster found in Panama Papers
A convicted Edmonton con man has been found in the Panama Papers — and it shows the law firm behind the leaks distanced itself from him when he was arrested.
Panama-based Mossack Fonseca severed ties with Michael Ritter upon Ritter's arrest by the RCMP in 2005, the CBC reports. Worried about the "bad publicity this could bring us," the law firm resigned as agent for the 60-odd offshore companies Ritter had set up through them.
Ritter pleaded guilty to stealing US$10.5 million from a client, who himself was alleged to have stolen the money from investment bank Merrill Lynch.
Ritter served as Alberta's chief parliamentary counsel from 1987 to 1993, the CBC reports. The court case against him revealed that he was not a lawyer, and had never graduated law school at the London School of Economics as he claimed.
UPDATE 5/9/2016 2:58 pm ET — $100 billion hidden that Canadian government doesn't know about
The Panama Papers leak shows that there is a secretive network of "enablers" helping Canadians to ship their wealth offshore, the Toronto Star reports.
A sprawling industry of tax avoidance professionals — lawyers, financial planners, bankers and accountants — make a living advising the rich how and where to find places to lighten, or even eliminate, their tax responsibilities in Canada.

They are the enablers.
The article states that the money funnelerd into offshore accounts is about $100 billion more than the $270 billion that has been declared to government.
UPDATE 5/9/2016 2:39 pm ET — Probably not the real 'Trump'
Twitterers have noted that the name "Trump" appears in the Panama Papers database numerous tiomes.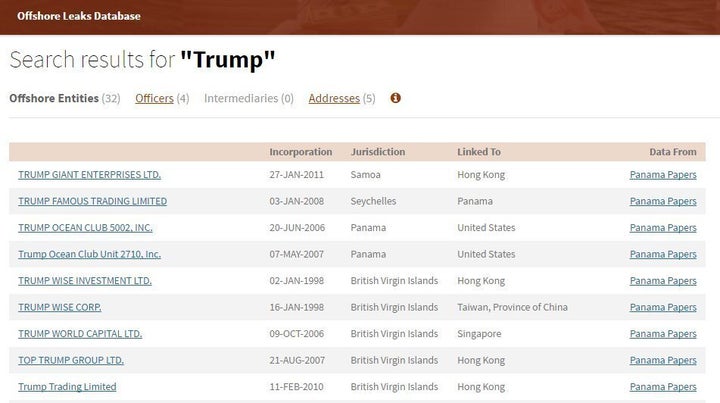 UPDATE 5/9/2016 2:31 pm ET — Soros who??
Now that the database is live, people are finding some notable names in the data. Disclaimer: We have no idea if these listed companies are related to George Soros, the billionaire financier. But as Zero Hedge says, "hmm."
UPDATE 5/9/2016 2:14 pm ET — End tax havens, economists urge: Hundreds of economists urged world leaders Monday to end the era of tax havens, arguing they only benefit rich individuals and multinational corporations and serve to increase inequality.
The 300 economists, in a letter co-ordinated by activist group Oxfam, say poorer countries are hit hardest by tax dodging. The signatories , including Jeffrey Sachs of Columbia University's Earth Institute and author Thomas Piketty, argue there is no economic justification for tax havens and urge leaders to lift the veil of secrecy surrounding them.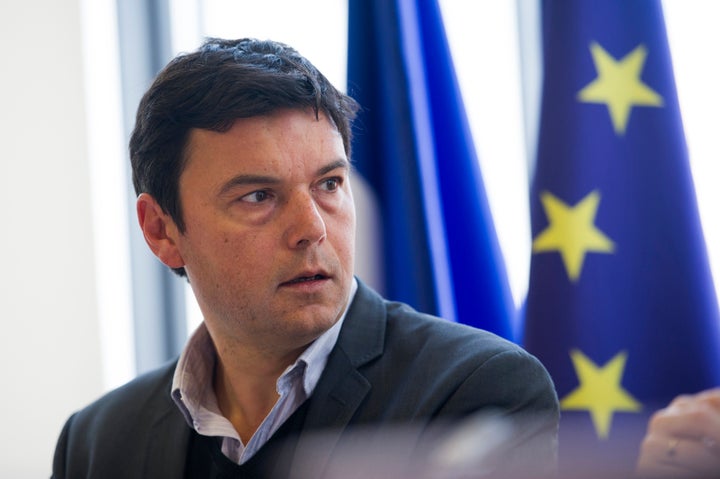 "As the Panama Papers and other recent exposes have revealed, the secrecy provided by tax havens fuels corruption and undermines countries' ability to collect their fair share of taxes,'' the letter said. "While all countries are hit by tax dodging, poor countries are proportionately the biggest losers, missing out on at least $170 (billion) of taxes annually as a result.''
"The existence of tax havens does not add to overall global wealth or well-being; they serve no useful economic purpose,'' the letter said. "Whilst these jurisdictions undoubtedly benefit some rich individuals and multinational corporations, this benefit is at the expense of others, and they therefore serve to increase inequality.''
— Danica Kirka, The Associated Press
Original story follows below
This could prove to be an uncomfortable day for some Canadians who have taken their wealth offshore.
The International Consortium of Investigative Journalists, which published the Panama Papers last month, will publish details of more than 200,000 offshore accounts on Monday, in the form of a searchable database.
Two Canadian news organizations — the CBC and the Toronto Star — are part of the consortium publishing the names.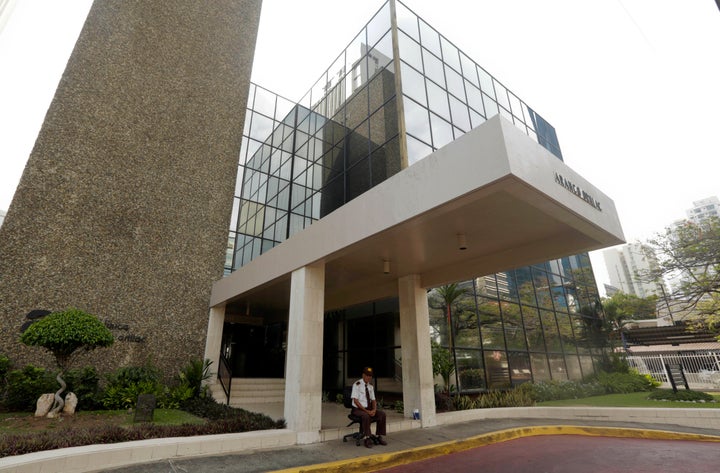 The CBC says the new details will include the names of at least 625 Canadians linked to offshore accounts handled by Panamanian law firm Mossack Fonseca, the company whose documents form the Panama Papers.
The database will go live at 2 pm ET on Monday. Check back here for updates.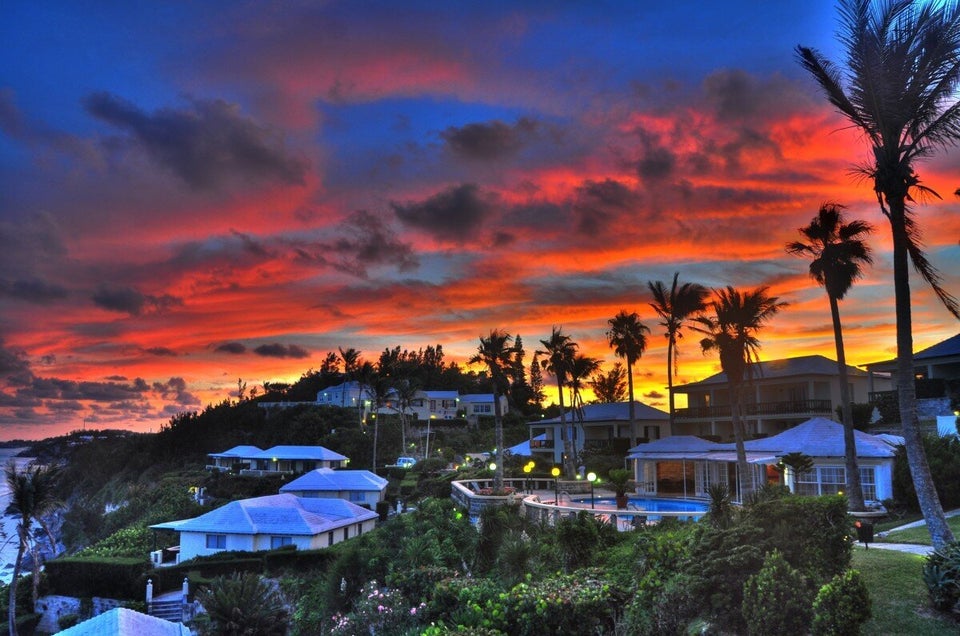 Top Offshore Tax Havens For Canadians
Popular in the Community