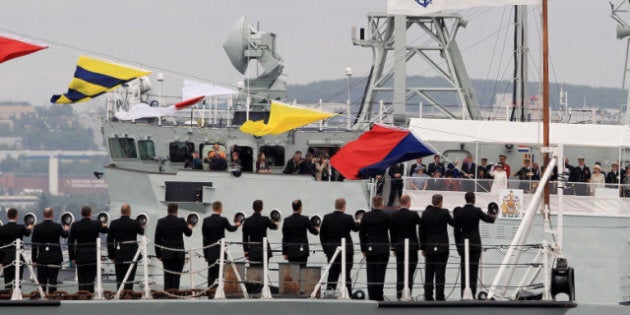 Canada's navy and air force will get a royal name change Tuesday, The Huffington Post Canada has learned.
The Conservative government plans to announce that Maritime Command and Air Command, the official names of the two Canadian Forces' units, will be returned to Royal Canadian Navy and Royal Canadian Air Force, monikers last used in 1968. Simultaneous announcements on the name change are planned for Tuesday in Halifax, Kingston, Valcartier, Que., Cold Lake, Alta., and Esquimalt, B.C.
The Canadian army, which is officially called Land Force Command, will also be renamed simply Canadian Army.
The change is mostly symbolic and won't affect how the Canadian Forces are run.
"The reason is to restore the historic identities of the Canadian armed forces that were lost in (19)68," an official said.
In 1968, the Royal Canadian Navy, the Royal Canadian Air Force and the Canadian Army ceased to exist when they were unified through the Canadian Forces Reorganization Act — a move designed to improve the military's effectiveness.
Tuesday's name change won't affect the unification of the forces and is expected to be "low-cost."
The "plan is not to go out and repaint stuff," one source said, although badges on uniforms may be changed.
The Canadian navy and the air force are currently using logos on their websites that are officially "unauthorized" but meant to brand themselves in recognizable terms to most Canadians.
This announcement will force the use of the word "royal" — to which some in the Canadian Forces have been adamantly opposed.
However, more 6,000 people, including many members of the military, veterans, and several high-profile Conservatives, have signed an online petition titled "restore the honour," an initiative to give the royal designation to the navy and the air force in time for the Queen's diamond jubilee next year.
Robert Finch, the chairman of the Monarchist League of Canada told Huffington Post Canada he was "absolutely thrilled" about the news.
"From a monarchist perspective it is always good to see the visibility of the crown restored … for me, it underlines the fact that the military is non-partisan and that the Queen is the commander-in-chief of the military."
Last December, the Senate passed a motion calling on the government to rename Maritime Command something with the word "navy" after former Liberal Sen. Bill Rompkey brought forward a petition to change the name officially to "Canadian Navy."
Websites bearing the new logos are expected to launch Tuesday.
Finch said he believes that this federal government's decision has more to do with restoring the military's history than reinforcing links to the monarchy.
"It is certainly a part of it (but) I don't see this as being on the same level as royal family visits or the diamond jubilee."