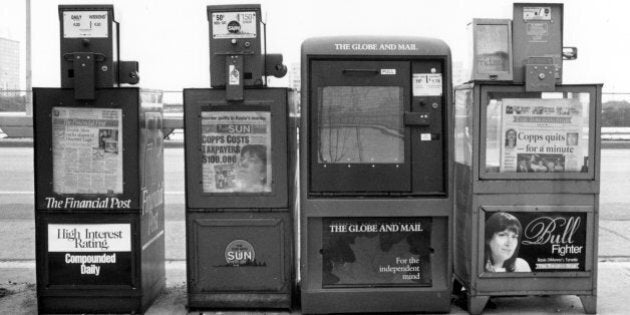 There will likely be "few, if any" print newspapers in Canada by 2025, and local TV stations are at risk of disappearing by that time as well, according to a report from a prominent media analyst.
In a study issued last month, Ken Goldstein, founder of Communications Management Inc., said the twin disappearances of newspapers and local TV will have "obvious" implications for Canadians' ability to get local news.
Based on long-term trends, the study predicts that only 5 to 10 per cent of Canadian households will have a newspaper subscription by 2025. That's down from around 20 per cent today and 50 per cent of households in 1995.
"We do not believe that a viable print business model exists for most general interest daily newspapers once paid circulation drops below 10 per cent of Canadian households," says the report written by Goldstein, who has sat on the boards of Viacom Canada and the Banff Television Festival, among others.
"Canada's daily newspapers now are engaged in a 10-year race against time and technology to develop an online business model that will enable them to preserve their brands without print editions."
The report cautions that its forecast is only valid if current trends continue.
It sees a similarly bleak future for local TV stations, which it says are in long-term decline. Local stations used to be the only TV available to viewers, until cable networks and more recently Netflix-like streaming services began to eat into their advertising revenue, the study notes.
"Not only has broadcast television's share of total television revenue declined significantly, all television advertising now is under pressure from Internet-delivered advertising," the report says.
TV itself isn't going away, of course, and "we will still watch a lot of television, but the structure of the TV industry will come to look less and less like broadcasting, and more and more like e-commerce for programs," the study predicts.
All of this has implications for how Canadians get their local news. The report estimates that newspapers and local TV stations are the two largest spenders on journalism in Canada, and it poses questions as to what will replace those two sources.
"Will we get our news from Apple, Google, or Facebook? Without the current scope of journalistic output, where will Apple, Google and Facebook get their news...?
"Some may argue that none of this is important; that something new will automatically take the place of traditional journalism. But what kind of journalism will that be?"
Echoing the concerns of many in Canadian media, the report raises questions about the future of Canadian content in an online media environment where enforcing national boundaries is nearly impossible.
While today's CanCon regulations require broadcasters to carry a certain amount of Canadian content, in the digital world supporting CanCon will be about "discoverability," the report says — the ability of consumers to find CanCon in among all the rest.
"In 2025, it will be even more important to be able to give Canadians the tools to produce and to discover Canadian content," the report says.