Now here's something you don't see every day: A senior exec at a major Canadian company defending unions.
"When you talk to anyone remotely connected to the world, they understand the role of unions providing what we have today," he said.
"They're a key driver in the creation of the middle-class, for the reduction of work hours, paid vacation, all sorts of benefits that we all enjoy."
Edwards suggested unions are suffering from an identity crisis as the economy shifts away from manufacturing, their traditional stronghold.
"There is a certain image they're predominantly blue collar, or they're government workers. And gee, I'm neither of those, so where do I fit in? Where are the people that are like me? And what can you offer me in the future?"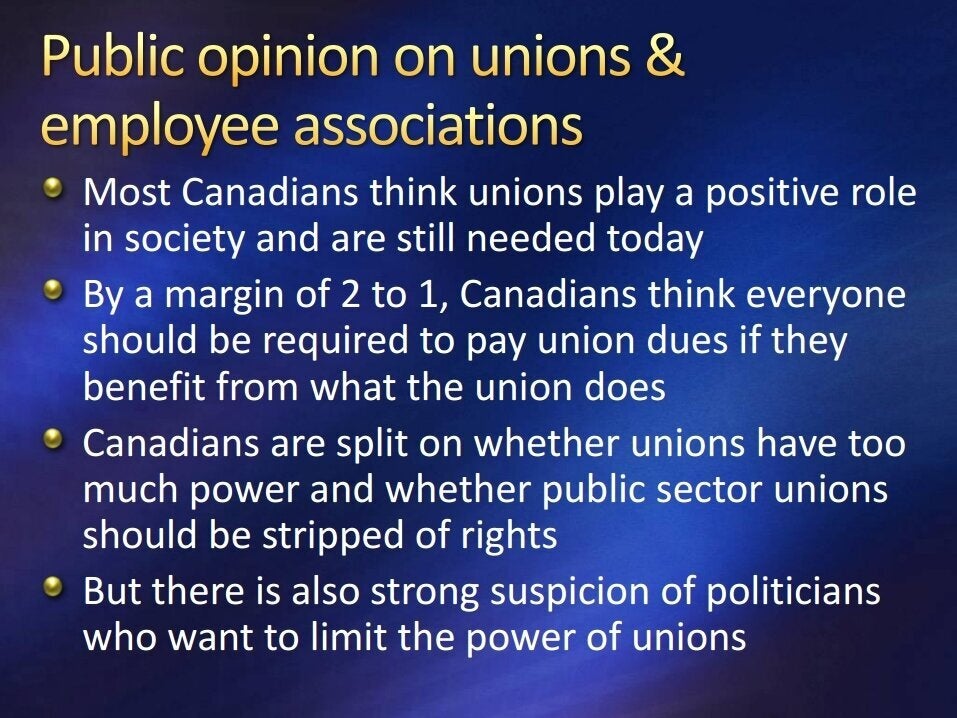 Canadians' Attitudes On Unions (2013)
Others on the panel noted that unions in Canada are at a crucial crossroads. The "elephant in the room," said labour lawyer Jamie Knight, is the rise of "right-to-work" states in the U.S., where union members are given the choice not to pay union dues, a move critics say has undermined unions and driven down wages.
"It's going to play out in the next Ontario election, and there's a real possibility the next government of Ontario will be formed by a party that proposes to follow the recent example of Michigan, which is a primary competitor for Ontario jobs."
But Ted Mallett, vice-president and chief economist of the Canadian Federation of Independent Business, said he doesn't see the decline of unions as "a problem that necessarily needs solving.
"We're not talking about a PR problem, we are talking about the general public having a fundamentally different view of the workplace than unions," he said.
Watch the panel discussion here:
Popular in the Community