Western Canadians like their "teen" porn, the prairies are into MILFs and central Canada is all about lesbian sex.
Canadian visitors to Pornhub, which bills itself as "the world's largest porn site," searched for "lisa ann," "massage" and "yoga" more than any other search term, the site finds. Among genres of porn (if you can call them that), "teen," "MILF" and "babysitter" came out on top.
But there were notable regional differences for the top search term: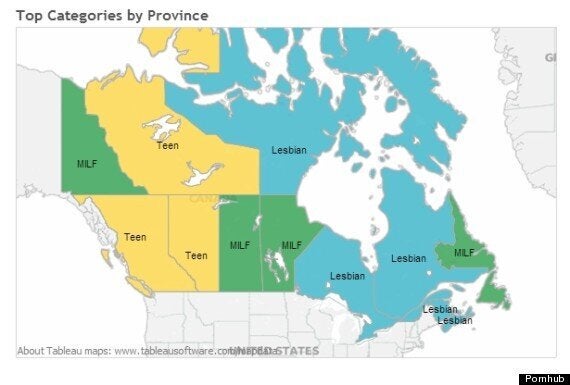 This actually makes Canadians fairly normal. Worldwide, Pornhub found the most common terms to be "teen," "milf" and "anal." So apparently Canadians are slightly less into anal, and slightly more into yoga, than other countries. (Check out the worldwide stats here.)
Canadians also spend somewhat more than the average amount of time on the site, lasting an average of a bit more than 10 minutes and visiting an average of eight pages. That compares to a global average of eight minutes and fifty-six seconds.
Here's a breakdown of who lasts the longest at Pornhub (story continues below):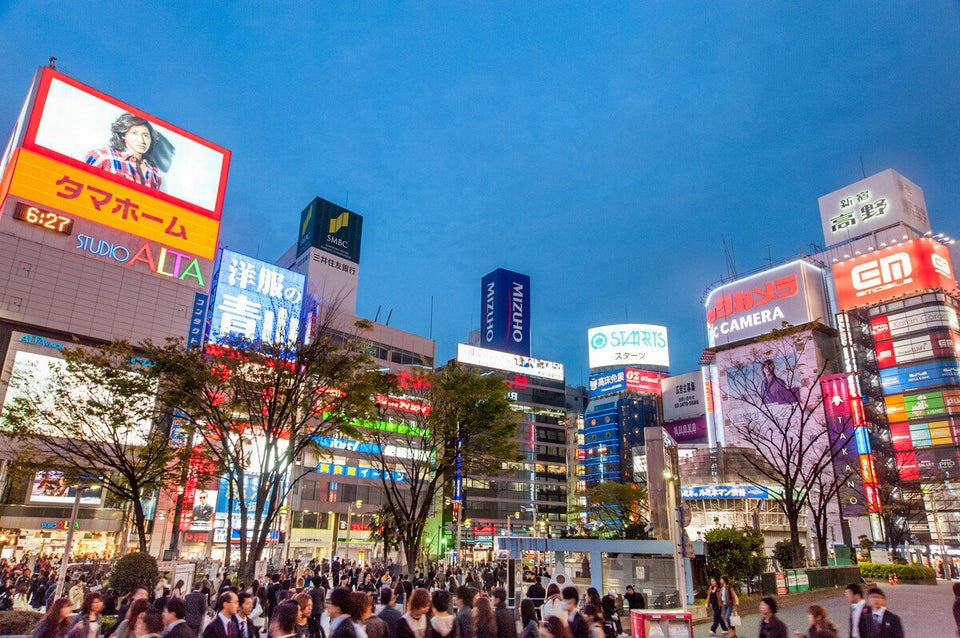 Who Lasts The Longest?
Mondays are the busiest days for porn viewing in Canada, the site says, which is also the case for most other countries surveyed. Weekend days generally see the lowest porn traffic.
But there are events that cause porn traffic to plummet. What could pull people away from their smut? Well, in Canada, hockey games definitely can.
During an Ottawa-Pittsburgh semi-finals game last year, porn traffic in major cities dropped by more than 20 per cent, with traffic in Ottawa down nearly 50 per cent, the site notes.
"If that's not love, [we] don't know what is. Spezza, congrats, your fans really love you!" Pornhub exclaims.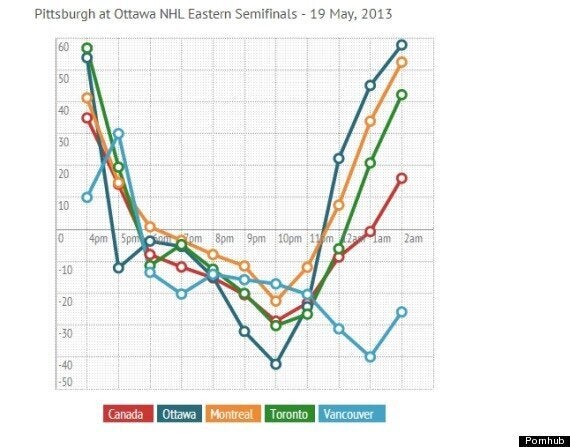 (The folks at Pornhub may know something about hockey: The site is owned by MindGeek, a Montreal-based company that also owns YouPorn.)
Canada Day also prompts many to turn off the smut, with traffic dropping by 9.6 per cent compared to a typical day.
But Thanksgiving Day — not so much. While porn traffic for U.S. Thanksgiving drops by about 30 per cent, in Canada it actually rises compared to a normal day, by about 1.3 per cent.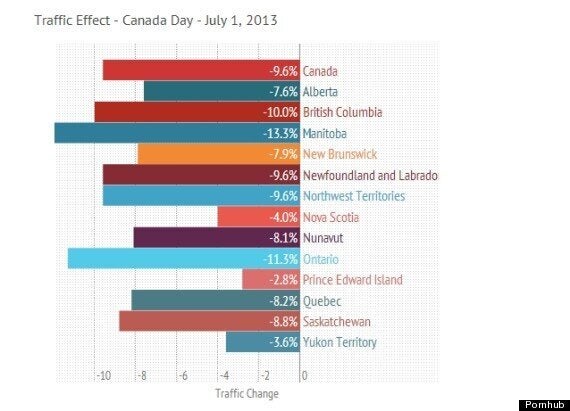 And one thing that seems to guarantee good traffic for porn sites? Bad weather. January is the most active month for Canadians to seek out porn, and this month's "polar vortex" had a major effect on both sides of the border.
Popular in the Community