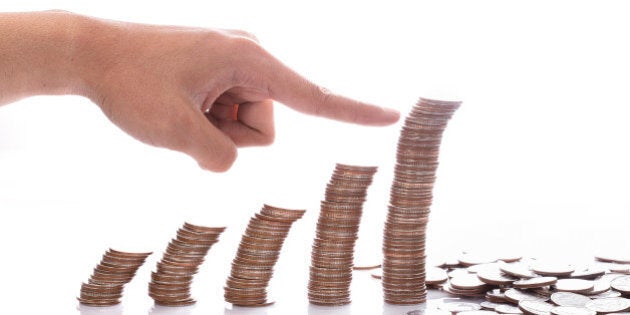 For the first time ever, the combined debt burden of Canada's provinces and municipalities is larger than the debt of the federal government, TD Bank says in a new report.
Canada's federal debt has been falling, more or less steadily, for two decades, from a high of 67.1 per cent of GDP in 1996 to a projected 28 per cent next year.
But Canada's provinces have seen their debt accumulate in recent years, and economists at TD estimate it is now above 30 per cent of GDP.
"Among provincial governments, only British Columbia and Quebec are either in a surplus position or poised to balance in the year ahead," TD deputy chief economist Derek Burleton wrote.
But Burleton isn't exactly preaching provincial austerity. He says provincial governments' focus on budget-cutting is a drag on economic growth, or, as he put it, "an ongoing headwind to economies."
"That said, governments have tabled capital spending plans that will provide some much needed infrastructure support, which should help to boost economic growth in both the short and long-run," Burleton wrote.
According to the Parliamentary Budget Office, the largest driver of provincial debt these days is health care spending, which is getting pushed up by an aging population.
The PBO has been warning the provinces for some time that their debt burdens are on an "unsustainable" path. In a report this year, the PBO said the provinces are on track to have a ruinous debt burden of 200 per cent of GDP within 75 years if they don't change course.
"Canada's subnational governments (provincial, territorial, local, and aboriginal) cannot meet the challenges of aging demographics," the office said last year.
Canada's premiers have been pushing the federal government to increase its funding of health costs. They are asking for Ottawa to cover 25 per cent of provnices' health-care costs through an increase to the Canada Health Transfer.
The Harper government has countered that its spending on health care is already set to reach record heights, with $27 billion transferred to the provinces over the next five years. It says its spending on health care is rising faster than overall health care spending.
Popular in the Community