One of the most memorable Canadian PSAs of all time is "Jake the House Hippo," which taught children not to believe everything they hear or see on TV. While this ad became a beloved part of many people's childhoods, Canadian kids know that not all PSAs were quite as charming. In fact, some absolutely terrified us.
Here, we round up eight traumatizing PSAs that haunted us as kids (and frankly, still do today). If you grew up in Canada, you'll remember these all too well. After all, they saved you from horrible accidents, drugs and death!
"Don't You Put It In Your Mouth" is number one for a reason. While this catchy tune was meant to teach us not to put strange things in our mouths, we couldn't get past those furry blue monsters. Their big, glaring eyes seemed to peer right into our very souls.
On Twitter, Canadian kids who grew up watching this ad still can't get over its eeriness.
We always knew robots were the future, but watching Astar make his way through a dangerous series of blades always put us on edge. Plus, his arm always got cut off in the end and magically sewn back on like it was no big deal. News flash: it was a big deal and some of us are still traumatized. Thanks, War Amps.
This PSA provides a great message about self-acceptance and not changing your appearance because of cultural beauty standards. However, its portrayal of what appears to be a beauty factory was pretty unsettling.
This short ad made mice seem friendly, so we always feared for their lives when we realized they discovered a mousetrap. Luckily, the two furry folk never touched it and the PSA's message stuck with us: "just because somebody leaves something lying around, doesn't mean it's OK for us to play with."
Not only was this ad trippy, but it included creepy puppets that warned us to stay away from drugs. And to top all that off, the subtle but oh-so-sinister look the drug dealer gave us at end will haunt us until the end of time. Watch if you dare.
This PSA about the consequences of drug use really cut to the chase. "Have you ever wondered what a bag of crack looks like?" an ominous voice says. Then, BOOM! A body bag flashes on screen. Boy, did the Concerned Children's Advertisers know how to make an impact!
We never really knew what kind of emergency this PSA wanted us to prepare for. All we knew was that we didn't want to be lost and alone in a dark forest — ever!
It's not surprising that Concerned Children's Advertisers would turn to scare tactics to deter kids from doing drugs. This ad in particular worked like a charm as it convinced us that our brains would explode if we ingested drugs of any kind.
The majority of Canada's PSAs were produced by Concerned Children's Advertisers — now known as Companies Committed to Kids (CCK) — in partnership with Health Canada and other non-government organizations. Their goal is to "contribute to the overall wellness of Canadian children."
Last year, CCK director Bev Deev admitted she was "embarrassed" about some of the company's past PSAs, but that today, the company's goal is to create messages that will maintain their relevance over time.
"Research guides our strategy, and the due diligence we undertake prior to producing a PSA has really been the secret to their effectiveness," she told Vice. "Sometimes the message wins out, but sometimes it's the charm."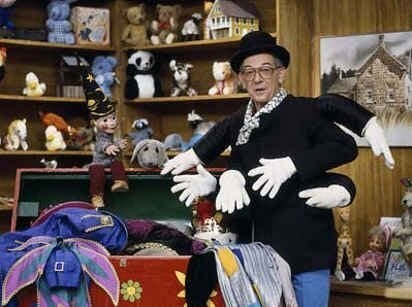 8 Things We Learned From Mr. Dressup