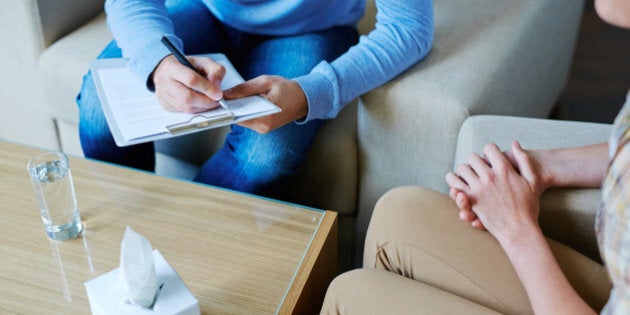 In May, I wrote about the problems for people with mental illnesses not being able to access the Disability Tax Credit easily. In June, the School of Public Policy at the University of Calgary issued a report pointing out that very few Canadians receive any help whatsoever from the program. And the main reason, they suggest, is that it only helps those who have sufficient income to benefit from a tax credit.
They state that "Far from being a successful policy, the results of the disability tax credit can
only be described as disappointing." The solution, they say, is to make the credit refundable. People who qualify but do not earn enough should be able to get a refund of the portion they cannot use. The result would be to increase the benefit for the poorest Canadians from an average of $29 today to an average of $511. That would increase their income by 4.1%.
The Ministry of Revenue is reviewing this program and, according to spokesperson Annie Donolo, "As part of that review, we will study tax credits like this one to ensure they are efficient, affordable and that they provide the right level of help to those who need it most."
Unfortunately, when it comes to those with mental illnesses, there is another serious problem that I learned of as the result of my previous blog. Numerous Canadian psychiatrists are refusing to fill out the Disability Tax Form application on behalf of their patients. Even patients who already have that tax status but need to reapply are being turned down by their doctors.
When I approached the Canadian Psychiatric Association (CPA) to ask if they had any policies on filling out the forms, the Chair Dr. Pamela Forsythe, said that "Psychiatrists should attend to disability forms for their patients in a timely manner as directed by their province's regulatory authority." And while she stipulates province, on follow up it was confirmed by the CPA that the same principle applies to Federal Tax Forms.
I was also told that the CPA follows the guidelines established by the Canadian Medical Association which states that "Physicians have a professional responsibility to complete third-party medical forms requested by their patients".
A number of people from various parts of the country have told me that they have psychiatrists who refuse to fill out the form. They prefer not to have their names used. One is a man from Hamilton whose son had the disability credit but then his psychiatrist refused to fill it out when it came up for renewal claiming it did not apply to him. A woman in the Greater Toronto Area had a similar problem with her son's psychiatrist (one of many) and has filed a complaint against the psychiatrist mentioning the refusal to fill out the form. Her son's new psychiatrist did fill it out and she is waiting.
A woman in Vancouver with schizoaffective disorder told me that her psychiatrist refused to fill out the form when her disability status came up for renewal. She was granted the tax credit in 2009 as she has had her condition for 35 years.
She told her doctor that she has a danger of relapse and "I have false thoughts, extreme mood swings, breaks with reality every week." His reply was that "those episodes are short and do not qualify as markedly restricted affecting me 90% of the time." She added that "the form doesn't ask about mood imbalance or rage or paranoia or suspicion. It is more about can you handle your bank account, drive a car, make decisions, eat, bath, etc."
Ryan Tonkin of Victoria is the founder of the Federal Disability Advocacy Project (FDAP) at Together Against Poverty Society. FDAP was established specifically to address issues with the DTC. He holds a degree in law from Harvard and told me via e-mail that he has experienced psychiatrists refusing to fill out the tax form for his clients on numerous occasions.
The problem for psychiatrists which they seem to want to avoid by saying their patients won't qualify is the ambiguity of mental illness disability. The form focuses on the physical and is poorly set out to take into account mental disabilities. In the case of Peggy Doe and Her Majesty the Queen heard in 2003, the psychiatrist said that she "can see, walk, speak, perceive, think and remember, hear, feed and dress herself and can personally manage bowel and bladder functions." But he added that her epilepsy was poorly managed which results in serious impairment. Ms. Doe also has a number of psychiatric problems.
Because of that, her tax credit was disallowed but, in this appeal, her psychiatrist stated that "the DTC certificate does not take into account certain psychiatric illnesses, in particular, the illness suffered by Ms. Doe. In particular, when he completed the DTC certificate, he found the DTC certificate obscure and not appropriate for mental illness; it contains no established criteria for mental impairment."
Ms. Doe won her case but the problem for psychiatrists is the difficulty and/or misunderstanding of the form and of the rules. In an appeal in 2002 in the case of The Attorney General of Canada v Buchanan where the government appealed their loss in Tax Court, the arguments centred around the misinterpretation by the psychiatrist who filled out the form. The psychiatrist testified that:
"it is not very clearly defined in the Act, but normally in medicine, the term "basic activities in daily living" refers to very simple things, like getting dressed, brushing your teeth, looking after your personal hygiene, climbing stairs, walking around the block, or holding simple conversation, and I felt that Mr. Buchanan is not impaired in those [...] although he is fairly impaired with his illness, I thought he was not impaired in those very basic activities in daily living."
Justice Rothstein agreed with the Tax Court Judge who found that the psychiatrist had failed to properly fill out the form and granted the tax credit. The Attorney General lost their appeal.
And because of the potential for legal involvement in court, I suspect that many psychiatrists would prefer to avoid the trouble and therefore tell their patients they do not qualify. They take the easy way out rather than advocating for them as they should.
Follow HuffPost Canada Blogs on Facebook
Popular in the Community