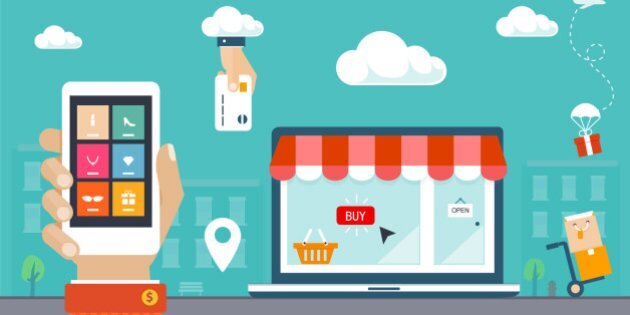 It wasn't so long ago that we Canadians used to watch American news coverage of Black Friday -- the stories inevitably covered the pre-dawn lines outside retailers' doors. Then, a new trend emerged: Canadians crossing the border to take part in the shopping craziness. Finally, in about 2008, Canadian retailers brought Black Friday and Cyber Monday north of the border; a smart play to keep customers -- and their dollars -- in the country. It took several years to catch on, but the Cyber Week U.S. retail holidays have now been fully embraced by Canadian retailers and consumers alike.
Today, Black Friday, and it's younger, popular sibling Cyber Monday, rival Boxing Day in Canada for the best deals and most retail sales. As an illustration, eBay Canada's site traffic on Black Friday and Cyber Monday has increased by 45 per cent and 40 per cent, respectively, since 2010.
With a 15-year history in Canada, eBay has a unique vantage point to analyze trends of Canadian shopping on Black Friday and Cyber Monday. 2013 was the turning point for us as we saw a huge shift in our most popular shopping days. Previously, Canadian online shopping peaked on the first Sunday in December, but now Cyber Monday is our biggest day, and we expect this trend to hold, if not increase, this year.
These trends have also crossed the pond to the U.K., where we're predicting that nine million Brits will visit our U.K. site on Black Friday versus 8.5 million on 'Super Sunday ' -- previously their busiest shopping day.
Interestingly, most of this shopping is expected to be personal. A recent survey conducted by eBay Canada showed that people are looking for one last opportunity to self-indulge before the holidays begin, with 62 per cent of Canadians planning to shop for themselves. And increasingly, Canadians are going online to get the best deals, with nearly twice as many consumers agreeing that sales are better online than in-store. As proof, one-quarter of Canadians said they would wake up at 12:01 a.m. to be the first person online.
Canadian retailers have done a good job establishing Cyber Week in Canada, but what's next? How do they maintain and grow this major consumer holiday? Three key opportunities come to mind.
First, it's become clear that Cyber Monday, in particular, now spans more than 24 hours. Retailers need to understand that consumers are ready to open their wallets before and after Cyber Monday -- hence the retail moment extending into Cyber Week.
Mobile shoppers especially are off to an early start scouting out deals, with more than one-third of Canadians saying they would shop on their mobile device and monitor social media for offers or codes. On eBay, we see Canadian mobile traffic peak on the eve of Cyber Monday as Sunday evening shoppers get a jump on deals. To compete, Canadian retailers need to start their deals early, especially on mobile.
Second, in today's omnichannel world, retailers can't underestimate the power of simplifying their deals. For instance, Walmart recently announced that -- for the first time -- they will be offering 90 per cent of the same Black Friday in-store door crasher deals online, giving customers the freedom to shop anytime and anywhere. The company will also offer all the deals at one time, instead of staggering them throughout the day, understanding that consumers will be inundated with other offers and messages. Consistency and simplicity will be a competitive advantage during the congested deal-frenzies of Cyber Week.
Finally, retailers need to respect the power of social media during deal-oriented shopping periods. As we've seen previously, good deals spread like wild fire, but poor or misleading deals can also go viral. Consumers are smart, savvy and social. They can see through hyped-up marketing and prices that aren't better than previous sales. Retailers need to ensure their deals can stand up to the scrutiny of social media.
There may be fewer lines at the border on Black Friday, but Canadian retailers can still do more to live up to the hype of Black Friday and Cyber Monday. With nearly every major Canadian retailer taking part in Cyber Week, to come out a winner, retailers need to up their game.