A Canadian-operated hospital in Syria was "completely destroyed" by airstrikes on Friday, according to an Ontario-based aid agency.
The Union of Syrian Medical Relief Organizations (UOSSM-Canada) says the Al Marjeh Primary Health Centre in Aleppo was struck by bombs dropped by Syrian regime and Russian planes.
The facility was closed for the weekend during the time of the attack, according to Dr. Anas Al Kassem, a Canadian-Syrian surgeon with UOSSM-Canada.
No doctors, aid workers, or patients were on site at the time.
Al Marjeh Primary Health Centre damage. (Photo: UOSSM-Canada)
Al Marjeh Primary Health Centre damage. (Photo: UOSSM-Canada)
A man examines the damage at Al Marjeh Primary Health Centre in Aleppo. (Photo: UOSSM-Canada)
Bomb blasts also severely damaged the facility's adjoining dental clinic.
"We don't have an estimation about the damage yet," Al Kassem told The Huffington Post Canada in an interview.
Such acts, those targeting hospitals and health centres, constitute a "war crime," he said.
The Al Marjeh facility is one of eleven healthcare centres operated by the aid agency in Syria.
Opened in 2014, the hospital serves 1,900 people monthly, most being refugees. According to UOSSM-Canada, 80 per cent of its patients are women and children.
"We don't know when this is going to end, unfortunately."

— Dr. Anas Al Kassem, UOSSM-Canada
"Everyone is scared and panicking now. It's not going to be an easy job," Al Kassem said of the prospect of fundraising money and organizing efforts to rebuild.
With the country locked in a ongoing five-year civil war, its medical facilities have repeatedly been made the target of attacks.
"We don't know when this is going to end, unfortunately."
City's last pediatrician killed Wednesday
Friday's attack marks the second time an Aleppo civilian hospital has been bombed in three days.
On Wednesday, an airstrike killed at least 60 people after hitting Aleppo's Al Quds Hospital. Among the casualties included Dr. Muhammad Waseem Maaz, who was the city's most-qualified pediatrician and reportedly its last remaining.
In a HuffPost blog, a former colleague praised Maaz's devotion to his patients. It's what kept him in "the most dangerous city in the world," working in hospitals continually caught in government and Russian crosshairs.
He explained what the protocol is when airstrikes hit hospitals.
"When the bombing intensifies, the medical staff run down to the ground floor of the hospital carrying the babies' incubators in order to protect them," wrote Dr. Hatem, director of Aleppo's Children's Hospital.
'Crimes against humanity'
UOSSM-Canada has provided $3 million in supplies to the eleven medical facilities in the past two years. Those supplies include sterile needles, tools for lab and blood work, and medications ranging from painkillers and treatments for asthma.
Al Kassem said "it's time the international community took action to stop these crimes against humanity," adding his group will urge the federal government to step up and protect medical facilities.
Health Canada did not respond to The Huffington Post Canada's request for comment before publication.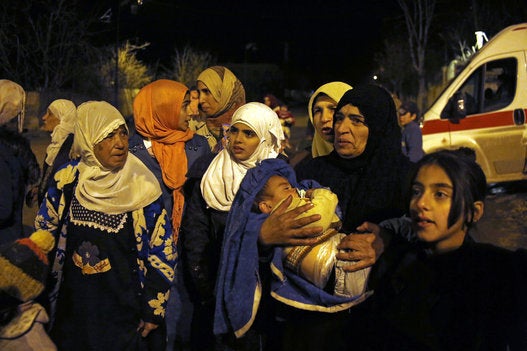 Aid delivered to the town of Madaya in Syria,
Popular in the Community