Armed with "the largest telescope ever" used for a deep space mission, a team from Western University have something to show off for their hard work.
Two images downloaded Sunday from NASA's ongoing Mars Reconnaissance Orbiter mission show the surface of the red planet in stunning high-res detail.
Using a HiRISE camera mounted on the orbiter, researchers captured the peaks and shadows of Martian dunes spread across the planet's Arabia Terra region.
Researchers describe the 15 square-kilometre area as a place that was at one time, "flat, smooth terrain, but over time it has been eroded – most likely by wind – forming depressed, low-lying areas featuring small dunes resembling waves in the ocean; whereas in other areas there are small flat-top hills forming."
The second photo shows a high-resolution image of Mars' rust-red surface, specifically a 500 metre by 500 metre areas of fractured bedrock partially covered in frost.
"It's mindblowing to realize that when the team, myself included, first look at the images, we are likely the first people on Earth to lay eyes upon a portion of the Martian surface that may have not been imaged before at such high resolution," said team lead Livio Tornabene in a news release Tuesday.
Tornabene is an adjunct research professor with the faculty of science.
HiRISE (acronym for High Resolution Imaging Science Experiment) is a $40-million, 65-kilogram camera that was launched with the Mars orbiter in 2005. Its strength is equivalent to a 700-megapixel camera (an iPhone 6 has an 8-megapixel camera, to put that in perspective).
The space-exploring Western University team has access to the orbiter for two weeks.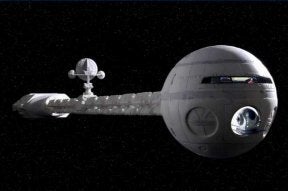 What's The Best Spaceship?
Popular in the Community