A Canadian retailer is getting a round of applause from parents for a subtle detail in its new catalogue.
The Canadian Tire Fall/Winter magazine is making the rounds, and its "fun and games" section, which features kids playing with an assortment of toys, includes a message to kids that toy preferences don't need to be bound by gender.
On one of the pages, a little boy grins as he holds a spoon over a saucepan in a toy kitchen, and a little girl concentrates as she holds a toy power drill over a workbench.
"Kudos to CanTire for turning things around a bit. It's not a big thing... it's a small thing, but it's a good start. Why not show girls with power tools and boys in kitchens? This is 2018, after all," Ottawa mom and blogger Andrea Tomkins wrote on Twitter.
"Let's just let kids play with toys and not let perceived gender roles get in the way. All kids can — and should — play with pretend food, toy cars, dolls, building sets. All kids can dress up in pink or blue or green. Anyone can wear glittery nail polish," she added.
The imagery was intentional, Carolyn McPherson, who is associate vice president of Kids Fun at Canadian Tire, told HuffPost Canada in an email statement.
"We encourage all kids to play, create and dream with whatever toy is on their wish list. We believe it is so important to provide the fun stuff that allows kids to imagine and grow, unhindered by traditional gender stereotypes," McPherson said.
Gendered kids' items can be harmful
A 2017 investigation by the Toronto Star found that kids' toys are more gendered than ever before. Recent U.K. research found that boys in toy catalogues are four times more likely to be shown with cars, and girls were 12 times more likely to be shown with dolls. Boys were twice as likely to be shown with construction toys, while girls were twice as likely to be shown with arts and crafts items, according to the study "Let Toys Be Toys."
WATCH: Gender-neutral toy ideas. Story continues below video.
"We know that children take very seriously the cues and nudges from marketing about what's suitable for a boy or a girl, and may be put off asking for a toy that interests them if the catalogue imagery make them feel they're not 'meant' to want it," the authors wrote.
"Teaching children early that there are 'boys things' and 'girls things' has long-lasting effects."
People are applauding Canadian Tire
The image in Canadian Tire's catalogue proved popular online, where Twitter uses applauded the retailer for helping to "abolish gender roles."
"This is amazing....a great way to promote changing gender stereotypes," Oakville, Ont. mom and pediatrician Marta Bejuk wrote on Twitter.
"I would have dreamed of a Master Chef Kitchen when I was a little boy back in the 1950's but I got trucks, trains, balls, firetrucks and more...," an online music station tweeted.
Some other retailers are following the same trend
Indigo's holiday kids' catalogue also departs from the norm, highlighting boys playing with dolls and pulling around grocery carts, and girls playing with fire trucks and a science lab.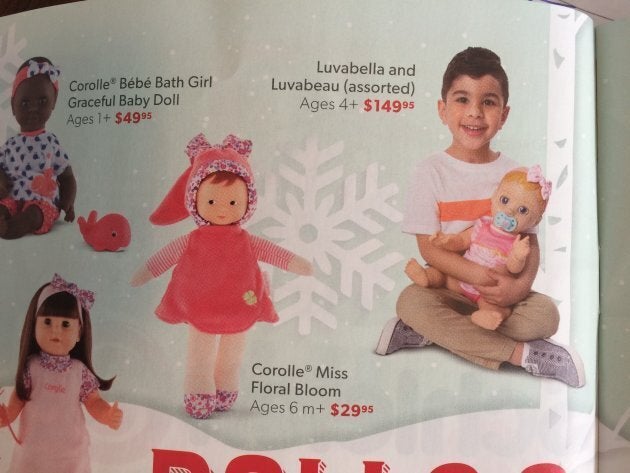 Play kitchens available at some other retailers such as Ikea Canada and Toys R Us also show images of boys playing with the items online.
But in their newest flyer, Toys R Us frequently shows boys playing with trucks and cars, and its pink play kitchen is enjoyed by girls only. Walmart Canada's online toybook shows girls playing with typical girl items like dolls and craft items, while boys enjoy cars, monsters and Transformers.
CORRECTION: A previous version of this story identified Swisssh Radio as a radio station from Duncan, B.C. It is an online music station.