Canadian Tire money is going plastic.
The home and hardware retailer announced Tuesday that it will add a new digital program to its popular loyalty program, which rewards customers with paper bills in small denominations of the loonie ranging from five cents to two dollars. It is rolling out a rewards system in which customers will accumulate spending tokens with a card or app.
However, Canadian Tire insists the program is not aimed at replacing its paper money, which will remain in circulation. Customers will have the choice to receive their rewards in the classic paper bills or digitally when they cash out.
The new program will launch in Nova Scotia on Oct. 10 and will roll out nationally on Oct. 28.
"As Canada's oldest loyalty program, we know Canadian Tire 'Money' holds an extraordinary place in the hearts of Canadians," said Allan MacDonald, Chief Operating Officer, Canadian Tire.
"We're building on it by introducing another way to reward loyal customers who prefer the ease and convenience of digital currency and rewards, further improving the Canadian Tire shopping experience and ultimately helping our customers tackle the jobs and joys of everyday life in Canada."
Canadian Tire first started giving out their "money" in 1958 and it has long featured the company's avuncular Scottish mascot Sandy McTire.
The retailer has been working on rolling out a new loyalty program for the past few years as part of a wider overhaul of how it does business.
Through the new program, Canadian Tire will be able to track consumer purchases through the loyalty card assigned in their name, a form of data collection that was impossible with paper money.
"My Canadian Tire 'Money' will serve as a great complement to our existing data programs, allowing us over time to increase the relevancy of our messages, provide a more personalized and tailor made approach and ultimately better serve our customers," MacDonald said.
More than $1 billion in Canadian Tire money is in circulation.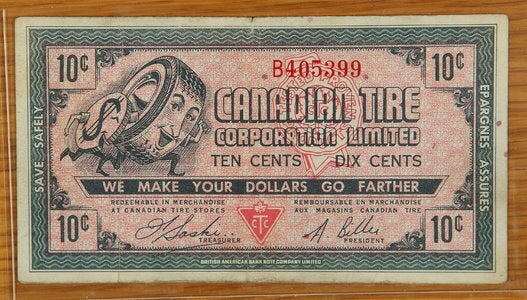 Canadian Tire Money Through The Ages
Popular in the Community