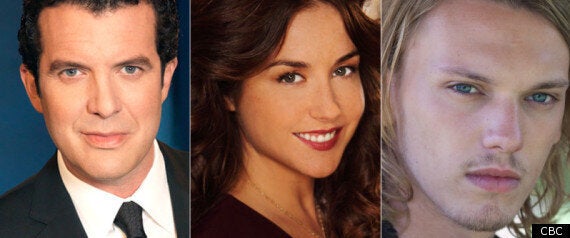 It seems fitting that on the launch of Huffington Post TV Canada, I'm examining the future of Canadian television. After all, when I first started covering television in 2002, blogs were so new that people said the word with invisible air quotes around it. I think we were all hoping someone would come up with a less ridiculous name for online journals. But here we are, 10 years later, with a vocabulary that includes not just blog, but blogosphere and blogger. Admit it, it all sounds like something out of an '80s video game. The venerable magazine I wrote for then doesn't exist anymore, it's now a website and the writers who work there are, you guessed it, bloggers.
How Canadian television writers report and where they do it has certainly changed in the past decade, but has Canadian TV itself changed? It feels like it. It feels like we're more visible to the outside world. Shows like "Trailer Park Boys" and "Being Erica" have an international following, but then again, so did "Kids in the Hall" and "Degrassi." It feels like we have more successful homegrown series, like "Flashpoint,""Rookie Blue" and "Combat Hospital" -- but go look for them on the primetime schedule outside of summer months. If anything, Canadian shows are less visible on networks (other than the CBC) than they were a decade ago, as Bill Brioux, another print reporter (Toronto Sun, Toronto Star, Globe and Mail, TV Guide) turned blogger, points out.
"You don't see very much scripted fare on television from Canadians now, unless it's in the summer months," he says. "It used to be that you could see "Street Legal" or "Road to Avonlea" all year long. But now they're pretty much shoved into a summer ghetto. Except for "Flashpoint" on CTV, the Canadian private networks have stopped showing Canadian scripted shows in season. CBC has to go it alone, and poor CBC, because they get beat up every September when they put "Michael: Tuesdays & Thursdays" opposite "X-Factor" or "Two and a Half Men." It's so hard for their shows to break out against big budget US shows on the other Canadian networks."
Speaking of CBC, it seems that lately the network has found new success selling its shows overseas, but Kirstine Stewart, head of English language programming for CBC TV, points out that while it's true there has been a increase in overseas sales of Canadian programs, we've seen this kind of spike before. "There is an increase, but things are cyclical," she says. "When I first started in this business 20 years ago, there was a real explosion of new channels, the cable market in Europe and around the world was enormous, and there was huge demand for programming -- Canadian, British and American. But as those markets matured, the indigenous programming was something they wanted to invest in, and those sales started to go down."
One thing that definitely feels different about Canadian TV is the rise of co-productions. I've mentioned "Rookie Blue" and "Flashpoint," developed with the participation of big American studios, and destined, in the US, for filler status. But theres also "The Tudors," "The Borgias" and "Camelot," developed by an international consortium of networks, allowing nets like the Ceeb to approach the big budgets and the accompanying production values viewers have come to expect. For Stewart, this form of international cooperation is part of the future of Canadian television ... but not without problems.
"There's a real difference between sales of a show, which come after the fact, and co-production, where we're developing something together," she says. And in some ways, she favours the more traditional method of taking a show to market after it's been developed, because "it lets the true story that people in Canada wanted" shine through. "A collaboration could have influenced it. It all depends on the topic, and I think there's room for both."
Brioux agrees that co-productions have their place, but can be dangerous. "That's the future of television, all around the world. Networks are teaming up with other countries to make dramas and comedies at budgets that consumers are used to. But the curse of it is, you can't go it alone in Canada anymore. It's a double-edged sword. It opens up an American market to Canadian shows, but in terms of our own market, it may be killing some shows," he says.
Co-productions aren't just a threat to more modest home-grown fare, they can affect the fate of the co-produced show itself. "As much as these are big successes here -- 15 million viewers every week for "Combat Hospital" all summer on Global in Canada, and we don't even know if it's coming back because ABC dropped it," Brioux says ruefully.
Stewart acknowledges that the tiny budgets of Canadian productions, as compared to American shows, will probably always be part of the conversation around Canadian TV. "Our scale is such that ... think of the population size, think of our resources. We are lucky to be in a situation that's subsidized. It's necessary. We're unique in that situation worldwide, like the UK and Australia, they don't have someone bigger than them right next to them. That's why we require subsidization."
If not much has changed yet, it seems unlikely the future is static. For Brioux, the future of Canadian TV looks dim indeed. He identifies the ghettoization of Canadian programming into the reality genre as a major threat. That's where networks are getting their Canadian content credits, at the expense of scripted shows. "I used to be very much a free market guy, people want to watch shows, they don't care where it's made," he says. "But more and more, the longer I've been in the business, the more I feel for people who are trying to tell our stories and employ Canadian actors and writers and producers. Unless we want all of those people to go to the States to work, I think the CRTC has to take a hard look at how television is funded, and how networks operate. I think they've been getting a free pass, and some kind of regulation and a shake up is needed. The networks seem to be operating as if the CRTC isn't there, it's toothless."
For Stewart, the changes will come with increased digital distribution and more innovative methods of distributing content. "We have to be smart about what we do next because the world is moving quickly. Canada was one of the first countries to get cable -- we're always on the leading edge of technology. But, we have to think about how we use the digital space. And with tight budgets, there's not a lot of room for risk, we run the risk of falling behind." In other words, we don't have much room for failure. Whatever we do, it has to work the first time.
But, she says, the good news is Canadians do care about Canadian television, though she hearkens back to shows like "King of Kensington" and "Beachcombers" to make her point. Brioux is less optimistic, and returns to the hard fact of ratings. "Of the the top 20 shows in Canada, 18 of them are American. Consumers just aren't concerned about this the way people in the industry are."