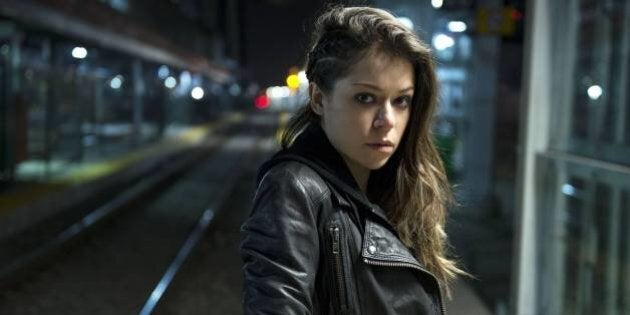 Identifying and linking narrative threads is commonplace when looking at American (or other nation's) TV, but is often resisted in Canada.
But it can be a fun mental exercise.
I was thinking about the role of female characters in Canadian TV shows. It's perhaps an interesting topic for examination at a time when people are starting to ask hard questions about gender (and racial) representation in popular culture.
There's an interesting preponderance of female-led sci-fi and fantasy series in Canada. Looking at the current crop there's: Lost Girl, Orphan Black, Bitten, Continuum and the upcoming Killjoys. Plus, slightly to the side (as they aren't necessarily Canadian-initiated) the co-productions Beauty & The Beast and Haven.
My assumption was that this particular ball got rolling with Sanctuary, a female-led sci-fi/fantasy series that was the first series of recent vintage to be an original, Canadian conceived sci-fi series. Without Sanctuary's modest success (it ran four years) the other shows I mentioned might not have found executives as eager to back them.
Meanwhile, female-led sci-fi/fantasy outside of Canada is shockingly rare! Xena, Buffy and Captain Janeway remain exceptions rather than trendsetters. That isn't to devalue strong or important female characters in shows like Sleepy Hollow. But in most series if you were to assemble characters in a pyramid of importance (and billing) I'm pretty sure we know who'd be at the peak.
Now it's not good for the pendulum to swing too far either way. One of the qualms I have about proposals for a new female-led Ghostbusters is that it's replacing a gender-segregated all-male movie with a gender segregated, all-female movie. I don't see that as progress. Wake me up when they are making a mixed gender, racially diverse Ghostbusters, won't you?
But that's an interesting aspect of these Canadian series: not only are there still male-led series (like Murdoch Mysteries) but there are plenty of good male roles in these female-led series. There's far more gender balance than a lot of the traditional male-led series. That's worth noting since even as the entertainment industry begrudgingly makes efforts to adjust to calls for greater gender and racial representation, there can be a kneejerk pushback from reactionaries frightened about the lose of their traditional place of dominance. In other words: dudes, take a valium and calm down.
Why this trend in Canada specifically? Well, programmers go with what sells. They've had success with these female-driven series. Money -- and ratings -- talk.
An interesting thing about these series is how generally unself-conscious they seem about gender. With Buffy the Vampire Slayer the fact that the hero was a girl was kind of its gimmick. But in most of these Canadian series it could be argued that instead of explaining "why" the hero is female, the attitude is simply "why not?"
Then it got me thinking outside the sci-fi/fantasy genre. The recent Strange Empire was marketed as a feminist western for its focus on female leads. But I suspect to a lot of viewers that aspect barely registered because female-led Canadian historical dramas are hardly atypical (including The Book of Negroes and Bomb Girls).
Even when a series features an ensemble, and one can quibble about who is the lead, usually there's a key character who is seen as the anchor. Just consider Rookie Blue or Blackstone.
In the modern TV landscape this doesn't seem too unusual compared to American, British, etc.series -- save when you consider it in the context of the overall ratio of male/female-led series each country produces. And when you realize this has been going on for a while, including past series like King, Cold Squad, Heartland, Blue Murder, Black Harbour and even Intelligence. I'm not sure if French-Canadian series reflect a similar preponderance, but I can certainly think of series like the medical drama Trauma and the crime drama Fortier.
So if this extends beyond simply sci-fi/fantasy, and has been going on for a while, where did it begin?
My mind ended up all the way back to the 1980s and Street Legal. That was arguably English-Canada's first populist primetime adult drama -- certainly in years. An ensemble about a law firm, top-billed was Sonja Smits as lawyer Carrie Barr. Nothing especially radical (I don't recall any critics heralding it as ground breaking) but I think most comparable U.S. series then tended to be fronted by men. L.A. Law, the U.S. series that was its main counterpart, featured Harry Hamlin as the top-billed star.
And can there be any doubt Street Legal inspired E.N.G. (starring Sara Botsford), Side Effects (with Nadia Capone as the nominal lead in the ensemble, while American medical dramas like Chicago Hope and E.R. were male-led) and North of 60 (which, if more by happenstance than initial intent, evolved into Tina Keeper being the lead)?
But there was something else that occurred in the 1980s -- another seismic event in English-Canadian TV. A red-headed orphan girl came to live on P.E.I.
Yup, Lucy Maud Montgomery's YA books about Anne of Green Gables came to TV and were a huge ratings success, leading to the popular spin-off Road to Avonlea. In Canada, Anne is sufficiently ingrained culturally that we probably don't think too much about it, one way or the other, but iconic girl heroes tend not to be as pervasive as boys like Tom Sawyer and Adrian Mole.
So is that the thread? Have we traced back a genetic bloodline?
It's hard to draw direct connections. Consider the early 1980s TV series Seeing Things. That was a mystery-comedy about a neurotic male hero (Louis Del Grande) -- yet the important secondary roles were both women. Not sure there were many American series like that.
And maybe I've missed an obvious link in the cultural chain. Or maybe I've ignored a plethora of strong female roles in American TV (but most I can think of were exceptions -- and obviously I'm distinguishing dramas from sitcoms which have a longer history of female leads).
When Angie wryly cracks a murder case on Motive, when Sarah stares herself in the face without benefit of a mirror on Orphan Black, when Elena goes walkies with her werewolf pack on Bitten -- is the shadow of a red-headed orphan girl falling over them all?