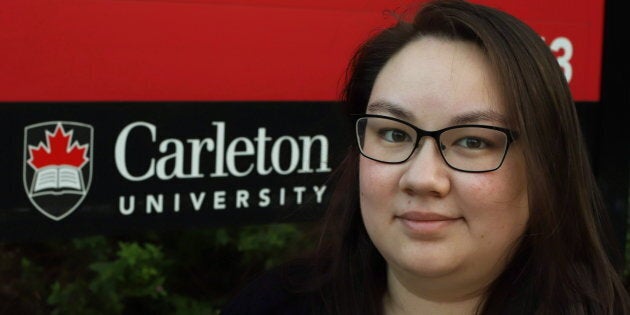 The unprecedented global focus on sexual assault that began last fall led to a renewed interest in the way universities treat assault reports. But advocates say it's important that policies are put into place that support victims year-round — not just when there's worldwide scrutiny on the topic.
"These things don't just disappear when they're not in the media anymore," said Jade Cooligan Pang, president of Our Turn, a group working to end campus sexual violence.
Our Turn started at Carleton in 2017, but now has branches nationally.
"I think — not just at Carleton — that we're talking about it more. We're talking about sexual violence, we're talking about prevention, we're talking about support a lot more. And that's been a huge help," Cooligan Pang told HuffPost Canada.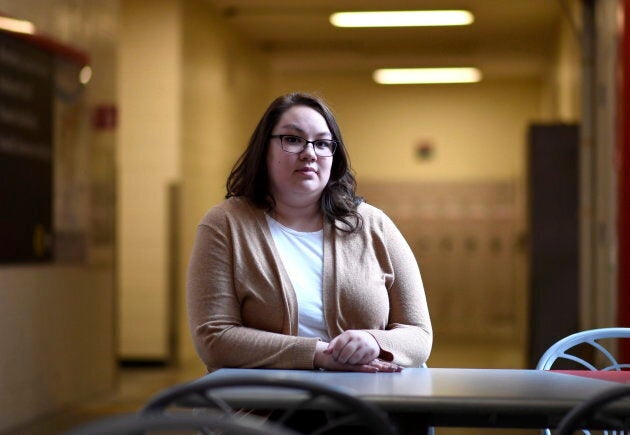 The focus on support will be especially significant at the beginning of the school year, the organization has said. Two thirds of campus sexual assaults occur during the first eight weeks of school, a time some activists call "the red zone." According to U.S. research, assaults spike several days before the semester officially begins, and continue until late fall. The majority of assaults take place on Saturday and Sunday mornings between midnight and 6 a.m.
Carleton law professor Dawn Moore said now, more than ever, it will matter how universities adjudicate sexual assault cases.
"I think this year is a litmus test to see what (students do) when those assaults unfortunately occur — because they will — and particularly to see then how each administration responds,'' Moore said.
University services found to be lacking
Two years ago, Moore was part of a research team that looked at the ways Ontario universities respond to assault complaints. She said that she was told by 18 survivors that their top priority was improving school resources. All 18 had attempted to access their universities' services in the aftermath of their assaults, and they all found the services to be grossly lacking.
How schools respond to sexual assault differs widely across the country. In recent years, Ontario, Quebec, Manitoba, and British Columbia have made it mandatory for universities to have sexual violence policies. These policies mandate straightforward, transparent ways in which they will deal with sexual assault complaints, which they must make clear to students.
Existing policies
One of Our Turn's initiatives is grading the sexual assault policies at different Canadian universities. The group takes a survivor-centric approach, and their grading process incorporated the clarity and accessibility of the written policy, the existence of an independent third-party member on the review committee, the ability to have a support person present, and protection from retaliation, among many other factors. (The full breakdown is available in their action plan.) Our Turn looked at the schools' written sexual assault policies and interviewed students on the ground. The school with the best showing, Ryerson University in Toronto, got a Score of A-minus; the worst, Montreal's Concordia University, received a D-minus.
"The average score we had was a C, which isn't very high," Cooligan Pang said.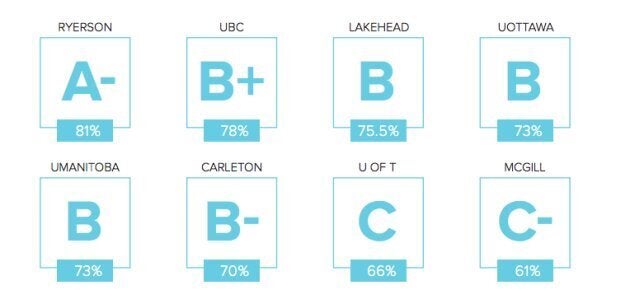 Many barriers exist for sexual assault survivors
But even with those structures in place, there are significant issues that can make it hard for the people who need help to actually get it, said Cooligan Pang. One major change Our Turn is pushing for is an immunity clause, which would prevent a school from punishing a complainant for underage drinking or minor drug use.
"There are students who are afraid that if they were drinking, they would get in trouble," said Cooligan Pang. "But underage drinking... isn't the problem here right now. The problem here now is that somebody was assaulted."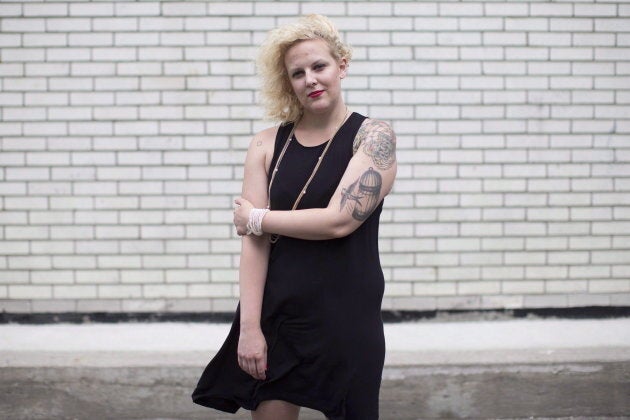 Cooligan Pang hasn't directly encountered someone who didn't report an assault because of underage drinking, but said the possibility of someone facing punishment when coming forward is a problem in itself: "It's a huge deterrent."
Another big problem at some schools is the existence of a so-called gag order, Cooligan Pang said. Our Turn has discovered that nine Canadian universities have some variation of the rule that restricts the way complainants are allowed to speak about their sexual assaults. At Carleton, it means talking only to counsellors and support services, or to close friends and family.
If consent were a more significant part of the school curriculum at an earlier level, it wouldn't be such a big ordeal for campus groups to take the effort on.Caroline Aubry-Abel, director of the Quebec group Sans oui, c'est non (Without Yes, It's No)
Following the policy means avoiding any public or social media discussions of the assault, or even making it known outside a few private conversations that they've been assaulted at all. Students aren't forbidden from contacting the police, although students are generally advised to choose the school or the police force to conduct an investigation.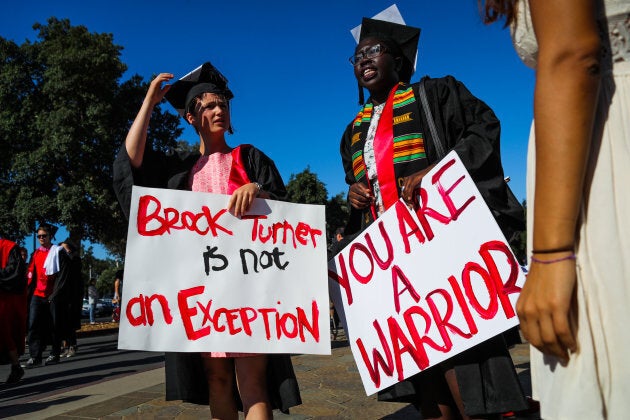 Maintaining the impartiality of the university's proceedings is "fair," Cooligan Pang said, but, "at the same time, you're stopping survivors from being able to talk." For sexual assault survivors, not being granted the right to talk about a traumatizing experience can be "extremely isolating," as it "severely diminishes their potential circle of support."
She also says many policies are written so that the institution has the right to suspend an investigation if a criminal investigation is going on, or if the accused has left the school.
Immediate goals
One of Our Turn's immediate goals is to introduce a timeline into campus sexual assault proceedings. Right now, some schools will give complainants some idea of how long their cases might take to investigate, but often there's no information about timelines at all.
A survivor-centric approach would allow the complainant to look ahead to the end of the ordeal, Cooligan Pang said.
"Administrations that we've spoken to are hesitant to include explicit timelines, because they say, 'we don't want to rush the investigation," Cooligan Pang said.
While Cooligan Pang recognizes that that's fair, she also said administrators could improve the complainant's experiencing by setting a timeline: for instance, they could tell the student that an investigation will take place within 20 business days.
"If in those 20 business days, it's not done, extend it by another 10 business days," said Cooligan Pang. "Go through a process to do that, instead of just being up in the air."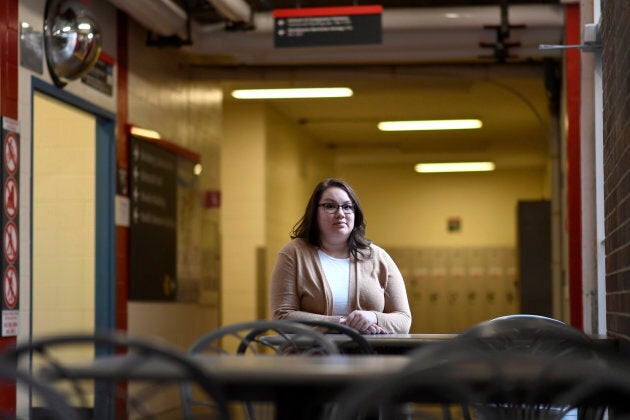 Our Turn also hopes to see schools institute rape-shield protection, which would place limits on the administration's right to cross-examine a complainant.
Without rape-shield protections, "the investigator could just sit down and be like: 'How come you didn't say no? How come you didn't leave? How come you were wearing a short skirt?'" Cooligan Pang said. "There's no rights of the survivor when you're going through that process."
Progress is often slow
"It takes a long time to create an institutional policy that's good enough," said Caroline Aubry-Abel, director of the Quebec group Sans oui, c'est non (Without Yes, It's No). "It has to go from unions to student associations, to staff members. A lot of services need to be consulted on this policy before it can take effect."
Sans oui, c'est non started at Université de Montréal and is now Quebec-wide, travelling to universities and CEGEPS throughout the province to provide education and training on how to teach consent and avoid sexual assault. (CEGEPs are academic institutions Quebec students attend after high school, which offer two-year pre-university programs or three-year trade programs.)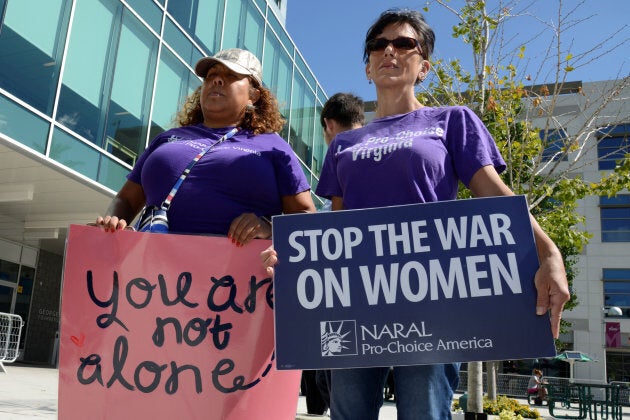 Political uncertainty can also slow down progress, Aubry-Abel said. Her group has been working with Quebec's Liberal government for months now, but it's likely that their work will be scrapped if another party takes office after the October election, which is looking increasingly likely.
If consent were a more significant part of the school curriculum at an earlier level, Aubry-Abel said, it wouldn't be such a big ordeal for campus groups to take the effort on.
"There are new students every year who need to have the training, because our educational system doesn't teach this notion to kids," she said. "Each and every new student at university and CEGEP needs to be trained."
A year after the sexual assault allegations against Hollywood director Harvey Weinstein, the news cycle is still filled with victims coming forward about alleged assaults. However, now there is an anti-#MeToo backlash to contend with, as well. Cooligan Pang said no matter what's in the news cycle, and no matter the wider reaction, groups like Our Turn won't stop advocating for victims.
"Even though some people might find us annoying, we're here to make a change that is very much needed," she said.
With files from The Canadian Press