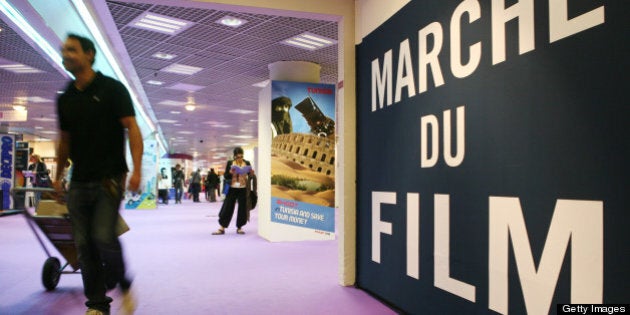 As part of Telefilm Canada's Not Short on Talent project, 40 short-film filmmakers from across Canada are travelling to the 2013 Cannes Film Festival, where their films will be highlighted in the market. The Huffington Post Canada is pleased to share diary entries from a selection of these filmmakers, who describe their experiences at Cannes as Canadians on the rise in the industry. Here is Jacquelyn Mills with the sixth entry in our Cannes Diary series. Also check out previous entries from Jacquelyn, Moira Sauer, and KyleThomas.
The excitement and the crowds begin to taper. The pavilions and market booths are closing. Although there are two days left in the festival, you can feel the end is near. This seems to be happening as suddenly as the festival began. One day you are rushing minute-by-minute all over la Croisette, and the next the urgency is gone. You find yourself walking at a slower pace. You put your feet in the sand and finally look up at the sky.
This was an experience not to be forgotten. How we would arrive at the Canadian pavilion each morning, with too-early half-shut eyes. Hearing "you look tired" often, and forcing an "I feel great" before you've had your complimentary café au lait. Abandoning the hopes for any kind of balance, exercise, sleep or even one piece of fruit or vegetable. There were the impromptu interviews or card exchanges that happened absolutely anywhere. The countless 5 à 7's and glasses of rosé. The rare opportunity you have here to sit with festival programmers and discuss your film in person.
We attended inspired and motivating Q&A's: with Chloé Robichaud, Jefferson Monoe, Sébastien Pilote -- all emerging Canadian filmmakers officially selected in Cannes. There were information sessions with Telefilm's head of Financing, as well as conversations with Jane Campion and Ted Kotcheff. After the latter, we even attended the restoration premiere of The Apprenticeship of Duddy Kravitz where the film was declared a masterpiece in front of Canadian filmmaker Kotcheff and star Richard Dreyfess.
Then there was the magic of the red carpet screenings, where you'd share world premieres with the director and cast. These were always truly remarkable and unreal events, filled with camera flashes, excitement, celebration, and standing ovations. Finally, at the end of our packed days, there was Le Petit Majestic. The tiny, overflowing bar that always seemed impossible to find but where we'd end up every night, along with one thousand others.
After writing and reflecting on these past days I realize that above all this, what I will surely never forget is the wholehearted connections and conversations with the other emerging filmmakers in NSOT. We are starting our good-byes at NSOT, as our team begins to disperse on their travels home or elsewhere. We are shifting gears to our lives outside of the festival, onto what is next -- which has been a distant thought during the whirlwind of these 10 days. For a moment, we found a life here and formed community. Now we take these brief yet lifting experiences with us as we move forward. For me, I will head back to the post-production of my project Woman in the Waves with a new breath; a real inhale of inspiration and clarity drawn from this place. A breath I plan on holding for quite some time.