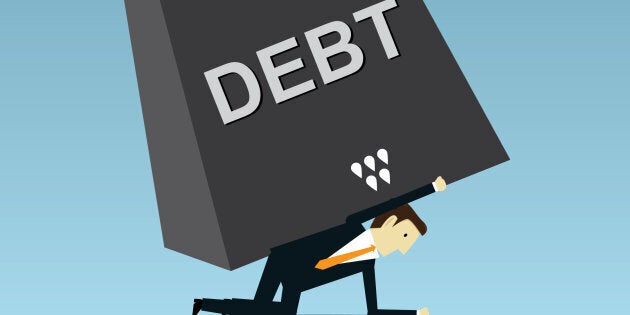 In a country where the average personal non-mortgage debt is $20,000, it's no surprise about one in four Canadians are feeling overwhelmed by how much they owe, according to a new survey.
According to BDO Canada's first Affordability Index released this week, Canadians struggling the most with debt tend to be younger, earning less, and are dealing with the cost of raising a family while paying down a mortgage. One-fifth of Canadians (20 per cent) without kids say their debt is so overwhelming they don't know what to do about it, compared to more than one-third of those with children (34 per cent).
Women are more likely to carry heavier debt loads than men (52 per cent vs. 42 per cent), and are more likely to find it challenging to save for retirement (73 per cent women vs 65 per cent men), save for a major purchase (74 per cent women vs 64 per cent men) and afford transportation costs (43 per cent women vs 36 per cent men).
Watch: Before reaching for a loan or credit card, consider an emergency fund. Story continues below.
BDO Canada President Doug Jones said the index shows how serious financial challenges are for many Canadians.
"This lack of affordability suggests that a significant group of Canadians take on debt to cover their spending and many find themselves feeling lost and overwhelmed by this debt," Jones said in a release.
The survey also showed women and millennials (aged 18-34) are more unprepared for events like purchasing a home, dealing with unexpected costs, having children, or retirement.
Putting off milestones, not enough saved
Nearly one in five millennials (18 per cent) say they're putting off having kids because of affordability.
More than half of non-homeowners (52 per cent) say they won't be buying a house in the next five years, and another 23 per cent say it's not likely in the cards.
And more than a third (37 per cent) of Gen X-ers (aged 34-54) say they don't have enough saved for retirement and almost as many (33 per cent) say they have little or no retirement savings at all (compared to 65 per cent of Canadians overall).
Almost half (47 per cent) of millennials also have no retirement savings.
Jones said the situation paints a "bleak picture" of those in their prime being unprepared for retirement.
"What this can lead to is an increase in seniors who are unable to finance their final years and must rely on credit cards and other forms of debt to support their living expenses," he said.
To stem their rising debts, more than half of Canadians (55 per cent) have cut back on spending on things like dining out or vacations. More than 4 in 10 (43 per cent) have reworked their budgets to cut expenses, and another 20 per cent have sold their possessions to pay back some of their debts.
The survey was conducted by Ipsos online among 2,000 Canadians aged 18 and over on Ipsos' online panel for BDO Canada Limited from July 3-6, 2018. The poll is accurate to within +/- 2.1 percentage points, 19 times out of 20.