The number of indigenous MPs will hit a new record after Canadians elected 10 candidates into the House of Commons Monday.
Justin Trudeau led his Liberals in a cross-country sweep of Conservative and NDP ridings, bringing his party's seat count to 184 by night's end — a stunning increase from the 36 the party held before the election.
Assembly of First Nations National Chief Perry Bellegarde welcomed Trudeau and his new Liberal government, saying they're ready to mend frayed federal ties under the promise of a renewed nation-to-nation relationship.
"First Nations people were involved like never before in this election and the participation of so many Aboriginal candidates no doubt helped increase interest among our people," Bellegarde said in an email to The Huffington Post Canada.
"It is the responsibility of all MPs and all parties to work with us in partnership to close the gap."
Seven indigenous MPs were elected in 2011.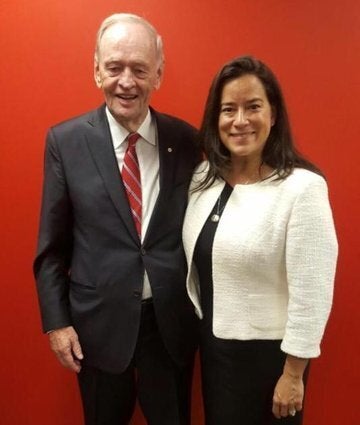 Meet Canada's Indigenous MPs
Of the 18 indigenous candidates who ran under the Liberal banner during the 78-day campaign, eight won seats across the country from B.C. to Labrador.
Star candidate Jody Wilson-Raybould, a prominent aboriginal leader, thanked voters after she won the newly created riding of Vancouver Granville after a competitive three-way race.
The Liberal wave also made its way into Manitoba, pushing longtime NDP MP Pat Martin out from office, moving Liberal Cree candidate Robert-Falcon Ouellette in.
"You have given me something most precious: you have given me your trust," said Ouellette in his victory speech in Winnipeg.
"That is a responsibility that I take most seriously, because there will be challenges in Winnipeg Centre, but there will be also opportunity."
The NDP's Romeo Saganash held onto his riding in Quebec's Abitibi-Baie-James-Nunavik-Eeyou.
In the north, Canada's first Inuk cabinet minister Leona Aglukkaq was unseated by Liberal contender Hunter Tootoo in Nunavut. The Conservatives' four indigenous incumbents, including Aglukkaq, all lost their seats.