Canadians' confidence in the housing market hit an all-time high less than a month ago — but a month, it turns out, is a long time in real estate.
That confidence is now falling as evidence mounts of a slowdown in the Toronto area, Canada's largest housing market.
The Bloomberg Nanos consumer confidence barometer found the share of Canadians expecting house prices to rise in the next six months has fallen to 45.5 per cent, from a record high of 50.1 per cent just three weeks earlier. That was the highest level since Nanos Research started the survey in 2008.
"Recent declines in consumer confidence scores were most likely to be driven by a cooling of real estate sentiment after hitting a high in early May," Nanos Research chairman Nik Nanos wrote in the survey.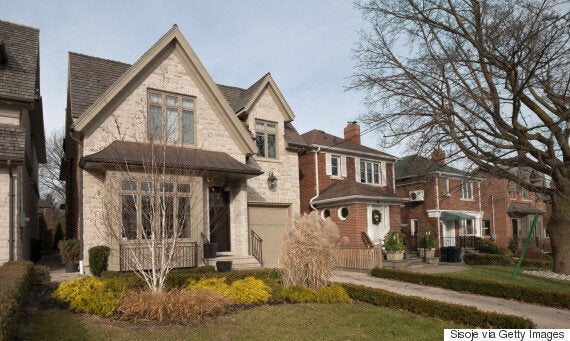 After a rip-roaring start to the year, which saw Toronto house prices spike 33 per cent in March, the city's market appears to have cooled considerably.
According to data compiled by brokerage Realosophy, sales of single-family homes fell 26 per cent in the Toronto area the month following the introduction of the new provincial rules, compared to the same period a year earlier.
Some areas saw much steeper drops. The suburb of Richmond Hill saw the steepest sales decline, down 61 per cent.
"The frenzy is over — it's over," Century 21 brokerage owner Joanne Evans told Bloomberg. "Sanity is returning to the marketplace."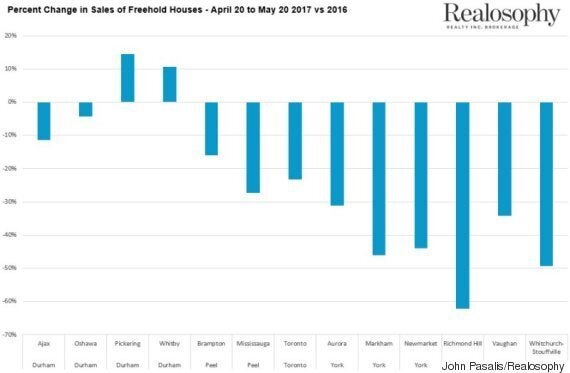 They also suggest buyers are on hold to see what effect the province's new housing rules will have. Those rules, announced in April, include expanded rent controls and a 15-per-cent foreign homebuyers' tax.
Buyers walking away from their deposits
The mood in the market appears to have turned very sharply, very quickly, and buyer's remorse is setting in.
"We are seeing people who paid those crazy prices over the last few months walking away from their deposits," Royal LePage realtor Carissa Turnbull told Bloomberg. "They don't want to close anymore."
New listings of homes have spiked as some homeowners in the area hurry to cash in on high house prices. Listings were up 47 per cent in the first half of May, compared to the same period a year earlier, even as sales fell.
According to real estate analyst Ben Rabidoux, some of that spike is people re-listing their homes after failing to attract a bidding war.
"Sanity is returning to the marketplace."

— Century 21 brokerage owner Joanne Evans
The average sale price declined in the first half of May as well, down 3.3 per cent from a month earlier, although it is still considerably higher than it was a year ago.
Market experts say the full effects of the rule changes and the crisis at Home Capital have yet to be felt, but few expect an outright collapse in Greater Toronto's housing market.
"Low interest rates are going to be oxygen ... that keeps the fire going in the Toronto and B.C. housing markets — and that fire has spread to southern Ontario as well," BMO senior economist Sal Guatieri told Reuters.
"Clearly, without such low interest rates, we probably would not be seeing house prices rising as dramatically as they are."
The Home Stretch

Our weekly newsletter delivers the news and analysis you need on Canada's housing market. Sign up below and don't miss an issue.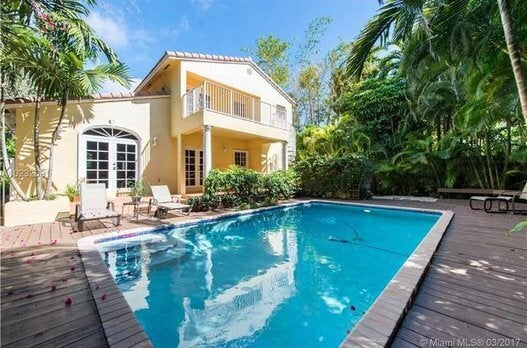 What Toronto's Average House Price Will Buy You (April 2017)