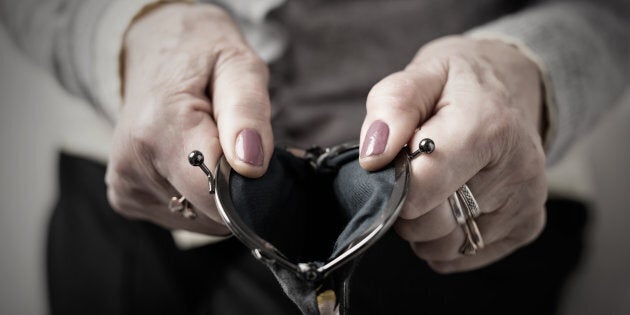 A majority of Canadians believe a person's financial lot in life is largely due to factors beyond their control and not a reflection of how much effort they've put into changing their situation, a new poll suggests.
According to the second part of an Angus Reid Institute study on poverty in Canada, most Canadians agree that a person is rich because of the advantages they had in life (65 per cent) and that a person is poor because of circumstances beyond their control (72 per cent). For the most part, however, those who are more financially comfortable are less likely to agree with those two statements.
Similarly, the richer Canadians are, the more likely they are to agree that person is well-off because they worked harder than most people, and that a person is poor because of a lack of effort. They were also more likely to support the idea that a good work ethic is all a person needs to escape poverty.
Divided on the solutions
Still, more than half of Canadians in every province agreed their provincial governments weren't doing enough to address poverty. About two-thirds of Canadians (65 per cent) say the federal government is falling short, around the same number as the overall 64 per cent who say the the same of their provincial counterparts.
Canadians were more divided on what governments should actually do to combat poverty. While 84 per cent of respondents agreed big national infrastructure projects to create jobs were a good or very good idea, only two-thirds supported a $15 minimum wage, and even fewer (59 per cent) were in favour of a guaranteed annual income.
Opinion on these methods was divided even further across party lines. Those who voted for the Conservatives in the 2015 election were far less likely to support certain social programs in order to combat poverty.
Survey respondents were also asked whether there should be "more public support for the poor, the disadvantaged and those in economic trouble" or "more emphasis on a system that rewards hard work and initiative."
Conservative supporters and Prairie-dwellers were more likely to support the "hard work" narrative, whereas Liberal and NDP voters, Quebecers, British Columbians, and Atlantic Canadians believed there should be more public support.
The Angus Reid Institute conducted an online survey from May 28-June 13, 2018, among a representative randomized sample of 2,542 Canadian adults who are members of Maru Voice Canada. The sample plan included a special booster sample of 242 respondents with household incomes below $35,000. A probability sample of this size with this sample plan would carry a margin of error of +/- 2 percentage points, 19 times out of 20. Discrepancies in or between totals are due to rounding. The survey was self-commissioned and paid for by ARI.