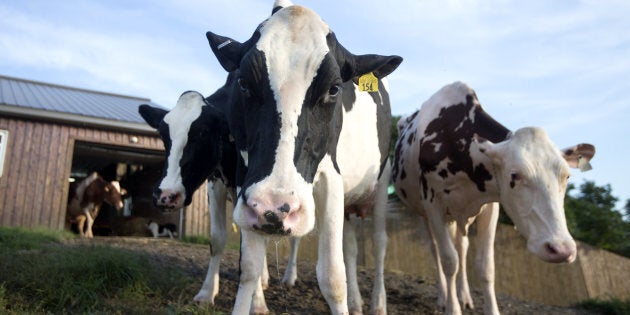 Most Canadians consider meat to be part of a healthy diet, but a new study shows millions are eating less or none of it.
In the study from Dalhousie University, just under half of respondents said they eat meat daily, and just over half (51.3 per cent) said they'd be willing to reduce their meat consumption. About a third (32.2 per cent) said they intend to do so in the next six months.
Dalhousie University professor Sylvain Charlebois told HuffPost Canada most of the studies coming out right now in medicine "aren't necessarily encouraging for the meat industry in general."
Charlebois said health concerns, combined with questions around how sustainable the livestock industry is, and views on animal welfare, are affecting consumers' choices.
"I think that Canadians are progressively revisiting their relationship with animal proteins in general," he said.
Watch: Is being vegan better for the environment? Story continues below.
While the health benefits of reducing meat consumption were equally important to men and women in the study, women were more likely to be concerned about animal welfare, and more likely to agree that meat is replaceable by other sources of protein.
About half of all respondents said they knew how to replace meat with other proteins.
Younger and more educated respondents are more likely to want plant-based alternatives to meat, and younger consumers were less likely to believe eating meat is a fundamental right.
Atlantic Canadians are the least likely to already be eating less meat, while Ontarians were the most likely.
Health Canada to "embark on a very divisive debate"
Charlebois said Canada is expecting to release its updated food guide in November, though it was supposed to be released earlier this year in the spring.
"I can tell you what we know so far— Health Canada has presented specific principles that they intend to follow, and one of them was to encourage Canadians to adopt a plant-based diet, or to increase the amount of vegetable protein they consume every single day," he said.
"I think they know that they are about to embark on a very divisive debate around animal proteins."
Popular in the Community