UPDATE- April 11, 2018: Humboldt Broncos athletic therapist Dayna Brons died of her injuries in hospital, 5 days after the bus crash. She is the 16th fatality in the accident.
As Canadians continue to grieve the tragic bus crash in Saskatchewan that killed 15, people are also looking for ways to help the families affected cope with such an enormous loss.
Right now, that means opening both their hearts and their wallets and donating to a GoFundMe set up by Sylvie Kellington, a Humboldt, Sask. resident.
As of Sunday morning, the fundraiser has received over 60,000 donations for over $4 million since it was set up late Friday. It's the most successful Canadian campaign ever on the site, reported the Globe and Mail.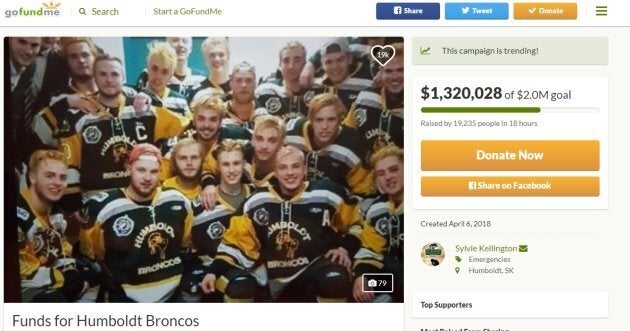 Donors have been giving what they can, from $5 or $10 to several hundred. A few massive donations also stand out.
The Calgary Flames donated $10,000, according to the Globe and Mail. Hockey equipment manufacturer Bauer contributed $15,000 and invited others to join them as donors.
Across social media, people shared links to the fundraiser and called on others to give as generously as they could.
Kellington is working with GoFundMe and the vice-president of the Humboldt Broncos to ensure the funds are "dispersed to the families at an appropriate time."
She told Global the money could be used for funeral costs and travel expenses.
"It's been mind-blowing and just so heartwarming," Kellington said. She noted that even though she didn't know anyone on the team personally, she immediately wanted to help after she heard about the tragedy.
"We're a really small community, and all of us here in Humboldt are definitely somehow connected to the team."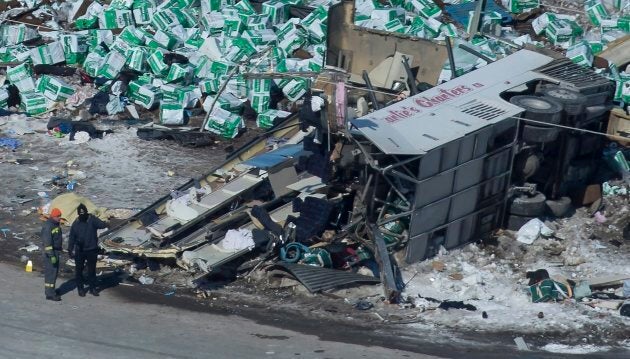 The Broncos team bus, which was carrying 29 people, collided with a truck on Friday evening, killing 15 and injuring 14 others.
The victims included Broncos head coach Darcy Haugan, team captain Logan Schatz, the team's play-by-play radio announcer Tyler Bieber, and players Jaxon Joseph, Stephen Wack and Adam Herold.
The team, which competes in the Saskatchewan Junior Hockey League, was on its way to Game 5 of a semi-final playoff game against the Nipawin Hawks.
Darren Opp, president of the Hawks, said a semi T-boned the players' bus but the RCMP has not confirmed that detail.
With files from The Canadian Press