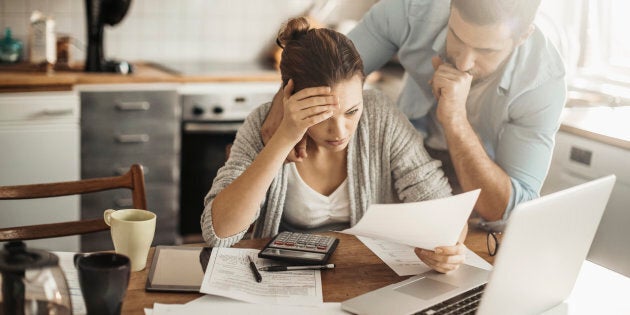 If you've ever found yourself borrowing more because you didn't get that raise you'd hoped for, your life might just be reflecting Canada's economy as a whole.
Canadians are taking on more debt and spending more money, but they aren't earning more than they used to — a reality that may be sending Canadian households into what Conference Board of Canada chief economist Craig Alexander is calling "an endless debt cycle."
Buried in Statistics Canada's latest job report last Friday was a troubling little tidbit: Wages are stagnating, up just one per cent over the past year.
Given that inflation ran at around 1.3 per cent over that time, real (inflation-adjusted) wages in Canada have fallen by some 0.3 per cent over the past year.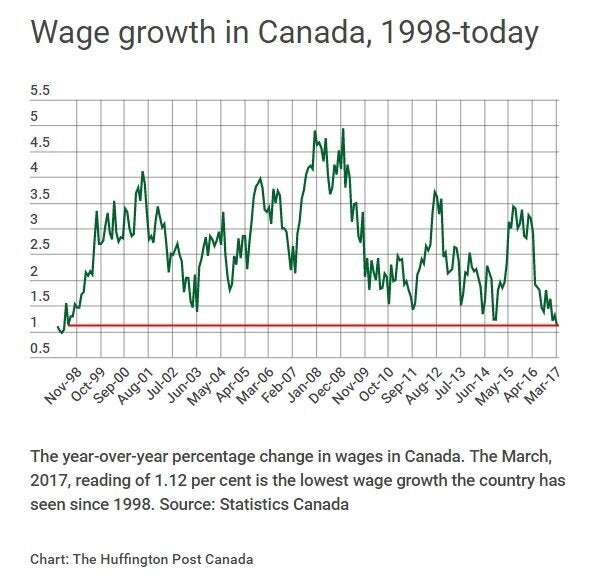 It's not what you would expect from an economy that has had a stellar year of job growth. Canada has 351,000 more jobs today than it did a year ago, nearly double the population growth in that time. The jobless rate fell to 6.5 per cent in June, from around 7 per cent at the start of 2016.
But those stagnating wages are "bad news," Alexander says, because consumer spending accounts for 60 per cent of Canada's economic activity.
Alexander is concerned these weak wages are contributing to Canada's growing household debt burden, the highest among G7 countries.
When prices are growing but wages aren't, "there is an incentive for people to borrow," Alexander told HuffPost Canada in an interview. Helped by low interest rates, Canadians are compensating for low wage growth by borrowing more, he said.
And indeed, Canadians continued to pile on debt even as wages went nowhere. According to data from Canada Mortgage and Housing Corp., the average size of a mortgage in Toronto jumped by $50,000 in a year, to more than $401,000 in the last quarter of 2016.
Total mortgage debt continues to climb, to a record $1.34 trillion in the first quarter of 2017, despite tougher new mortgage rules put into place last fall.
The result, Alexander fears, is that Canadians may be increasingly "trapped in an endless debt cycle."
Why are wages stagnating?
In a client note last week, Alexander described weak wage growth as the "great mystery" of Canada's economy — but he does have a working theory as to what's happening.
Simply put, Alexander blames the rise of the machines.
"Over the past decade there has been an outright decline in middle-skilled jobs," he said, as those have been the most likely to be automated. That has caused a "segmentation" in the job market, between low-skilled jobs and high-skilled jobs.
Canada has a shortage of high-skilled workers — Alexander cited surveys showing some 40 per cent of companies can't find skilled workers or have trouble holding on to them — but it has plenty of low-skilled workers. The large supply of low-skilled labour means jobs in these fields aren't seeing wage hikes.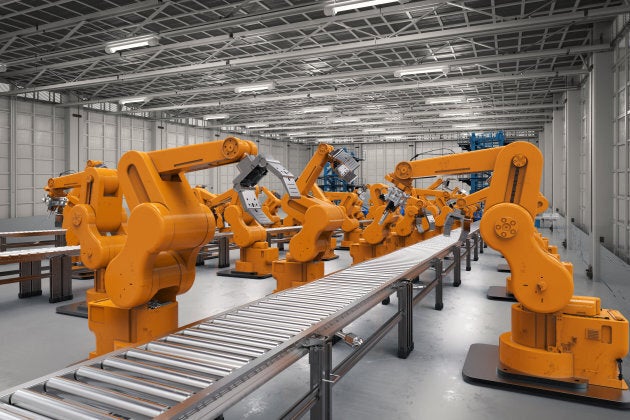 Alexander notes that this is hardly a Canadian phenomenon; the same thing is playing out across the developed world. In the U.S., for instance, the jobless rate in June sat at 4.4 per cent, among the lowest rates since before the financial crisis of 2008-09, but the experts were disappointed with the weak wage growth seen across the country. (It still clocked higher than Canada's, at 2.5 per cent growth over the past year.)
But Alexander doesn't believe the wage situation in Canada will remain as negative as it is right now. Wage growth tends to lag job growth, he said, and the large job growth in Canada over the past year should translate into better wages in the future. Not much better, mind you, but at least above inflation.
"If you want a glass-half-full story, wages will improve going forward," he said.