New poll data suggests that the majority of Canadians would be willing to work longer hours in order to work a four-day week.
That number has been steadily rising in the past few decades. A Gallup Canada poll in 1980 found that only 43 per cent of people wanted a four-day work week, a number that increased slightly to 48 per cent in 1990.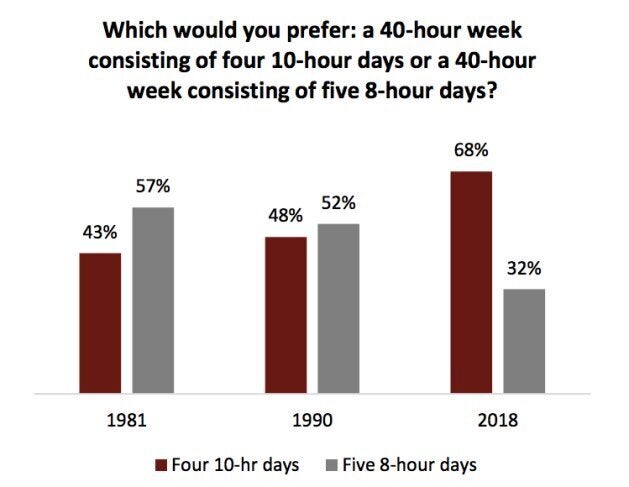 The recent poll also found that nearly half of Canadians would prefer a shorter work week: 47 per cent said they thought moving from the current 40-hour-a-week model to 30 hours a week would be a good idea. 31 per cent think a 30-hour work week is a bad idea, and 22 per cent were undecided.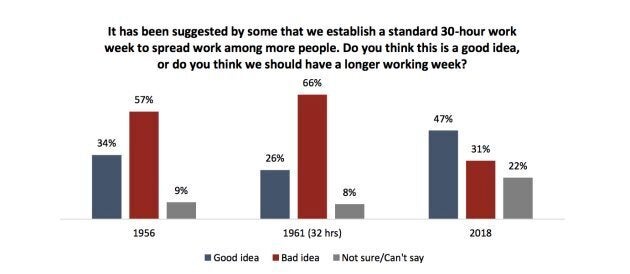 The split between people who want to reduce the work week to 30 hours and those who don't was more closely connected to political affiliation than to age or gender: left-leaning voters are more supportive of a shorter work week than those on the right, the poll found. 55 per cent of Liberal supporters and 51 per cent of NDP supporters think a 30-hour week is a good idea, as opposed to 35 per cent of Conservative supporters.
The study also found that only 13 per cent of Canadians say they expect to see a three-day work week in the next 20 years. In a Gallup poll from 1985, 50 per cent of Canadians said they thought it would happen.
Angus Reid's survey was conducted online among a random sample of 1,524 Canadian adults. A probability sample of this size would carry a margin of error of +/- 2.5 percentage points, 19 times out of 20.