Earlier this week, I received an email that offered me the chance to attend one of Prime Minister Justin Trudeau's town halls. I am hard of hearing. I rely on lipreading. Normally, I shy away from any kind of talk or presentation. But the opportunity to see a sitting prime minister in person, and potentially ask him a question, spurred me to find out more.
On the event page, a note said that American Sign Language (ASL) would be provided upon request. Now, I don't know ASL. I don't identify as deaf. I was mainstreamed in school. I had hearing aids a few times in my life, but they did not significantly improve my comprehension. What works best for me is lipreading in face-to-face communication and CART (communication access real-time translation) for large events.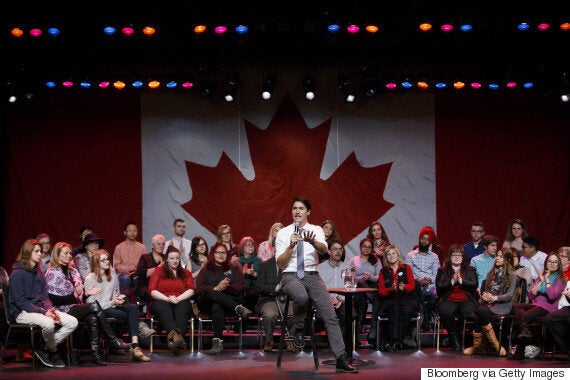 CART is basically live captioning. A human CART provider transcribes the proceedings in real time, using a court reporter's steno machine, and that transcript is sent to a screen (a laptop in most cases) that I can view. Fun fact: CART -- like captioning -- is an excellent way to make an event more accessible to everyone if it's displayed on a big screen at the front.
If for some reason, a hearing person is having trouble hearing the proceedings (e.g., the acoustics are bad or the person beside you won't stop coughing), that hearing person can make use of CART as well. Or if, during a question and answer session like Prime Minister Trudeau's town halls, a question is difficult to decipher, hearing and hard of hearing alike can view the transcript on the screen.
Granted the event page said nothing about CART, but it is a common accommodation for people who are hard of hearing. Getting accommodations in Canada can be sketchy at times, but they should be available in any federal government office, and by extension, in any public forum where the prime minister is present. Also, in my city at least, ASL interpreters and CART providers are booked through the exact same agency.
I hit the "RSVP" button on the event page and immediately sent an email to the address to which we were to send ASL requests. Three hours later, I received a reply saying that my request had been received and someone would get back to me.
It's hard for me to start lipreading in the middle of a conversation or speech if I don't know the topic.
No one got back to me. I waited until the next day -- the day of the town hall -- and sent a follow-up email, asking about the status of my request. This precipitated a flurry of emails with three different people, and it quickly became apparent that none of those people knew what CART is. In the 24 hours since my first email, no one bothered to google "CART" or shoot me an email asking what it is.
Because I work in the disability advocacy field myself, my manager was brought into the conversation. She suggested that if I could sit close to the prime minister I might be able to lipread at least some of the proceedings. This is the suggestion that was implemented. This is NOT a reasonable accommodation. This is expecting me to fly by the seat of my pants, and frankly, flounder badly.
When I arrived at the venue, I was given a seat in the front row, but on the far on the side. I was seated next to a woman named Sarah, who, as it turns out, is deaf. (Sarah has also published an account of the evening, which you can read here.) Neither Sarah nor I were pleased with our seats. We would be viewing Prime Minister Trudeau's profile and it is difficult to lipread a profile. Sarah bravely flagged down one of the organizers and asked that we be moved. This took some discussion amongst the organizers but we were moved front and centre, and ended up sitting beside the mayor and other dignitaries.
The seats were excellent for viewing Prime Minister Trudeau and he is easy to lipread because he's expressive and he enunciates well. However, I never heard a single question. It's hard for me to start lipreading in the middle of a conversation or speech if I don't know the topic. Once I start to piece things together and get the gist, it is easier going. I understood some of what went on, but in no way was I fairly accommodated. Nor was Sarah.
If I can't receive the accommodations I need in a public forum where everyone else present has access to our country's prime minister, where can I receive them?
This is why we need a Canadians with Disabilities Act.
I was excited when Carla Qualtrough was named as Minister of Sport and Persons with Disabilities. I was over the moon that her official Mandate Letter tasked her with "lead[ing] an engagement process with the provinces, territories, municipalities, and stakeholders that will lead to the passage of a Canadians with Disabilities Act."
The protection of persons with disabilities under the Canadian Charter of Rights and Freedoms is not enough. André Picard has a great piece in The Globe and Mail that explains why our Charter rights are inferior to the Americans with Disabilities Act in the United States. As Picard points out, the Charter makes it seem as though the inclusion of people with disabilities is a privilege (something people with disabilities should be grateful for, when it is provided) rather than a right.
If I can't receive the accommodations I need in a public forum where everyone else present has access to our country's prime minister, where can I receive them?
If I had been brave enough to stand up and say all of this at the town hall, this would have been my question for Prime Minister Trudeau: "I asked for accommodations as I was told to do. Those accommodations were not provided. I'm 46 years old. I've been fighting for access all my life, and making do with a hodgepodge of insufficient accommodations. I'm tired of fighting. Please speak to the Canadians with Disabilities Act. What's the progress on that? When can I stop fighting and have the same right to access as all other Canadians? After all, to use your own tagline, it's 2017.
Follow HuffPost Canada Blogs on Facebook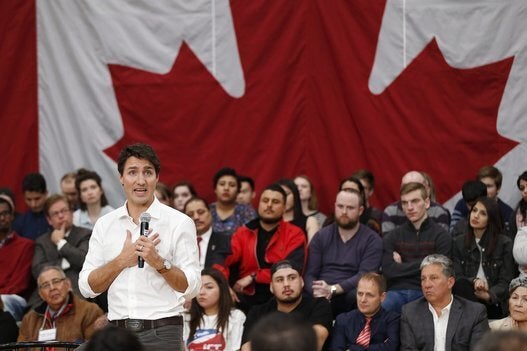 Trudeau's Cross-Country Tour 2017