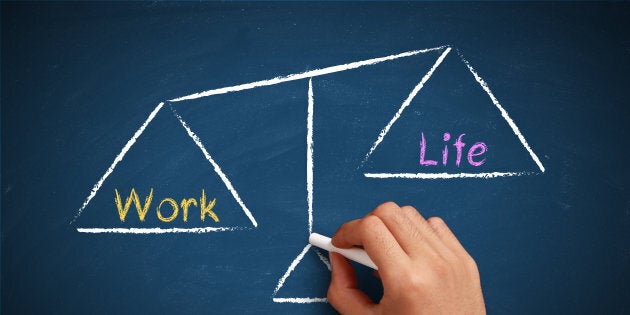 The study from HR and payroll services firm ADP Canada found that although 71 per cent of Canadians report needing to put in extra time at work before and/or after taking vacation, they're putting in half as much time as they did before— 11.4 hours on average this year compared to 21 hours the year before.
Women are slightly more likely to say they will do more work to prepare for upcoming time off (74 per cent versus 72 per cent), but men say they need more time to do so (12.6 hours versus 10.5 hours).
Watch:The Cities With The Best Work-Life Balance For Parents. Story continues below.
Annually, only one in three Canadian workers take all of the vacation time they're entitled to, and 28 per cent say they take less than half of it.
The survey also found men are also more likely than women to use all their vacation days— 37 per cent versus 31 per cent.
David Heather, ADP's vice-president of people and human resources, said employers "have an obligation" to ensure employees can actually use all their vacation days.
"Organizations can create a more positive outlook on vacation among employees by communicating vacation policies proactively, encouraging staff to book time off and leading by example," Heather said in a press release.
The survey of 1,000 working Canadians was completed online from Dec. 5-11, 2017 using Quest Global Research Group's online panel, Quest Mindshare.
Popular in the Community