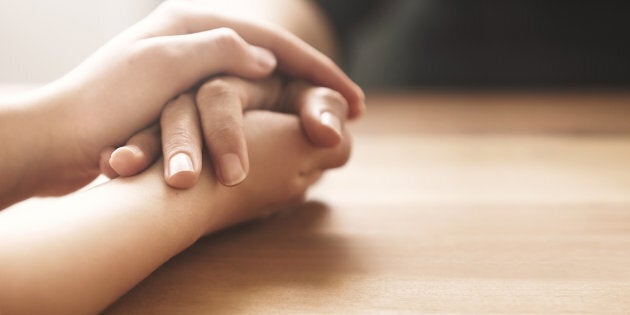 Cancer gave me one of the greatest loves of my life.
Don't get me wrong; it took a lot from me, too. The first six months of my daughter's life? Gone with minimal involvement from her sick mother. The chance to have more children? That's gone too. Or how about knowing my four-year-old doesn't have a clue what the words cancer, chemo, and radiation mean? Gone.
Any cancer experience is a balance between what it takes from you and what you can take from it. I know that what I gained from my experience is important. Perspective, calm, and peace. But who I gained — my cancer buddy, Nicola — feels equally important.
Here's a universal truth about cancer patients. We're all trying to make it easier for you. Yes, you. The non-patient. The support people. We don't want to upset you with every ache, pain, or flash of fear.
But not me and Nicola. We laid it out. Straight. Cutting to the quick of our side effects, our fears, our denials, and acceptance. And by not making it easier for each other, we made it easier for each other.
We reacted differently — me sad and scared, her like a robot at times — and we knew each way was right and OK.
Our friendship started — really started — with the worst double date in history. Our husbands are close friends, so we knew each other, but not well. Not until we had our first appointments at the BC Cancer Agency. Same day. Same time. I was filling out reams of forms asking the most minute details about my health, my family's health, and the cold my great-uncle had in March of 1974 (OK, maybe it just felt like that) and trying to come to grips with the fact that I was at the cancer agency. Filling out forms. For MY cancer. And then I looked over and knew she was going through the exact same thing.
I was there because they had discovered a six-pound tumour when I was pregnant with my second child.
She was there because what she thought was her first pregnancy turned out to be a tumour.
Our journeys were eerily similar. We shared the same chemo cocktail, chemo appointments on the same days, hair loss, doctors appointments overlapping, side effects, and the eventual heartbreaking hysterectomies, which would lead to the loss of our fertility and a solid boot into menopause in our mid 30s.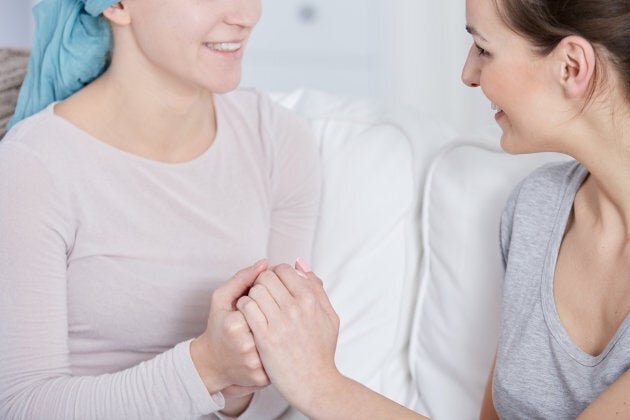 But they were also different. Very different. I had ovarian cancer and she had a rare form of uterine cancer. She had 10 months of chemo (yes, 10) and after three, I went for radiation. I responded well to treatment whereas she had problem after problem. She became the one per cent of the one per cent time and time again. I am so deeply and profoundly lucky to have had two children before my hysterectomy, whereas Nicola was just trying to start a family when hers was taken away.
Our husbands would laugh that whenever we saw each other, no matter who else happened to be around, we'd jump right into our latest side effect or incident. And let me tell you, cancer can be gross. We laughed until our sides ached at the humiliation of buying adult diapers. We shared a wig we named Diane and talked about the dates we took her on.
We let each other swear and cry and worry and break and we never judged. We reacted differently — me sad and scared, her like a robot at times — and we knew each way was right and OK. We worried together about what this was doing to our husbands, our parents, our families, but we held each other up.
We worried together about what this was doing to our husbands, our parents, our families, but we held each other up.
A few weeks ago when the results from my hysterectomy showed a few cancerous cells in my other ovary, I told my husband and Nicola. She checked in on me every single day. Numerous times a day. She knew I was downplaying it for everyone else, saying it would all be be fine, and that I was feeling good. And I was, but I also wasn't. She understood.
And when we both came out the other side — when she was given her all clear, and just days ago when I found out that I don't need any further treatment — we were able to breathe out together.
Our plan had been to ride together in this year's Ride to Conquer Cancer raising money for the BC Cancer Foundation. We had designated our funds to support research and care for gynaecological cancers. Last year, when we were both too sick to even consider it, we committed to joining hundreds of others and riding over 200 kilometres from Vancouver to Seattle. We were going to do it together with our husbands, side by side. But my recent surgery threw up another diversion that we've learned to take in stride.
I can't ride this year, but Nicola is. She's doing it for both of us, until I can join her next year at the 10 anniversary of the event. But I'll still be right there, supporting and cheering on Team Lady Bits and one of the greatest friends I'll ever know.
Popular in the Community