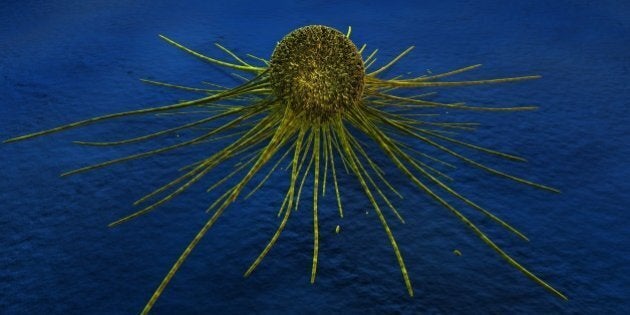 Cancer rates in Canada are the lowest they've been in a decade and death rates from cancer continue to decline, but health experts say Canadians still have something to worry about.
According to the Canadian Cancer Statistics 2014 report released by the Canadian Cancer Society on Wednesday, melanoma skin cancer is one of the country's fastest growing cancers. Not only is skin cancer the most common cancer in the country (6,500 new cases of malignant melanoma and another 76,100 cases of non-melanoma skin cancers are expected to be diagnosed in 2014), it is one of the most preventable types.
"We wanted to focus on melanoma and skin cancer this year, because it's one of those cancers where the incidence rate and death rate are both rising," says Dr. Robert Nuttall, director of cancer control policy at the Canadian Cancer Society. Nuttall adds looking at cancer statistics from 25 years ago, skin cancer rates have roughly been growing two per cent year over year.
"Causes of skin cancer include overexposure to UV rays from the sun to indoor tanning beds," he tells The Huffington Post Canada, adding that about 90 per cent of melanoma cases are caused by UV radiation.
And when Canadians do spend their time out on patios or the beach, there's often confusion over sunscreen labels and how much to actually apply. Nuttall (who recommends anything over SPF 15) reminds people that putting sunscreen on in the morning isn't enough; they must reapply throughout the day.
For 26-year-old Caitlyn Jones, this is something she is all too familiar with. When she was 23, the Kingston native had a pink spot on her forehead. After the spot began breaking and bleeding, she went a to a dermatologist who told her it was skin cancer.
"When the biopsy was done, I realized it could be a lot more serious than I thought," she says. "A lot of young people might not think it may happen to them, but for me it was a rude awakening."
Jones says she would regularly go outside without any protection and used tanning beds two to three times a week. Nuttall says besides wearing sunscreen, avoiding peak hours, wearing protective clothing like hats and sunglasses are all easy ways to protect your entire body from the sun this summer.
While the landscape for cancer prevention is Canada is looking better, the disease still affects thousands every day. Here are some of the key highlight's in this year's cancer report: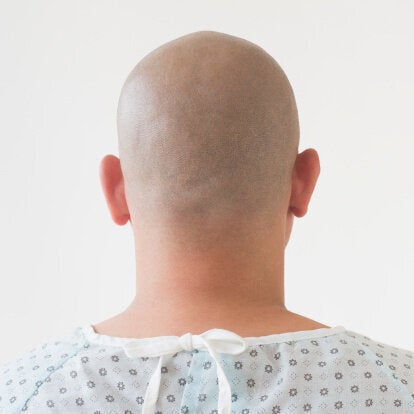 10 Facts About Cancer In Canada
Death Rates Are Declining
Over the past 30 years, the death rate for almost all types of cancers combined has been declining for both men and women in most age groups. According to the Canadian Cancer Statistics 2014 report, there were no significant increases in death for most types of cancer in men and women, with the exception of liver cancer in both sexes and lung cancer in women.
An estimated 191,300 new cases of cancer will be diagnosed in Canada this year, and an estimated 76,600 Canadians will die from the disease.
Newly Diagnosed Cases This Year
Of the newly diagnosed cases this year, more than half (52 per cent) will be prostate, breast, lung and colorectal cancers.
Canadians aged 50 to 79 will represent almost 70 per cent of all new cancer cases, and 62 per cent of cancer deaths this year. The highest proportion of new cancer cases will hit Canadians aged 60 to 69, while the highest proportion of deaths from cancer is expected in those over 80.
What's The Most Common Type?
Skin cancer is the most common cancer in Canada, with an estimated 6,500 new cases of melanoma and 76,100 cases of non-melanoma skin cancer (NMSC) expected to be diagnosed in 2014. Combined, melanoma and NMSC will account for nearly the same number of new cancer cases as the four major cancers combined (lung, breast, colorectal and prostate cancers).
Skin cancer will be one of the fastest rising types of cancers in 2014. According to the report, one in 59 Canadian men will develop melanoma in his lifetime, and one in 240 will die from it. One in 73 Canadian women will develop melanoma in her lifetime, and one in 395 will die from it.
The Numbers: Prostate Cancer
Prostate cancer continues to be the most commonly diagnosed cancer among Canadian men. This year, an estimated that 23,600 men will be diagnosed with prostate cancer, and about 4,000 will die from the disease.
The Numbers: Breast Cancer
For women, breast cancer continues to be the most commonly diagnosed cancer. This year, approximately 24,400 Canadian women will be diagnosed with breast cancer, and about 5,000 will die from it.
Lung cancer remains the leading cause of cancer death among men and women in Canada. In fact, lung cancer takes the lives of more Canadians than breast, prostate and colorectal cancers combined.
Tobacco continues to be the leading cause (86 per cent) of all lung cancer cases. Other causes include radon and asbestos exposure, air pollution, non-cancer related lung diseases, a family history of lung cancer, and exposure to certain occupational chemicals, according to the report.
The Numbers: Colorectal Cancer
Colorectal cancer rates have decreased over the last decade. For men, the rate has deceased by 0.8 per cent a year, and for women, 0.6 per cent. Death rates also continued to decline for men and women between 2000 and 2009. This is likely due to improvements in treatments in chemotherapy and the accessibility of screenings across the country.
Popular in the Community