A B.C. businessman is so grateful for the care he received while being treated for cancer that he's donated a $1.4-million oceanfront home to the B.C. Cancer Foundation.
Robert Conconi and his wife Diane spent almost three years building the house on Pender Island with lumber felled from the 4.38-acre waterfront property. With a gourmet kitchen, wraparound sundeck, and unobstructed view of the Georgia Strait, the 2,662 sq.-ft. home is an inviting and gorgeous space.
But their plans to move into the home changed when Conconi was diagnosed with throat cancer.
Conconi's father died of the same disease 30 years earlier after experiencing some gruelling treatments.
"I remember him saying, 'If I had known what this treatment was all about, I wouldn't have gone through it,'" recalled Conconi.
In contrast, Conconi was treated with immunotherapy and radiation therapy and is now cancer-free.
"I'm proof of how far cancer care has come. Over the past 20 years, since I lost my father to cancer, cancer treatments improved enough to save my life," said the entrepreneur who is the head of Conconi Group, a real estate investment and private equity firm.
After the three-bedroom, 3.5-bath home named Madrona Grove was finished in 2012, Conconi wondered: "Do we really want this property or do we want to help cancer research?"
Impressed by the B.C. Cancer Agency's work in the province, the Conconis decided to donate the house to the foundation.
"My wife and I feel that philanthropy is an important part of life," said Conconi. "Our cancer journey has given us a sense of urgency to keep working to find the cure. Our gift was an effort to leave a legacy where future generations will not have to face a cancer diagnosis."
The gift is certainly unique, said Lou Del Gobbo, vice-president and chief financial officer of the B.C. Cancer Foundation. He has seen people bequeath their estates to the charity, but not a luxury home like this.
"Hopefully this may open up new avenues of giving," he said in an interview with The Huffington Post B.C.
The house will be auctioned off on August 22 with net proceeds going to the foundation. The money will be used for finding innovative new treatments and enhancing care for patients in B.C., said Del Gobbo.
Madrona Grove will be open daily for viewings the week before the sale, but there is a "buy it now" option for $1.425 million. Pender Island is a two-hour ferry ride, or a 20-minute float-plane flight, from the Vancouver area.
Check out photos of the Conconis' donation: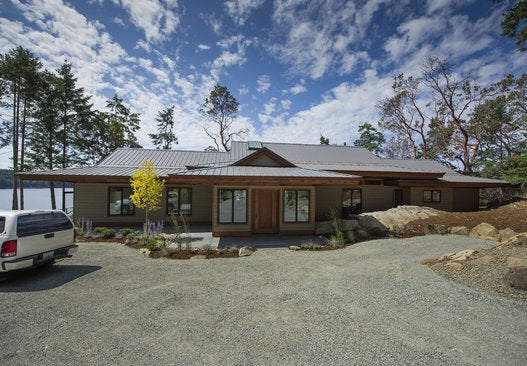 Pender Island House Donated To Charity
Popular in the Community