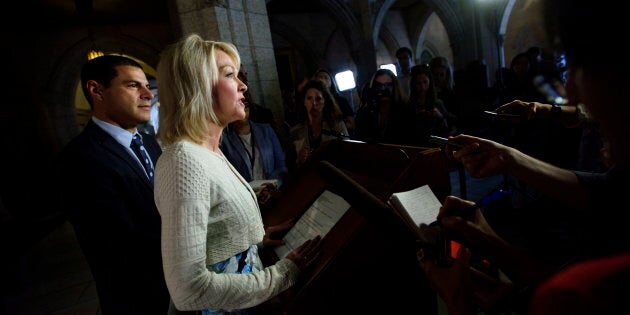 The Conservative House leader says defending a "strong Canadian identity" will be among the focuses for Tory MPs in the fall session of Parliament.
But at a press conference in the House of Commons foyer Monday, Candice Bergen denied that Maxime Bernier's upstart populist party has anything to do with that priority.
Bergen and Alain Rayes, who serves as Quebec lieutenant to Tory Leader Andrew Scheer, charged to reporters that the federal Liberal government has botched everything from the Trans Mountain pipeline expansion to managing asylum seekers crossing the border.
'Important to talk about our past and not just with shame and apology'
Bergen pledged Tories would stand up for lower taxes, "secure borders," free trade, and balanced budgets. However, she was pressed to clarify what she meant with her reference to the Canadian identity.
"I think it's important that we talk about what we have to proud of as Canadians and what unites us," she said. "I think it's important to talk about our past and not just with shame and apology but also with gratitude."
Bergen referenced Scheer's comments to delegates at the Tory policy convention in Halifax, N.S. last month that directly targeted Prime Minister Justin Trudeau's refrain that diversity is Canada's strength.
"Diversity is a product of our strength," Scheer said at the time. "Our strength is and always has been our freedom." It ended up being one of the biggest applause lines of his speech.
Bergen told reporters Monday that Liberals have "trampled" over freedoms of belief and conscience. She pointed to the government's much-discussed demand that groups seeking summer job funding first check off an attestation saying they would support individual rights, including abortion rights. The issue angered several faith-based groups and organizations.
"We have diversity because we have freedom and I think it's important that we talk about that and we talk about it with pride and gratitude," she said.
"We've been very clear on protecting freedom of belief, freedom of conscience," she said. "Canadians believe in freedom of belief, and that's what we're defending."
In his speech at the Tory convention, Scheer addressed the simmering debate over removing landmarks celebrating John A. Macdonald due to his role in the residential schools system. Scheer blasted the issue as political correctness run amok, saying "it's a disgrace that we're allowing extreme voices in this country to erase our proud heritage."
Though Liberals are not pushing to remove Macdonald from public view, Scheer also pointedly highlighted the sins of former Grit prime ministers, such as William Lyon Mackenzie King. He served as PM in 1939 when Jewish refugees seeking to flee Nazi Germany were turned away.
"If we look back on our history and our leaders and only see their blemishes, we miss out on a beautiful story of a great country that has progressed into the safest, freest, and most prosperous in the world," Scheer said.
Trudeau will formally apologize in the House of Commons this November for how Canada turned away the MS St. Louis, a ship carrying more than 900 Jewish people from Germany fleeing persecution. The decision led to the death of more than 200 people.
While responding to Trudeau's apology to LGBTQ Canadians in the House, Scheer said he hoped the step would provide some justice.
Tories have asked if Canadians are 'tired of apologizing'
He called the move "another important step toward leaving the next generation a Parliament that more fully embraces its duty to protect the rights and freedoms of every person it was built to serve."
But Tories have also suggested that Canada is saying sorry too frequently, asking in an email to supporters last year, according to CBC News: "Are you tired of people apologizing for our country's rich history?"
Scheer also seemed to touch on that question in a speech last November marking the 150th anniversary of Parliament. The Tory leader noted at the time that it is "fashionable" to look down on Canada's past.
"To those who deny we have anything to be proud of as a country, I would pose a simple question: 'Where else would you have rather lived for the last 150 years?'" Scheer asked.