A former Conservative cabinet minister has taken to Twitter to say she is "embarrassed and sickened" by Prime Minister Justin Trudeau.
But Candice Bergen also hopes Trudeau will change his mind on Canada's ISIS mission and refugee policy.
The Manitoba MP, who weeks ago urged Tories to be "respectful" of Trudeau during her unsuccessful bid for the party's interim leadership, blasted the new prime minister on social media this week.
When someone commented that the new tone "got old quickly," Bergen replied with the hashtag — "its2015" — a reference to Trudeau's much-buzzed response to why he has an equal number of women and men in his cabinet.
The Huffington Post Canada has reached out to Bergen, a former minister of state for social development, to elaborate on the aspects of the Liberal approach to ISIS and refugees with which she most disagrees.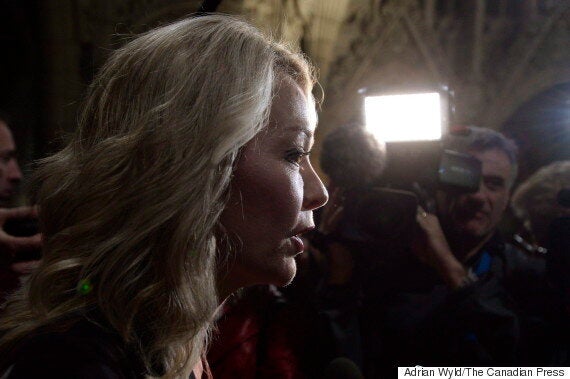 Conservative MP Candice Bergen passes cameras on the way to Conservative caucus in Ottawa. (Photo: Adrian Wyld/CP)
But she is far from the only Tory to take to social media to criticize Trudeau's plan to withdraw Canadian jets from the fight against ISIS — particularly in light of last week's attacks in Paris — and to accept 25,000 Syrian refugees before January.
Jason Kenney, a former defence minister and voracious tweeter, has been very active commenting online in recent days. On Sunday, he highlighted an article from last year in which Trudeau famously joked about former PM Stephen Harper trying to "whip out our CF-18s" — saying the quip showed the "level of reflection" the Liberal leader took to the mission at the time.
He also argued the "context" around Trudeau's pledge has now changed in the wake of the events in France.
Though withdrawing from the combat mission was part of the Liberal platform, Conservatives have called on the new government to continue airstrikes. Tories have also pushed Trudeau to allow for a debate and vote in Parliament before changing the mission.
Questions, concerns about refugee plan
Trudeau's pledge to quickly welcome tens of thousands of refugees from Syria has also sparked a number of questions and concerns from some provincial leaders.
"If even a small number of individuals who wish to do harm to our country are able to enter Canada as a result of a rushed refugee resettlement process, the results could be devastating," Wall wrote in an open letter to Trudeau.
Alberta MP Michelle Rempel, who served as minister of state for Western economic diversification, has been tweeting a number of questions to Immigration Minister John McCallum in recent days about the Liberal plan to resettle 25,000 Syrian refugees.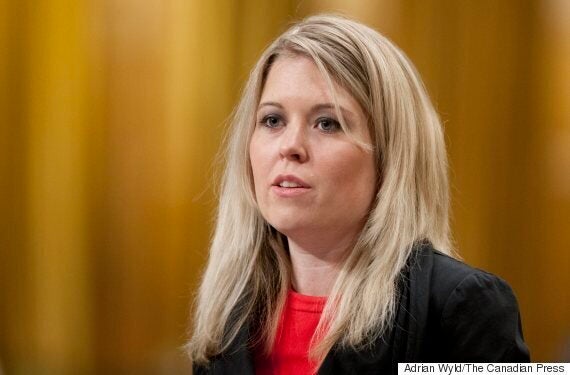 Conservative MP Michelle Rempel responds to a question during question period in the House of Commons. (Photo: Adrian Wyld/CP)
Rempel put those thoughts down in a lengthy Facebook post Monday. She wrote that with the deadline a little more than a month away, the federal government still has not provided a detailed plan on how "roughly the population of Prince Edward County in Ontario will be brought, screened, and cared for in 45 days."
Rempel wrote that while Canada has a duty to respond to the refugee crisis in a timely manner, that does not "allow us to abrogate from our responsibility" to have a sensible plan. She noted while the House of Commons does not sit until the first week of December, there are a number of issues being raised right now.
"Asking these questions is not a partisan issue, nor is it xenophobic," she wrote. "As a country we must be compassionate and do our part in this crisis, but we also must demand immediate answers from our government on how they will accomplish this."
The matter of how 25,000 refugees will be transported to Canada and adequately housed were among her top queries. But she also zeroed in on the issue of screening.
"Asking these questions is not a partisan issue, nor is it xenophobic."
"25,000 people by years end is roughly 500 per day. This likely necessitates an incredibly expedited screening process as compared to best practice that is normally used," she wrote. "How are refugees being screened? What parts of the best practice screening process is being dropped, if anything? Why? What criteria are being used for entry?"
Rempel ended her post by saying she will continue to ask questions of leaders in a way that respects the gravity of the humanitarian crisis.
"I encourage you to do the same," she wrote.
With files from The Canadian Press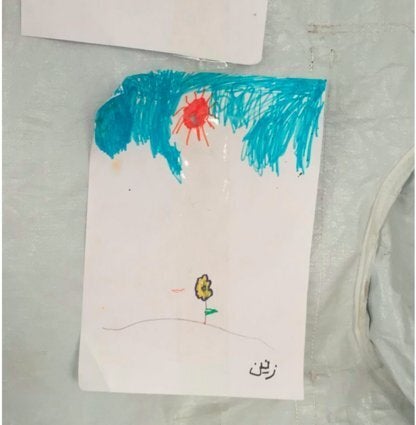 Refugee Crisis: Children Affected Draw Heartbreaking Pictures