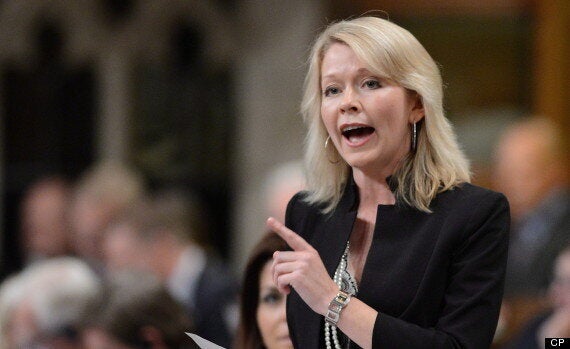 Conservative MP Candice Bergen responds during question period in the House of Commons 2013. (Photo: Sean Kilpatrick/The Canadian Press)
A former Conservative minister chastised the federal government on Wednesday, saying new mechanisms in the pipeline review process will leave decision-making to Liberals rather than "scientists and by evidence."
Candice Bergen, the Opposition critic for natural resources, made the comments after the government announced all resource projects will be evaluated by projected greenhouse gas emission levels and after consultation of indigenous communities.
At an Ottawa press conference, Bergen lambasted the Liberal process for taking decisions "out of the hands of experts and arms-length bodies and really centralizing it in the prime minister's office."
The Manitoba MP said that will "absolutely" give way for "a lot" of political interference.
"So our first look at this is it's not positive," Bergen said. "It's unfortunately a trend that seems to be very, very quickly developing with this government."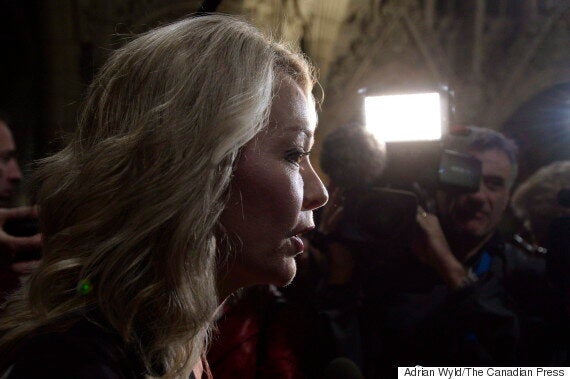 Conservative MP Candice Bergen passes cameras on the way to Conservative caucus in Ottawa in November 2015. (Photo: Adrian Wyld/The Canadian Press)
Bergen served in the cabinet of Stephen Harper, who was condemned by domestic and international scientists for muzzling civil servants and slashing funding. On Wednesday, she claimed the Liberal changes will prioritize politics over scientific reason.
"It looks like a lot of room for political decision-making by this government as opposed to decisions by scientists and by evidence," she said, before taking a swipe at Natural Resources Minister Jim Carr.
"The minister of natural resources, who should be, I believe, a champion and cheerleader for Canadian natural resources, has absolutely abdicated that role," said Bergen.
"The minister of natural resources, who should be, I believe, a champion and cheerleader for Canadian natural resources, has absolutely abdicated that role."

—Candice Bergen, Tory MP
She added Carr has "basically become the minister ... and assistant to the minister of climate change, and has kind of forgotten what it means to be the minister of natural resources."
Bergen, however, failed to acknowledge how the former government made amendments to the country's laws that made environmental assessments no longer a mandatory requirement with project proposals under review.
The changes, introduced in Bill C-38, became law in 2012.
Tories now want 'science-based' perspective
Debate over the Trans Mountain and Energy East pipelines has sparked renewed political attention over the approval process for Canadian natural resource projects amid plummeting oil prices.
But Bergen isn't the first Conservative this week to attempt to reuse, recycle, and redirect the "war on science" argument against the current Liberal government.
On Monday, interim party leader Rona Ambrose accused the Liberals of abandoning science, specifically in acknowledging advancements made to pipeline safety technologies.
Ambrose urged Montreal Mayor Denis Coderre to consider a "science-based" perspective in his "unfortunate" opposition against the proposed Energy East pipeline.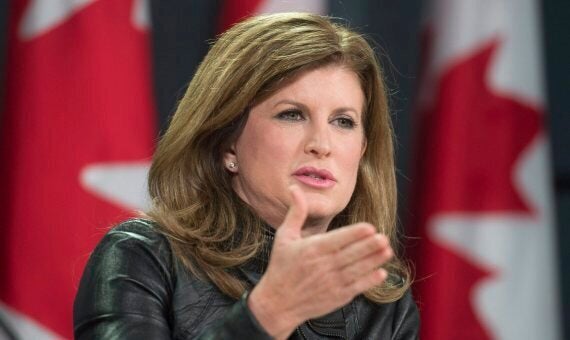 Interim Conservative Leader Rona Ambrose speaks during a news conference in Ottawa earlier this week. (Photo: Adrian Wyld/The Canadian Press)
"This isn't in the spirit of Confederation," Ambrose said. "It's not in the spirit of national unity. It's not in the spirit of Canadians who always reach out when people are having a tough time."
The Alberta MP suggested Coderre and other Quebec mayors are taking critical stances based on "pure local politics" rather than looking at it from an "evidence-based, fact-based, science-based" view.
Science and national values
On Thursday, Environment Minister Catherine McKenna said scientific evidence will be an important part of the assessment process for new natural resource projects — but political and economic issues will also be taken into consideration.
Carr, who joined McKenna at a news conference, said: "The government of Canada is free to establish its own review and its own criteria for those reviews in whatever context it chooses," adding it's ultimately up to the cabinet to decide whether or not a project meets the natural interest of all Canadians.
Bergen is expected to introduce a motion in the House of Commons on Friday in an attempt to force a vote on the Energy East pipeline. It will put Liberals in a difficult spot on a project Tories have accused them of having an unclear position on.
The prime minister's office has responded, telling the Ottawa Citizen that Liberal MPs will be voting against the Tory-launched motion.