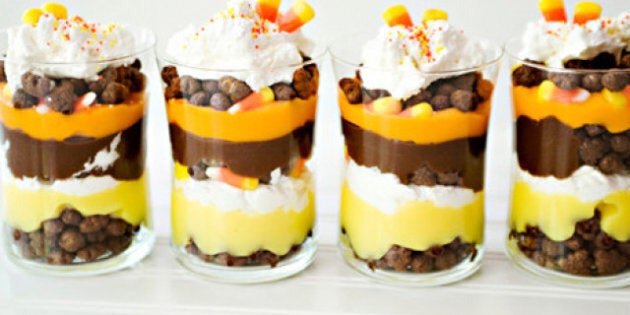 The official colours of Halloween may be orange and black, but for the purposes of this season, we're adding some yellow and white into the mix.
Candy corn has been declared the flavour of fall, thanks both to big corporations and individual tastes. As reported by Time, once Oreo launched their limited edition candy corn cookies — available only at Target — it was only a matter of time before others, like coffee shops and bagel stores started in with their own creations.
Now there's not a lot of nutritional value to the tiny triangles (read: none), but they do definitely have their fans. We rounded up some of the web's best recipes created using candy corn, just in time to make for your Halloween party or, well, your Saturday afternoon.
Do you have another great idea for a candy corn creation? Let us know in the comments below — and enjoy these amazing recipes: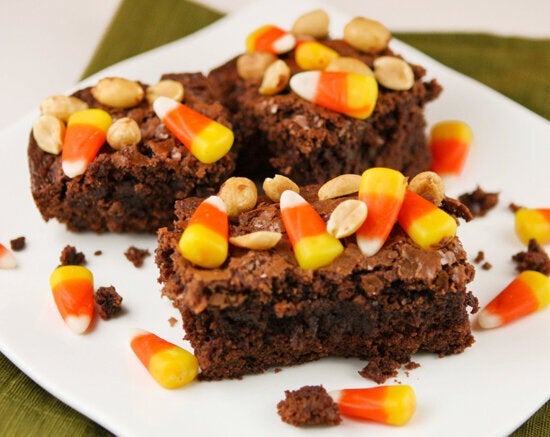 Delicious Things Made With Candy Corn
A batch of brownies makes for an easy, yummy dessert — but add candy corn to the top, and you're on a whole new level.
Want to make your macarons a little more exciting than delicate? Smooshed in candy corn is absolutely the key.
Not just your average "tuck a piece of candy corn into a Twix" trick, these homemade candy bars are chock full of graham crackers, fudge and chocolate.
Candy Corn Rice Krispies Treats
Rice Krispies treats with an extra dose of candy corn? Um, yes please!
Parfaits are usually the healthier option for dessert — but definitely not in this case. Combining Cocoa Puffs, whipped cream and candy corn, it'll be great fun to make a mess of this pretty dessert.
Bark is often associated with Christmas, so lightening up your option with white chocolate and pretzels can make it distinct for Halloween.
How is fudge different than brownies, you ask? Well, fudge is more of a candy, while brownies are more cake-like — so which one works better with candy corn? That's for you to test out.
Like your candy corn a little more, well, subtle? If you're feeling ambitious (or already know how to make ice cream), this recipe is for you.
Half centrepiece, half loot bag, this awesome looking star burst will be happily picked away at throughout October.
Popular in the Community