The town of Canmore is under a local state of emergency as heavy rainfall continues to drench the tiny mountain community.
The rain, which has been falling steadily since Wednesday evening, has forced road closures on major highways near Canmore, Banff and Kananaskis.
People living near Cougar Creek have been evacuated, as the swelling river erodes the riverbank and inches closer to homes.
Story continues below the slideshow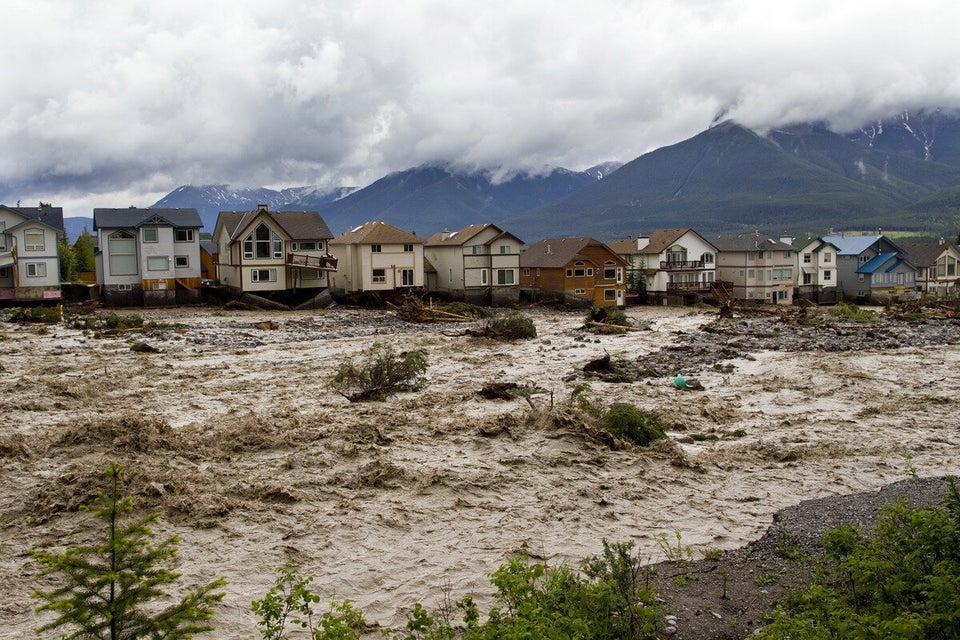 Flooding In Southern Alberta, June 20, 21
People are being asked to stay away from the river banks of Cougar Creek, as the rising water may have made them unstable.
Several videos and photos from Canmore show homes on the banks of Cougar Creek threatened by the powerful surge.
Parks Canada has closed the Trans-Canada Highway at the Norquay interchange, after heavy rain caused a mudslide around 1:00 a.m. Thursday morning. The slide, which occurred two kilometres west of the interchange, affects westbound traffic only.
According to park officials, no one was hurt by the debris.
The following additional road closures are in effect:
Highway 1 eastbound at Norquay overpass
Highway 1 and 1A in both directions west of Exshaw
Highway 1 at Canmore eastbound and westbound due to flood waters from Cougar Creek
Highway 1 from Highway 1X (exit 114) to Canmore
Bow Valley Trail
Trans-Canada Highway—both directions at Carrot Creek, located just inside the Banff East Gate. Engineers are assessing bridge safety
Minnewanka Loop Road north of the Banff townsite
The Sunshine Village Access Road—flooding and bank erosion
Highway 93S (Kootenay National Park)—the Banff-Radium Highway (Castle Junction to Radium)—wash-outs and debris on the road
Icefields Parkway (Hwy 93 North) is now closed from Lake Louise to the Jasper border
Hwy 40 to Canoe Meadows in Kananaskis is closed due to mud slide
The city of Calgary has issued mandatory evacuation orders and declared a state of emergency as expected heavy rainfall and incoming high river flows become severe.
Mandatory evacuation orders have been issued for the communities of Mission, Elbow Park, Stanley Park, Roxboro, Rideau and Discovery Ridge.
Residents facing evacuation are advised to find accommodation with friends or family for a minimum of 72 hours.
Reception centres have also been set up at Southland Leisure Centre and at Acadia Recreation Complex for those looking for alternate accommodation.
Calgarians are reminded to stay away from underpasses, which can flood quickly, as well as keeping a safe distance from river banks.
High River, south of Calgary, has also declared a state of emergency, as the Highwood River rises quickly and begins to overflow.
Flash flooding conditions mean High River residents should evacuate their homes immediately.
Residents are directed to go to the emergency evacuation centre at Highwood High School on 12 Ave. A second emergency evacuation centre has been set up in Nanton at the Tom Horneker Recreation Centre.
A critical alert for flooding has also been issued in Black Diamond by the Government of Alberta, and mandatory evacuations are in effect.
Residents living west of 1 St. S.W. in Black Diamond have been asked to evacuate to Oilfields Regional Arena.
Search and rescue staff are looking for two missing adults south of Black Diamond at Highway 22 and Highway 541, after a trailer collapsed.
The STARS air ambulance responded at 10:30 a.m. and is now on scene.
The City of Lethbridge has also declared a state of emergency, to ensure all resources will be available for the Lethbridge River Valley and area.
Premier Alison Redford announced she plans to tour the affected areas "as soon as possible" Friday morning when she returns from a conference in New York.
"I've been following today's events with great concern, and my heart goes out to the many Albertans who have been evacuated due to the floods that are affecting much of Southern and Central Alberta today. I strongly encourage everyone to follow the public safety orders of their municipalities. If you are being ordered to evacuate, please do so for your own safety.

"My deepest thanks to all the volunteers, and municipal and provincial officials who have been coordinating emergency operations efforts, both on the ground and in the emergency operations centre. I know the Alberta Emergency Management Agency is coordinating the government's response and officials will be working around the clock to manage the situation and keep Albertans safe.

"I plan to visit the affected areas as soon as possible on Friday to see the situation first hand and to thank those who have been working so hard at keeping every one safe."
Environment Canada has issued a heavy rainfall warning for much of southwestern Alberta, including Canmore, Banff, Calgary, Airdrie, Crowsnest Pass, Nordegg, Okotoks and Rocky Mountain House.
The weather agency says the downpours have already produced over 70 millimetres of rain and another 100 millimetres could fall by Friday.
More updates in our liveblog below:
Popular in the Community