Monday's auction results were a resounding endorsement of cap and trade. Will the critics please back off now, and let the program do its job?
Ontario businesses have cast a real vote of confidence in cap and trade by buying 100 per cent of the permits offered at the March 22 auction. There was strong interest in the futures market too. All told, the auction raised $470 million that the province must now reinvest back into climate action and reducing greenhouse gas emissions.
Moreover, that money was raised from companies that bought into the market. Ontario businesses that bought these permits are now literally invested in cap and trade to the tune of $470 million. Don't we owe it to them to let this program run its course?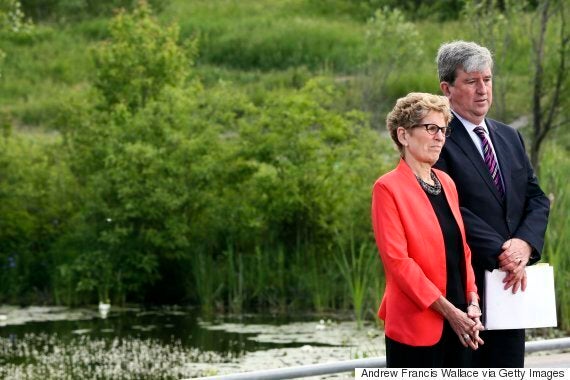 Whether cap and trade is your preferred climate policy or not, it's widely agreed to be a system that can work well. In California, where cap and trade has been in effect since 2012, emissions have fallen while the economy has grown faster than the rest of the U.S. economy. It's working well in Quebec too, where emissions are down and the economy is looking up.
It is widely agreed that pricing carbon is one of the most efficient ways to reduce emissions. And according to modelling, cap and trade is the most cost effective way to price carbon in Ontario. This means it will have the greatest impact on reducing harmful emissions for the lowest cost.
Cap and trade is quite popular with the public, too. Cap and trade routinely beats out a carbon tax in public opinion polls. And public opinion matters, of course, on matters of public policy.
Ontario has chosen a comprehensive approach to tackling climate change by using cap and trade revenues to fund a bunch of additional policies like strengthening the building code to require new buildings to be more energy efficient, a cycling strategy, and a renewable fuel standard to reduce emissions from gasoline. These are effective policies for reducing greenhouse gasses, and based on polling, they are the types of things that the public supports the most when it comes to efforts to fight climate change.
Only time will tell whether the programs are well designed and effective.
Ontario's revenue positive approach allows for a combination of carrots and sticks: a hard and declining cap to force emissions down, coupled with incentives to entice us toward a cleaner economy. It means that in addition to a price signal, the province can also support programs to help businesses and citizens take action and participate in the global effort to fight climate change.
And now, with the first auction behind us and cap-and trade officially launched, the province can really get moving on the rest of the plan. It can get rolling on setting up home energy retrofit programs, a fund to help industry deploy low-carbon technologies, and building transit and electrifying the GO Rail fleet, all of which will be funded from the cap-and-trade dollars.
Will the money be well spent? Will the programs be well designed? We sure hope so, and Ontario's Climate Change Action Plan is a solid start. But we can't assess the programs based solely on the plan. Only time will tell whether the programs are well designed and effective.
Rest assured, time will tell. The government has to report on how every dollar of the cap-and-trade money is spent. And the watchdogs will be watching. So let's reserve judgement for now.
Instead, let's lean in and help ensure that the rest of Ontario's Climate Change Action Plan gets off to a solid start just as cap and trade has. And let's assess the policies, plans and programs based on how well they are working once they are up and running for a bit.
Let's put our support behind Ontario's efforts, and show confidence in Ontario's approach, just as the businesses that bid on and purchased cap-and-trade permits have. Ontario has in place a plan that should see this province continue to lead Canada's efforts to fight climate change, while building a prosperous and clean economy. That plan is funded now, and it needs be put into effect.
Follow HuffPost Canada Blogs on Facebook
Popular in the Community