QUÉBEC CITY – Quebec Premier Philippe Couillard says there is absolutely no way his province will ditch its cap and trade system in favour of a pan-Canadian plan on carbon pricing.
Couillard, speaking to The Huffington Post Québec this week, said his government is willing to discuss a national price on carbon — something the federal government is pushing — but not if it would mean abandoning its three-year-old system for trading greenhouse gas emissions allowances with California and, soon, Ontario.
"It is out of the question," the premier said, that Quebec would leave the carbon market to submit itself to a pan-Canadian plan on greenhouse gas emissions.
"[But] as long as a national carbon tax does not conflict with our carbon market, it could be discussed," Couillard told HuffPost.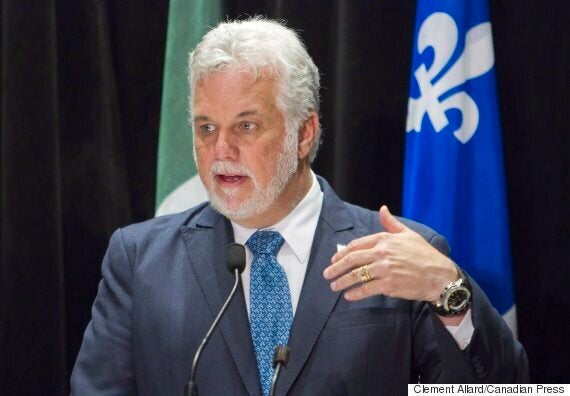 Quebec Premier Philippe Couillard attends a press conference in Quebec City on June 27, 2016. (Photo: Clement Allard/Canadian Press)
"We already have a price on carbon, it's important to realize that," he added. "Not only with the carbon market — the credits traded with California and, soon, Ontario — but we have specific taxes on gasoline that also signal a very strong price, in Quebec, on carbon."
Quebec has priced carbon since 2013
Quebec reaps many benefits from its cap and trade system, Couillard said.
"It gives us resources that we otherwise wouldn't have." Money to support buying electrical vehicles comes from the Green Fund, he said. "Action against coastal erosion, mitigating measures for industries, public transit projects, we don't have money for that. So these are important resources, about $3 billion, if I remember correctly, that will permit us to do things that we wouldn't have been able to do otherwise and that we must do."
"It gives us resources that we otherwise wouldn't have."
Quebec's cap and trade system, introduced in 2013, is a flexible market system designed to encourage businesses — industrial emitters, electricity providers and fossil fuel distributors — that emit 25,000 tonnes or more of CO2 equivalent a year to invest in clean technology and to reduce their overall emissions.
Fewer emissions allowed each year
Each year, the government reduces the number of carbon emissions units allowed. Fossil fuel distributors and electricity providers must buy credits to offset their carbon emissions, but a large number of industrial emitters who face foreign competition — aluminum, lime, cement, chemical, mining, pulp and paper, petroleum refining, and agro-food products manufacturers, for example — are given a portion of emission credits free of charge.
Four times a year, emission units are auctioned off by the provincial government. In 2015, the minimum price was $12.08, with a five per cent escalator built in each year, plus the cost of inflation until 2020. All the money raised goes to Quebec's Green Fund, which finances different climate change initiatives. As of November, the auctions, including five held jointly with California, had raised $967 million Canadian, according to the International Carbon Action Partnership. The province estimates that the cap and trade system will bring in $3 billion annually in new revenues by 2020.
Federal government wants a plan this fall
A cap and trade system has many proponents, but senior government sources say Prime Minister Justin Trudeau prefers a national price on carbon, something some premiers, notably, Saskatchewan's Brad Wall, have balked at.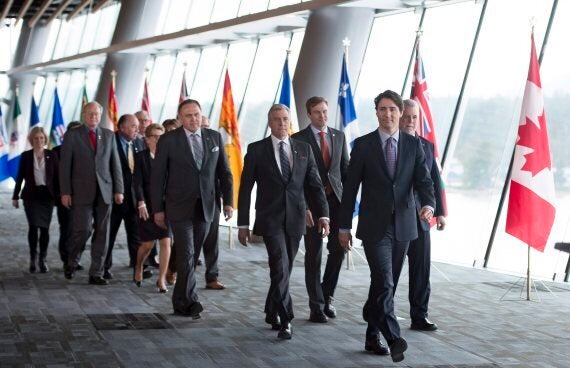 Prime Minister Justin Trudeau leads Canada's premiers to a news conference during the First Ministers Meeting in Vancouver on March 3, 2016. (Photo: Jonathan Hayward/Canadian Press)
In March, following a tense federal-provincial meeting, the leaders announced that they would work towards developing a "pan-Canadian framework for clean growth and climate change" that would meet or exceed the climate targets Canada had endorsed by signing the Paris Agreement.
Four working groups were struck to make recommendations by October on clean technologies, innovation and jobs; carbon pricing mechanisms; specific mitigation opportunities; and adaptation and climate resilience. The federal government hopes to announce a plan based on their recommendations at a First Ministers meeting later in the fall.
'Conversations are ongoing'
What that plan will look like is still up in the air.
Frédérique Tsai-Klassen, Environment and Climate Change Minister Catherine McKenna's spokeswoman, said the federal government isn't ready to say it prefers a carbon tax, such as B.C.'s revenue neutral carbon tax, over a cap and trade system such as Quebec's and Ontario's.
"The minister has said several times that a price on carbon is important and [that] it is a very effective solution to drive innovation. But how it will look like exactly, that's still not determined," she told HuffPost. "That is part of the discussions that will happen at the highest levels…. Conversations are ongoing."
During the election, the Liberals pledged to put a national price on carbon right across Canada but promised that the provinces and territories would have the "flexibility" to design their own carbon pricing policies.
"We've always said that provinces know their economies best."
"We'd like to see a comparable level of effort [by the provinces] and that there is some consistency," a senior government source told HuffPost. "But we've always said that provinces know their economies best, and we are going to have to make sure that there is flexibility."
A carbon tax or a cap and trade system is all about choosing the right target, Couillard said.
"When you tax carbon, you establish a very large target that is indiscriminate and that will eventually rest especially heavily on consumers. The emitters themselves are spared of any responsibility," he said. "In a carbon market, even if part of the price is offloaded to the consumer, the burden is placed on the emitter."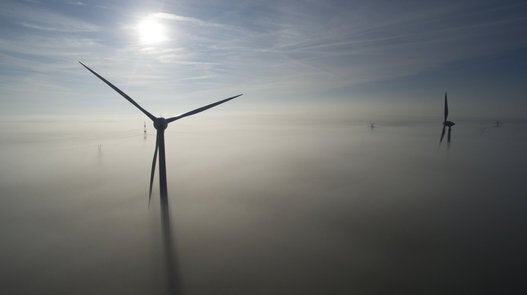 Drone Images Highlight Climate Change