OTTAWA — Canadians living in provinces that have rejected the federal carbon pricing system will get cash directly from Ottawa this spring in the form of a new tax rebate.
"Starting next year, it won't be free to pollute anywhere in Canada," Prime Minister Justin Trudeau announced in Toronto Tuesday, explaining how the new Climate Action Incentive payment will work for residents in recalcitrant provinces.
The Liberal government will return 90 per cent of proceeds collected from a federal fuel charge back to individuals who live in Saskatchewan, Ontario, Manitoba, and New Brunswick — jurisdictions that have opted out of the federal plan. The remaining 10 per cent will go to schools, hospitals, municipalities, non-profits, and Indigenous communities.
Those who live in rural and small communities will get an additional 10 per cent supplement. The federal fuel charge will apply in those provinces in April 2019. And the rebate amount is expected to climb every year as the government increases its tax on carbon pollution.
Eight in 10 households in provinces that have opted out of the federal carbon pricing system will get more money back than they paid in increased costs, Trudeau said.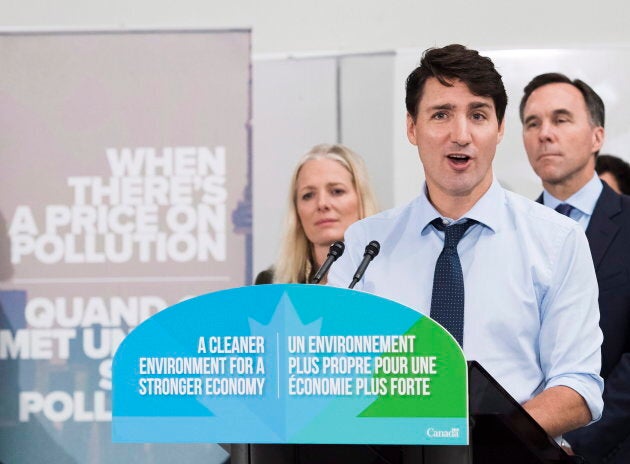 A line will be added in future income tax forms and individuals will be able to apply for the annual Climate Action Incentive rebate when they file their taxes for 2018. Delivering the rebate through the tax system was the simplest way to get money to Canadians, senior officials told reporters in Ottawa.
The payment will vary depending on family size and where someone lives.
For example, an adult in Ontario who files their taxes is expected to get $154; the second adult in a couple would get an additional $77. If that couple has a child, they get an extra $38; and if the filing is for a family of four, a $307 return is projected.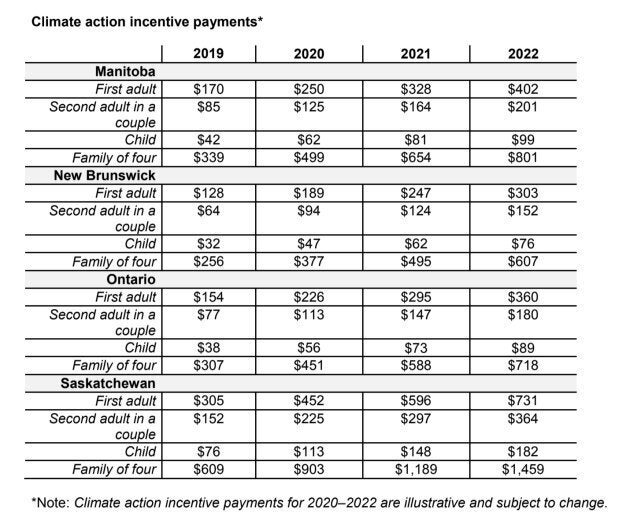 "Effectively, you're paid in advance for the year," a senior official told media at a briefing.
Residents in jurisdictions where governments are implementing a carbon price that meets federal benchmarks (British Columbia, Alberta, Quebec, Nova Scotia, Prince Edward Island, Newfoundland and Labrador, and Northwest Territories) will not receive rebates. Instead, the provincial governments will decide how to use proceeds to "grow the economy, and protect the environment."
There are two parts to the federal carbon pricing system: the fuel charge is one piece, the other is a pollution tax targeting industry.
The new climate action incentive payments will come directly from revenue collected through the fuel charge. Little is known so far as to how taxes collected from industry will be used in climate-related programming in the region in which they were collected.
Officials said goal of the overall carbon pollution pricing system isn't to generate revenue, but to influence consumption and investment decisions toward greener alternatives.
Industry, including bid emitters, will be subject to new pollution taxation starting January 2019, starting at $20 per tonne and rising by $10 per year until 2022.
For Nunavut and the Yukon, both parts of the carbon pricing system are effective as of July 2019.