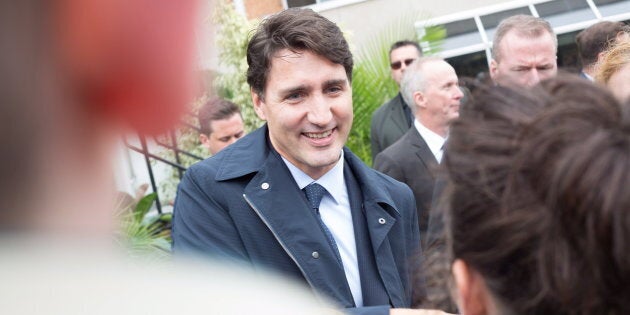 Weeks after suggesting he was ready to fight the next federal election on carbon pricing, Prime Minister Justin Trudeau gave a preview of the argument he may take with him on the campaign trail.
"I think people need to ask folks who are refusing to fight climate change, refusing to put a real plan on the board, why they aren't thinking about future generations," Trudeau said at an event in Windsor, Ont. Friday.
"Why they aren't committed to being part of one of the most important economic and social challenges... of our time."
Watch: McKenna bemoans Manitoba's 'flip flop'
The about-face put wind in the sails of federal Conservatives who oppose the plan and premiers who are fighting Ottawa's demand that they put a price on carbon emissions, either through a tax or cap-and-trade system.
The federal government has said it will impose a carbon tax on any province and territory without a suitable plan, starting on Jan. 1 at $20 per tonne and rising $10 per year until 2022.
"It's unfortunate to see that there are still politicians, Conservative politicians specifically across the country, who still think pollution should be free," Trudeau said.
Calling climate change an urgent threat, Trudeau said wildfires, floods, and extreme weather are becoming more common and more costly.
The prime minister reiterated his government would prefer to work in "partnership" with provinces.
"But if, as we've seen, a number of people don't want to fight climate change, don't have a concrete plan to do that, Canadians are counting on the federal government to do just that," he said.
"We will be moving forward with putting a price on pollution to ensure that we are protecting our children's future, creating the economies that will be successful long into the coming decades."
While conservative provincial premiers such as Saskatchewan's Scott Moe and Ontario's Doug Ford are leading the charge against the plan, the Liberal premier of Prince Edward Island recently submitted a plan for federal review that did not include a carbon tax.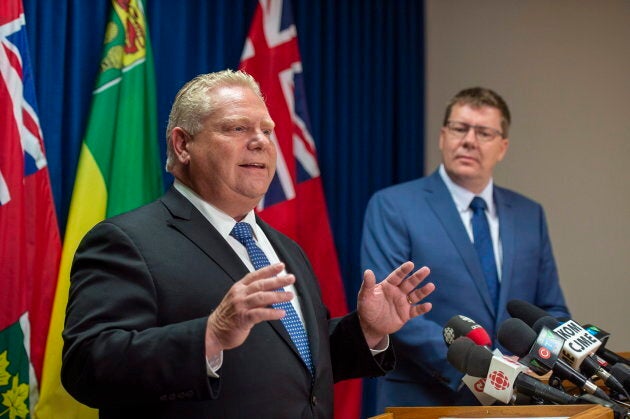 Alberta Premier Rachel Notley has already imposed a carbon tax on the province, but said last month she won't raise the price beyond $30 per tonne because of the impasse over the Trans Mountain pipeline expansion project.
A day after meeting with Moe in Saskatchewan, Ford is set to appear at an anti-carbon tax rally in Calgary Friday with Jason Kenney, the leader of Alberta's United Conservative party. Kenney has pledged to ditch Alberta's carbon tax completely if he becomes premier next spring.
Asked if he had a message for Ford ahead of the rally, Trudeau noted that Canadians gave his party a mandate nearly four years ago knowing full well Liberals intended to put a price on carbon.
"We have decided as a government, and Canadians asked us to do this in 2015, that we are going to put a price on pollution,'' he said.
"Pollution should not be free anywhere across this country."
With a file from The Canadian Press