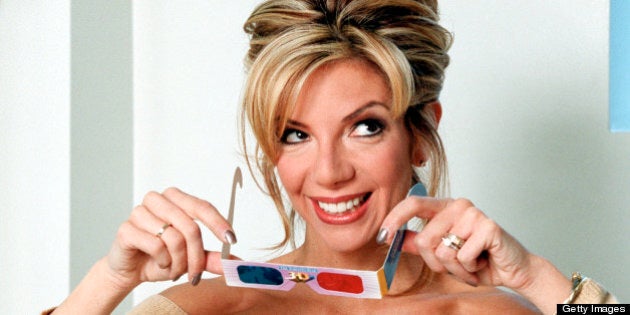 Carla Collins spends her time whirling in and out of comedy clubs and charity events, on and off film and TV sets, and basically anywhere there's work to be done. The comedian, actor, author and once again radio host is now set to return to the Canadian airwaves on SiriusXM's Canada Talks series, which will feature her own current affairs talk show about Canadian life, Speak Easy with Carla Collins.
Collins was in town Saturday where she performed for more than two hours at The Flying Beaver Pubaret in Toronto's Cabbagetown. Her new hairdo was higher than normal for the show, but it is, after all, where she says she gets her power from, "It's always 1986 on my head. I'm safely housing three people in the witness protection program up there!"
She's mastered the art of blending sensitive gender and cultural sensibilities into honest, shrewd, and hilarious comedy. Like any skillful comic, she has a keen eye for the ironic things in life, and she's able to turn our everyday human quirks and flaws into belly-achingly funny stories, Collins says, "Comedy is subjective, it's based on fear, and when you dispel that fear people know you've got their backs, collectively, they sit back and think, 'ah, this is a good host, we'll follow her.'"
She currently has a TV pilot in the works, a best actress nod from the International Vaughan Film Festival in Ontario for her work as a Jewish mother in Joe Mari's short film, Pizza Bagel, (when she recently found out that she lost to a 12-year-old, she said, "How bad can my life and career be losing to the voice of Dora the Explorer?") and now the radio show, which she'll record from her home in Malibu.
I've come to admire Collins over the years -- her tenacity and laughter in the face of fear and major disappointments, her sheer determination and incredible warmth; and when I tell her this she says, "Oh come on! Think about it. I'm a professional rodeo clown for God's sake!"
She's no clown though, she's a fierce and smart networker, and master career carver. She says her non-stop, grueling comedy schedule has been worth all the effort as of late, "I'm almost at the point where I'm cool. You know, I've sacrificed everything in the past couple years, all my time, money, oh, and my dignity. But things really are working out for me."
In this Social Media Age it's all about creating an online presence to connect people to personal brands, companies and products. It may seem difficult for some people to 'blow their own horn,' but it's become increasingly important to further one's career. Collins gave up feeling insecure about self-promotion long ago, "If you want to do what you really love then you have to create your career; everyone's had to become an entrepreneur these days. Go and live your dreams! No one's going to do it for you. Sure, it's hard to promote yourself, but better you than somebody else who doesn't care as much!"
Asked about the secret to her incredible confidence, she says she never takes herself too seriously, "We're really tiny speckles in the Universe. Life's about friends, family, dogs, warm baths and perspectives -- oh, and people running toward bombs to help other people, can't forget that."
The sitcom Collins's agents are shopping in Hollywood is called The Last Laugh - a half-hour scripted comedy based loosely on Collins's life; about a struggling comedian who finds herself performing stand-up comedy at funerals and decides to create a business called, The Grin Reapers. Don't grimace though; she's already performed at funerals of close friends including her ex-father-in-law, a cousin's wife, her beloved hairdresser Mina, and a friend's dog (you have to be a pet person to get that one). "I think wakes and funerals should be a celebration of someone's life and laughter is as powerful a release as tears; laughter brings people together, it's cathartic and healing."
The success of Collins's comedy is rooted in her intentions, "All I want to do is make people laugh. The Irish got it right. I want people to laugh and dance and drink at my funeral! We're supposed to celebrate lives; it's the ones left behind that hurt the most." Her idea for the show, and the fact that laughter can be a powerful antidote to grief was born of the time she grieved relentlessly about the loss of her dog Buster. Any pet lover knows that kind of pain, but when a friend emailed her to say, 'Carla, did you ever think about it this way ... Buster was with you for 13 years, and maybe just maybe got sick of you?' She howled with laughter and relief, "I was crying for weeks and suddenly, I laughed uncontrollably, and that felt really good."
Laughter is the best medicine.
By far her staunchest supporter is her mother Rosemary, who Carla has taken to introducing lately as, "my birth mother." An educator and writer, Rosie is often on hand for an edit or two during her daughter's routines and has been known to open for her. After more than two solid hours on stage Saturday night, Carla asked the audience if they would mind if she did some of her "religious stuff," to which Rosie could be heard saying, "No!"
Pushing the boundaries Collins, who says she has the soul of a 14-year-old boy, did some of it anyway.
For more info: www.carlacollins.com
For more info on Pizza Bagel http://www.pizzabagelmovie.com/
For more info on SiriusXM Canada Talks http://www.siriusxm.ca/Channel-Change-2013/Announcing-Our-New-Lineup.aspx