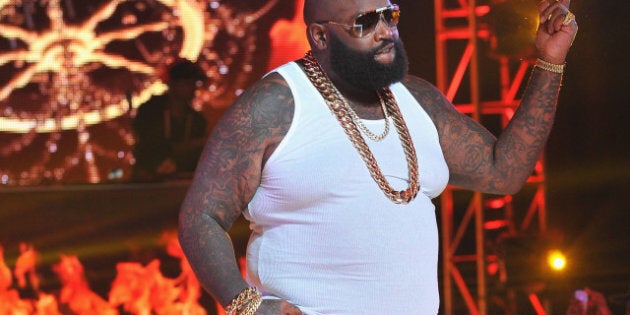 Carleton students are protesting an appearance by rapper Rick Ross at a concert organized by the Carleton University Students' Association (CUSA) in Ottawa, Ont.
Rick Ross appeared on a song called "U.O.E.N.O" by rapper Rocko, and his rap featured the lyrics "Put molly all in her champagne/She ain't even know it/I took her home and I enjoyed that/She ain't even know it." Since the lyrics appear to condone date rape, some students at Carleton are saying that Rick Ross shouldn't be allowed to perform at the school.
The protest is spearheaded by Carleton grad Kira-Lynn Ferderber, who told the Ottawa Citizen that, "The song itself is such a blatant celebration of rape." She's calling for CUSA to cancel the event or pull their funding so that students wouldn't be paying for him to perform.
There is some backlash to the protest. A Facebook group group called "Cancel the Cancel the Rick Ross Concert funded by Carleton Students & CUSA group" has 93 people committed to attending the show.
The concert Rick Ross is supposed to appear at — which is called "Pandamonium" — is usually organized in conjunction with the Student Federation of the University of Ottawa (SFUO), but they have pulled their involvement.
In a statement released by CUSA, president Alexander Golovko said, "We would like to reaffirm our stance that we consider the lyrics in question to be repulsive and uncharacteristic of the views and beliefs of CUSA as an organization and its members."
The statement also says that CUSA agreed to buy tickets from an events and promotional group in January, and the song was released in February after ticket sales had begun. CUSA is now in the process of looking into selling the remainder of the tickets back to the group.