Yet when it comes to love, Carmen Electra's struggles are just as real as most women.
The singer and actress caused a stir when her romance with reportedly-cheating Simon Cowell came to an end last year and a following fling with LA clothing mogul Tal Cooperman fizzled out in April. But the former "Baywatch" star refuses to become disenchanted by past relationship failures.
"My biggest lesson is to never become jaded by one experience," she tells HuffPost Canada Music. "I'm always going to be inspired to look at love as it was the first time I fell in love because I think being in love is one of the most beautiful things in the world.
"I'm actually very romantic! People never think that about me, but I believe in love and marriage and look forward to having that feeling again where everything sounds and looks amazing."
But until she finds Mr. Right, Carmen is busy reviving her musical dreams. Following the Billboard top 25 dance hit 'I Like It Loud' –- her first foray into music since being discovered by Prince more than two decades ago –- she unveiled the video for her catchy follow-up tune 'Werq.'
While many associate Carmen more with her acting career, Playboy appearances and famous ex-husbands (including Dennis Rodman and Dave Navarro), it's music that has always been in her genes. Her dad Harry played guitar with Bootsy Collins, her mother was his backup singer and her brother is a drummer. Moving from Ohio to LA at 18 to pursue her own music career, Carmen's life changed the day she met Prince, after one of his scouts noticed her in a club.
"This blue BMW pulled up outside the club and the woman was like, 'This is Prince's brother Duane, we want you to come meet him.' There was a part of me that thought it was wasn't real or couldn't be happening. I had that small city mentality.
"The next thing you know I'm at Prince's house. He was very quiet, which made me even more nervous. He said, 'I want you to sing something,' and got on the piano and played 'Do-Re-Me.' Luckily I had been in that musical so I knew the song well!
"It was a very funny, quirky moment because you wouldn't expect Prince to play that."
The "Purple Rain" singer was so impressed he signed Carmen as a solo artist on his Paisley Park Records label, and so began Carmen's foray into the Hollywood scene. After releasing a record and touring with Prince, she started acting on shows like "Baywatch" and films like "Scary Movie." Following two decades in the cutthroat world of entertainment, Carmen says she has learned not to get too affected by quick-to-judge critics.
"There are many ups and downs in this business but I've learned to appreciate everything and not be as sensitive. Obviously there are times when you read something about yourself and it affects you. It's even harder when things aren't true. But I believe what I read! I pick up a tabloid and even knowing things are exaggerated, I still believe it, so I understand why other people do.
"The reality is if you want to be a public figure in entertainment there's an upside and a downside and you have to go into it knowing that some things are going to hurt and that's okay. You just have to pick yourself up and keep going."
Persevering and embracing yourself against all odds is one of the themes of 'Werq,' which Carmen hopes inspires people to "be fabulous, feel good about yourself and work it."
Interview continues after slideshow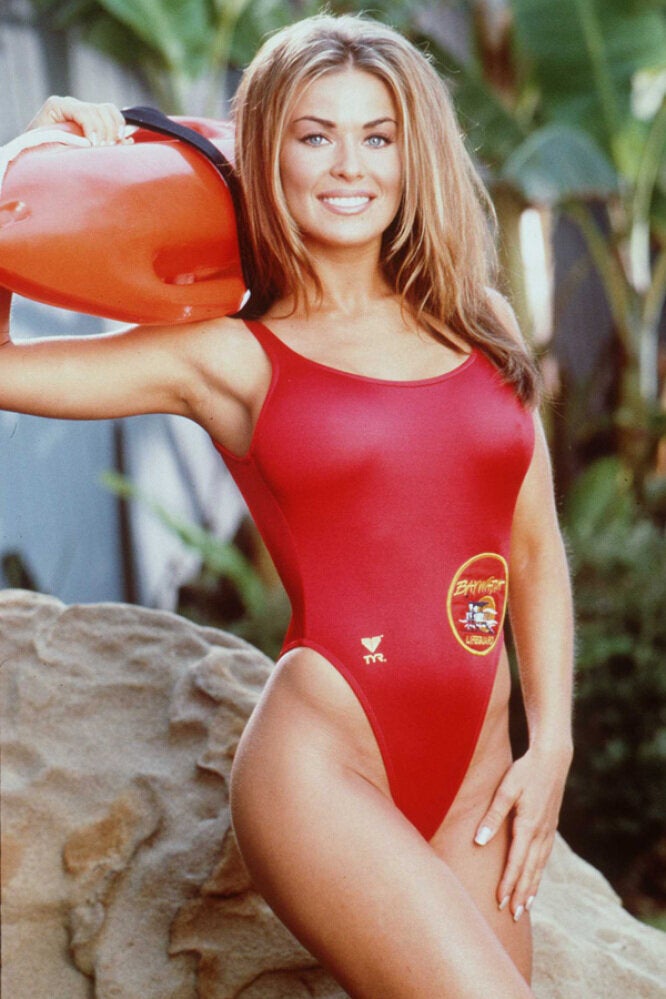 Carmen Electra's Style Evolution (PHOTOS)
But while she may have the thumbs up from Prince, she admits to still battling insecurities and self-doubt, particularly as she relaunches her singing career.
"I'm probably my worst enemy.
"I look at someone like Beyonce and you wouldn't think she would ever have struggles, but I watched her documentary and here's this super-powerful woman who is brilliantly-talented with the world at her feet and she still has struggles. That was comforting to me throughout this process of getting back into music. At first it was very challenging, but I have such a passion for music and dance that I want to work hard and push through the challenges."
Carmen says her upcoming record will be a fun offering of "high-energy dance music," listing her ultimate collaborators as Kaskade and Skrillex.
As well as the record and subsequent tour, a lingerie line and further acting gigs are also in the works. With so many professional aspirations, Carmen admits work has often been the biggest threat to her love life and she's determined to change her ways.
"I want to work my hardest but still make time for other things. I'm either 100 percent work or 100 percent relationship and that's always bothered me about myself. I want to find the balance of working hard and having a relationship at the same time."
She also hopes to fulfil her dreams of motherhood, but only when she's ready to take adequate time out from professional commitments.
"Being a mom is something I've always dreamt of, but I wasn't in the right situation in the past. I would never bring a child into this world without a father. And sometimes in this business, especially when you're building your career, you can become very selfish.
"I've always wanted to work and knowing I'd have to take time off, the timing hasn't been right before. So we'll see. I do want to have kids, but if not I'm fine with that."
As for finding that partner in life, Carmen says it's anything but looks that attracts her to a guy.
"I find beauty in people that have struggled. People who have gone through traumatic experiences, but had the strength to overcome them. That's a beautiful quality in people because you can choose which way you want to go. You can choose to give up because you can't take whatever you've been through or you can go, 'I'm going to make this into something positive.'"
It's not surprising that Carmen admires such emotional strength – she herself faced unimaginable turmoil at 25, when her mother and sister died within weeks of each other. At the time, she escaped her grief with fun, flying to Las Vegas with then-boyfriend Dennis and tying the knot, only to split five months later. Self-help books, writing poetry and watching Oprah finally helped her face her grief and move on with life.
"Having them pass at the same time was one of the biggest life lessons I've ever had to learn. Automatically, I just wanted to not believe it was true.
"I acted out and did a lot of things to distract myself from feeling the loss. It's something you never get over. I remember at Thanksgiving I was thinking about my mom and had to take some time by myself and started crying. I was thinking, 'I want my mom. I just need my mom right now!'
"But life is life and you find your way through. Everyone deals with it differently but you have to deal with it … you don't have a choice.
"She would be so happy to see me getting back into singing. My mom and dad both worked two jobs to put me into dance classes and really supported me being in this business.
"There may be a few things she wouldn't be proud of – some of my behaviour! But definitely with music, I think she's smiling down."