Cate Blanchett's daughter Edith is the youngest child in her family, which means she gets stuck with a lot of hand-me-downs from her older brothers.
"Maybe it's because I've had three boys. I wasn't done having children. I kept all the boys' clothes," Blanchett told Yahoo Style.
But according to the 47-year-old actress, it shouldn't matter what her daughter wears. "She's wearing the boys' clothes. Once again, that's how I grew up," she said. "I grew up just being. It doesn't matter what she wears. It's about who she is, not what she looks like."
Cate Blanchett at the 27th Annual Palm Springs International Film Festival Awards.
Blanchett's positive, "just let things be" attitude towards kids' clothing shouldn't come as a surprise — the "Carol" star has always applied this philosophy to her life.
For example, the actress has never planned any of her pregnancies. After welcoming her third son, Ignatius, in 2008, she told InStyle, "I'd love to have more children. Just when, I don't know. But the thing is, we hadn't planned any of the others. They just popped out. So you shouldn't overplan these things. If it happens, it would be great."
In Hollywood, a number of celebrities share Blanchett's carefree attitude towards kids' clothing and let their children wear whatever they want. Adele, for instance, lets her son Angelo wear princess dresses, while Angelina Jolie and Brad Pitt let their daughter Shiloh dress like a boy.
For more celebs who let their kids dress themselves, flip through the slideshow below.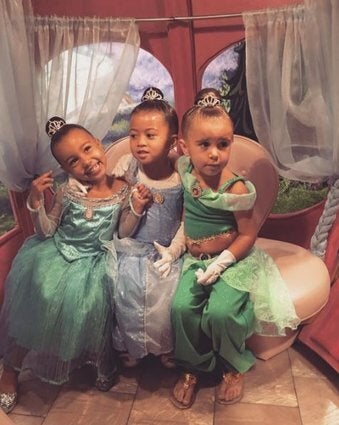 Celebrity Kids Who Dress Themselves