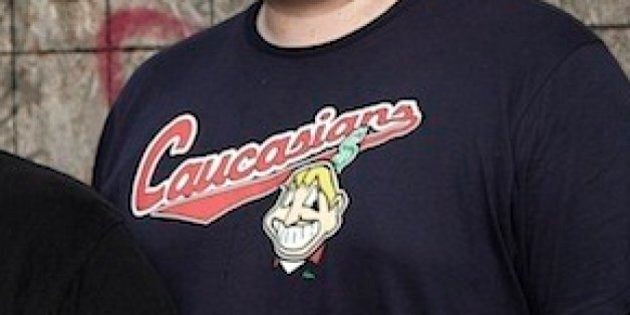 The Cleveland, Ohio-based designer of the controversial "Caucasians" T-shirt is reporting a spike in sales after a member of A Tribe Called Red was slammed as "racist" for wearing it.
A letter sent to festival organizers took issue with their decision to book a "divisive band just asking for trouble." The writer took particular issue with the "racist" shirt and called Campeau a hypocrite for filing a human rights complaint to change the name of the Nepean Redskins football team. (The team later changed its name.)
But the controversy has only helped to expand the shirt's reach.
"He's fulfulling the intent of the shirt, which is an indigenous person flipping the role instead of having a grinning Indian on a white guy's shirt," Kirby told The Huffington Post Canada.
"The prophecy for the shirt was fulfilled years after it was created."
Kirby, a New York native, conceived the shirt after moving to Cleveland about a decade ago. He immediately noticed the ubiquity of Chief Wahoo, symbol for the Indians baseball team.
"I saw a double wide garage door, the entire garage was painted with Wahoo's face," he said. "It took me aback."
Kirby was soon inspired to flip the design and see "what people thought when it was repurposed."
He designed the shirt in 2006. To his surprise, it has found fewer buyers in Cleveland than in markets such as Canada, Australia and New Zealand.
The shirt only drew one negative comment before Campeau was criticized for wearing it, and that was from a Caucasian woman who said she didn't like it.
Since then, it has drawn notoriety and thousands of orders.
"We went from selling 10 to 20 shirts to [selling] thousands," Kirby said.
"People's reaction has been all positive and they see the humour in it both on and off the reserve," said Rachel Bomberry, who wore it to a pow wow in the community of Six Nations of the Grand River.
Its popularity is just one example of First Nations fighting high-profile battles against cultural appropriation.
Last week, B.C.'s Bass Coast Festival banned the wearing of native headdresses, a practice which has gained increasing popularity at music festivals but that indigenous people find offensive.
A Tribe Called Red applauded the move, calling it "incredible."
Popular in the Community