The Canadian Broadcasting Corp. has been sued in U.S. federal court over its use of a 31-second YouTube clip of a snowstorm in Buffalo, N.Y.
Cutaia says during last November's monstrous winter storm, he recorded and uploaded a 32-second video to YouTube, titled "Buffalo Lake Effect," in reference to the lake-effect snow squalls that often hit upstate New York.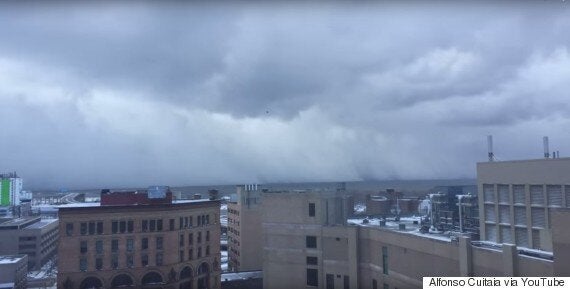 This screencap from Alfonso Cutaia's video "Buffalo Lake Effect" shows fast-moving clouds over the upstate New York city last November. Cutaia's entire video can be seen on YouTube here.
He says he monetized the video, opting to have ads run on it under a standard YouTube licensing contract.
In court filings, Cutaia says he received numerous requests to use the video from multiple news sources, but around Nov. 18, 2014, he noticed the CBC using the video on its website without his permission, and with a CBC logo overlaid on top of it.
He alleges he contacted CBC and was told last month the broadcaster had obtained the video under a 10-day licence from CNN. But Cutaia says CNN never had the rights to the video either, and the CBC made the clip available for much longer than 10 days.
UPDATE 2015-08-18: In an email to HuffPost Canada, the CBC said it had not been served with a lawsuit in this matter. It did not provide any further information.
As of Monday, it appeared the broadcaster had removed the video from where it was hosted on CBC servers, but some CBC articles still had the original YouTube video embedded in them.
Online news organizations have long been embedding video from YouTube and other hosting services on their news pages, but a recent push by advertisers into video ads has raised the stakes for media companies.
Many now make it a priority to run videos on their own servers, in order to serve their own ads.
Cutaia's lawsuit did not name a dollar figure. The suit asks for a jury trial to determine damages.
YouTube videos have been the source of numerous copyright conflicts in recent years, with YouTube itself often the target of complaints.
The highest profile such case was a $1-billion U.S. lawsuit filed against the Google-owned video hosting site by Viacom in 2007, accusing the service of illegally broadcasting 79,000 copyrighted videos starting in 2005.
Viacom and Google settled the case out of court in 2014, with reports suggesting no money changed hands. The companies said they would "work more closely" together in the future.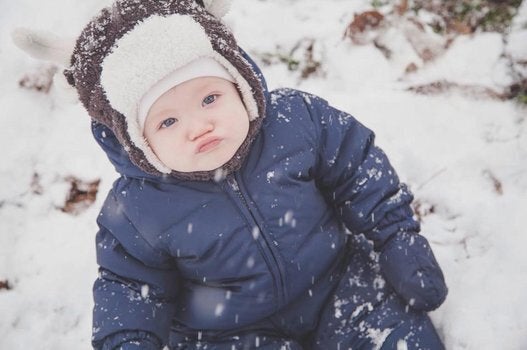 Babies' First Snow 2015