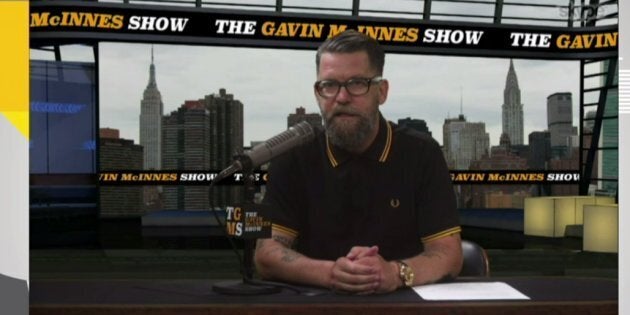 A CBC interview ended awkwardly on Wednesday after a controversial guest defended an 18th-century decree offering money for the dead bodies of Indigenous people.
In videos of that confrontation, one of the men identifies himself as a member of the Proud Boys, a group that McInnes founded.
Protesters were holding a ceremony at the statue of Edward Cornwallis in Halifax to acknowledge the suffering of Indigenous peoples.
On CBC News Network Wednesday, host Hannah Thibedeau asked McInnes, "Given Cornwallis issued a bounty on the scalps of Mi'kmaq people, can you see why the Indigenous people were protesting?"
McInnes replied: "Can you see why Cornwallis issued a bounty on Mi'kmaqs?"
He was then left to rant for several minutes — mispronouncing "Mi'maq" as well as the name of Defence Minister Harjit Sajjan.
Thibedeau left McInnes' answer unchallenged and went on to ask about what Proud Boys are.
He explained that the group has two requirements for membership: you have to be a man — "a cis male" — and you have to "think the west is best." They have thousands of members, he claimed.
UPDATE - July 6, 2017: CBC spokesman Chuck Thompson responded to criticism of the interview in a statement: "While the intention was to provide insight and context by talking to Gavin McInnes about the Proud Boys on Wednesday's show, we erred in not providing details of Mr. McInnes' published anti-Jewish sentiments nor did we adequately challenge him on some of his and the group's controversial views." He pointed out the show followed McInnes' interview with an expert who challenged what the group stands for, but a "more comprehensive response would have included an Indigenous representative to critique Mr. McInnes' views which is what happened on today's program."
Group believes in 'anti-racial guilt'
On Facebook, the group describes itself as an organization for "Western chauvinists." They are named after a song from Disney's movie Aladdin, "Proud of Your Boy."
The group believes in "minimal government, maximum freedom, anti-political correctness, anti-racial guilt, pro-gun rights, anti-Drug War, closed borders, anti-masturbation, venerating entrepreneurs, venerating housewives, and reinstating a spirit of Western chauvinism during an age of globalism and multiculturalism," according to their Facebook page.
McInnes, who is based in New York, is known for co-founding VICE magazine and appearing on Rebel Media, where he once opened a video by saying "I'd like to tell you 10 things I hate about the Jews."
McInnes left VICE in 2008.
Popular in the Community